New York Giants DT Damon Harrison was recently named the winner of Pro Football Focus' Best Run Defender Award for the 2016 NFL season. To see the winner of every PFF award, visit our NFL awards page.
In a league that is tilting ever more pass-oriented, there is still space for an old-fashioned run-stuffing monster to roam the trenches, laying waste to everything in his path. In the 2016 season, that player (once again) was New York Giants DT Damon Harrison—the best run defender in the National Football League.
Harrison is one of only two players (Aaron Donald being the other) to retain an award from PFF's slate of honors, and nobody is closer to making an award their own.
Harrison achieved this impressive feat despite changing teams and defensive schemes in the offseason. A year ago, he was the best run defender in the league playing for the New York Jets, and this season, he repeated that feat playing for the Giants.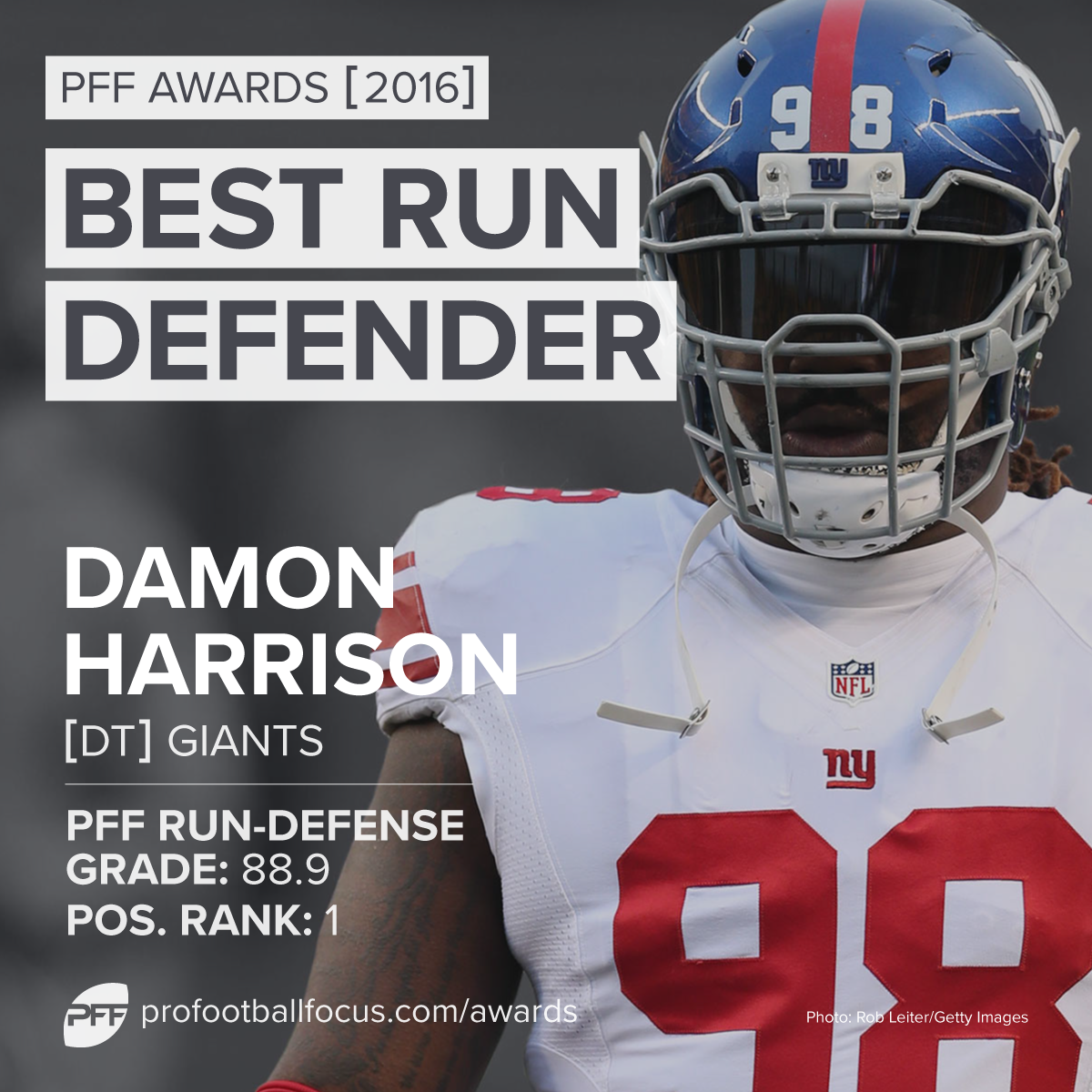 The dominance he has in this aspect of the game is remarkable and can be summed up in one key statistic: run-stop percentage. Harrison has led the league in run-stop percentage for the past four seasons. He played just 11 snaps against the run as an undrafted rookie back in 2012, and notched one tackle—it was a defensive stop.
Much of the time, we think about the role of run-stuffing defensive tackle as one that doesn't often come hand in hand with statistics. These players tend to be more space-eaters than playmakers. They block the point of attack, squeeze holes and generally disrupt running lanes for other players to clean up and make the tackles. Harrison, though, actively finishes the play better than any other defensive tackle PFF has graded in the past decade.
His last two seasons have provided the highest run-stop percentage figures we have ever recorded for a defensive tackle over the past decade of grading. In 2015, Harrison notched a defensive stop on 18.1 percent of his snaps against the run; this past season, he did it on 15.8 percent.
He racked up 49 defensive stops in the run game this season, 10 more than any other defensive tackle. That mark tied the record for the most PFF has ever recorded for a defensive tackle, breaking a record he set himself a year ago. Only eight other defensive tackles could even get within half of Harrison's tally over the season, and he played fewer snaps against the run than many of them.
In the past 10 years, the number of times a defensive tackle has posted more than 40 run stops in a season reads: rest of the NFL, one; Damon Harrison, two.
There is simply no more disruptive force against the run than Damon Harrison, who is not only able to hold the point of attack and affect running lanes by moving blockers back, but actually shed those blocks and make stops in the hole himself, rather than simply open up opportunities for other players to make the play.
The Giants handed Harrison a big-money contract in free agency because they recognized the transformative effect he could have on that defense. They added more than one piece to the puzzle, and not all of this is Harrison, but in the space of an offseason the Giants leapt from the 24th-ranked run defense in terms of yards per carry to third-best. Harrison is the league's best run defender, and his impact has been obvious for all to see—rightly retaining his award for PFF's Best Run Defender in 2016.