When the New York Jets take to the field on Friday night, all eyes will be on one of the most anticipated Jets' debuts in recent memory, the debut of former USC quarterback Sam Darnold.
For Darnold, the team's third overall pick of the 2018 NFL Draft, the goal will be clear: to surpass the bodies in front of him and put enough on tape to propel him towards the top of the Jets' depth chart. It'll be a tough ask for the rookie quarterback, who needs to out-perform both 16-year veteran Josh McCown and former first-round pick Teddy Bridgewater, and it's an even tougher ask when you factor in his late arrival to training camp due to a contractual holdout.

But be that as it may, Darnold is still the face of the New York Jets franchise and the rookie signal-caller clearly has the potential to become the first franchise quarterback this team has had in some time. Friday Night against the Atlanta Falcons, the new face of the Jets will take his first step towards earning that title and hope he can continue to shine in some of the key areas that made him such a promising prospect prior to the draft.
Here are some things that both fans and coaches should want to see from Darnold, as he makes his first steps towards obtaining his lofty goal.
Display his accuracy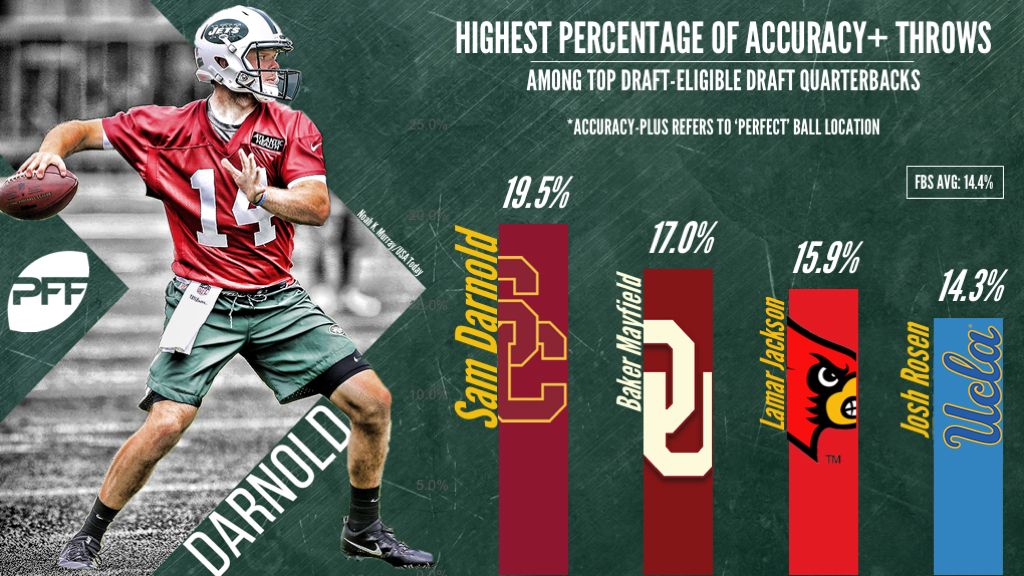 For Darnold, the length of the journey towards the starting job can be decided solely by how well he can deliver the ball to his receivers, and it will be fascinating to see how each of the Jets quarterbacks does in this regard. On one hand, Darnold's accuracy and ball placement is an area in which he shined bright during his impressive collegiate career, however, as he's facing a tough battle, it's an area in which his competitors have also been impressive.
Since Bridgewater entered the league in 2014, his adjusted completion percentage of 78.4 percent is good for third place among quarterbacks with at least 500 attempts in that span, while McCown's mark of 72.0 percent puts him 25th – just 0.2 percentage points shy of Colts signal-caller Andrew Luck. However, it's certainly worth noting that McCown ranked fourth among all signal-callers in the league last year with an impressive mark of 76.5 percent.
If Darnold is to make an early impression on both fans and coaches, he'll have to continue the impressive accuracy that he displayed during his college career. In his two years as starter at USC, Darnold tallied an adjusted completion percentage of 71.4 percent on his pass attempts, which was good enough for 14th among qualifying quarterbacks in that span.  In addition to that impressive adjusted completion percentage, Darnold also led the nation in what we have termed 'accuracy-plus' in our advanced ball location charting data. Accuracy-plus is the highest attainable accuracy category and it refers to 'perfect' ball placement on passes, which does a great job of highlighting his ability to put the ball exactly where it needs to be.
With such steep competition and the tools at his disposal, we should expect Darnold's accuracy to be on full display early and often.
Subscribe to PFF Edge to continue reading
Already have a subscription? Sign In