It is time again for the PFF NFL Team of the Week – highlighting the best individual performances from the weekend's worth of action.
The team format will match the improved All-Pro system when it comes to offensive and defensive formation, with a flex player for both sides of the ball that can be either a receiver, slot weapon, tight end or running back on offense, and anybody in the defensive secondary on defense. This gives us the flexibility to reward the player that best deserves it across multiple positions, rather than shoehorning in somebody just to fit a slot receiver or cornerback role.
We lend some weight to playing time, and a variety of factors are considered, but these will largely be the best-graded players at their respective positions throughout the league. This year, our Team of the Week will be coming out before Monday Night Football has been played, featuring the best performances from the Thursday Night and Sunday games. In the occurrence that a performer on Monday night is worthy of a spot on the team, this list will be updated and those with standout performances from the weekend will still be appreciated.
Check out all of our regular season advanced statistics and information including every player's grade with PFF Elite and Premium Stats 2.0.

Offense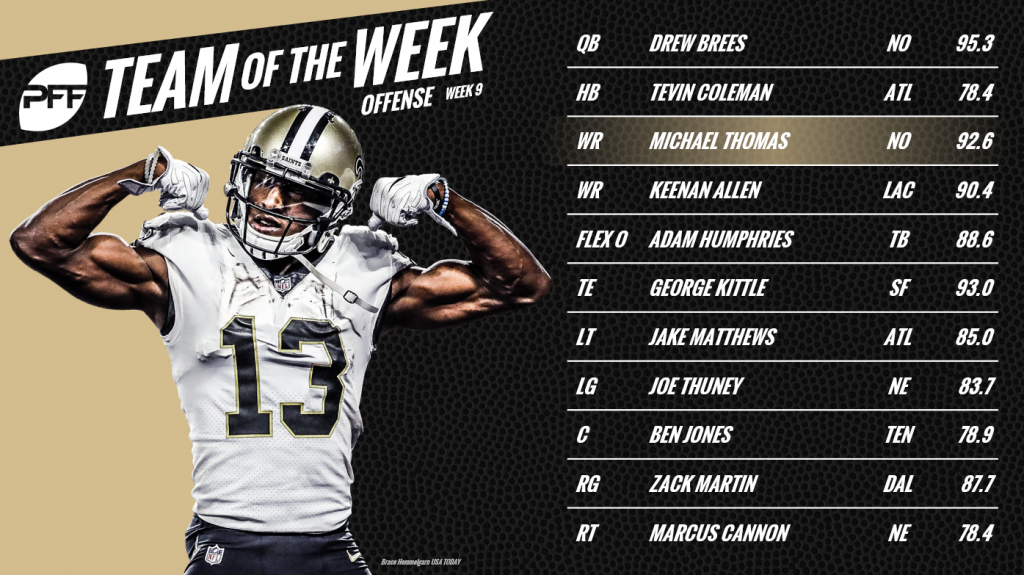 Quarterback
Brees was sublime once again for the Saints as they became the first team to take down the Rams this season. He found success all over the field, including going three-for-five for 100 yards on throws 20+ yards downfield, and eight-for-12 for 122 yards, with one touchdown on throws between 10 and 19 yards downfield.
Running Back
Producing big plays on the ground and as a receiver, Coleman averaged 6.8 yards per carry in the Falcons win over the Redskins, including an average of 2.9 yards after contact per carry. In the passing game, he dropped one pass but caught another five for 68 yards and two touchdowns.
Wide Receiver
Thomas was already having an impressive performance before he put the game out of reach with his long touchdown late in the game. He led, or was tied for the lead among wide receivers this week in targets, receptions, yards, yards after the catch, drop rate and missed tackles forced.
Wide Receiver
Allen didn't find the end zone, but he did average 20.7 yards per catch, with six receptions for 124 yards from 10 targets. Once again he didn't drop a pass, and now has just one drop from 48 catchable targets this year.
Tight End
Kittle was a monster for the 49ers in their win over the Raiders on Thursday Night Football, averaging a ridiculous 6.35 yards per route run to lead all tight ends this week. On the year, Kittle leads all tight ends with a 2.70 yards per route run average.
Flex Offense
Humphries was key to the Buccaneers' attempted comeback, catching all eight targets thrown his way for 82 yards and two touchdowns. He also forced two missed tackles on the day, taking him to six missed tackles forced over the past three weeks.
Left Tackle
Matthews allowed a sack and a hurry from 44 pass-blocking snaps in the win over the Redskins, so he was far from perfect, but his best performance as a run-blocker this season sees him get the nod at left tackle in our Team of the Week.
Left Guard
Thuney was perfect in pass protection, with zero sacks, hits and hurries allowed from 40 pass-blocking snaps in the win over the Packers. He also delivered as a run-blocker, producing his best performance of the season so far across the board.
Center
Jones makes the PFF Team of the Week for the second time this season, in no small part thanks to his work as a run-blocker in the win over the Cowboys. He comfortably handled Antwaun Woods at the line of scrimmage, including blocking him to the ground on 1st-and-10 with 7:43 left in the third quarter.
Right Guard
One of the top linemen in the league, Martin delivered his best performance of the season so far in the loss on Monday Night Football against the Titans. From 42 pass-blocking snaps, he allowed just one hurry and, as we've seen from him so routinely in the past, opened lanes as a run-blocker.
Right Tackle
Cannon had some nice blocks in the running game, but it was his work in pass protection that sees him earn a spot here. From 40 snaps in pass protection, he didn't allow a single sack, hit or hurry, giving him a perfect 100.0 pass-blocking efficiency rating, and he didn't commit a penalty.
Defense

Edge Defender
Hunter registered four sacks and two hurries off the edge, added another three tackles resulting in a defensive stop and found his way to the end zone on a fumble return after a failed Matthew Stafford pitch. That level of dominance will usually lead to a spot here on the Team of the Week.
Interior Defensive Lineman
Williams has been out and down so far in 2018, but this was the best we have seen from him this year. As a pass-rusher, he produced a quarterback hit and four hurries, while two of his three tackles resulted in a defensive stop. So far this season, he has produced 30 total pressures and 14 tackles that resulted in a defensive stop.
Interior Defensive Lineman
Delivering by far his best performance of the season so far, Liuget dominated both as a pass-rusher and against the run. As an interior rusher, he picked up a hit and two hurries, while all five of his tackles on the day resulted in a defensive stop.
Edge Defender
Demarcus Lawrence, Dallas Cowboys – 89.7 overall grade
Lawrence played just 40 snaps in the Cowboys loss, and rushed the passer just 25 times, but was still able to rack up a sack and two hurries. The sack included a forced fumble, which set up Amari Cooper's first touchdown as a member of the Cowboys.
Linebacker
Davis was targeted four times in coverage in Sunday's loss to the Houston Texans, allowing receptions of nine and 11 yards in the process. He would counter that with a pass breakup in coverage, two hurries as a blitzer and other five defensive stops.
Linebacker
Like his fellow Davis on the Team of the Week, Thomas Davis saw four targets in coverage. He allowed two receptions, but they went for a combined -4 yards, while four of his five tackles resulted in a defensive stop.
Cornerback
King was targeted four times in the win over the Seahawks, giving up just two receptions that went for a total of 16 yards. He had a pass breakup in coverage and also one of the key plays in the game, picking off quarterback Russell Wilson and returning it for a score. By the end of the game, he had allowed an NFL passer rating of just 20.8 on throws into his coverage.
Cornerback
Fuller was targeted eight times in the win over the Bills but allowed just one reception for zero yards in coverage on the day. With two pass breakups and an interception, he was a force to be reckoned with, allowing an NFL passer rating of 0.0 on throws into his coverage.
Safety
Jackson is the second Bears defensive back to make the PFF Team of the Week, thanks in no small part to the touchdown he scored in the win over the Bills. Targeted three times in primary coverage, he allowed three receptions, but they went for a total of just four yards.
Safety
McDonald had a big game against the run and pass, allowing just 21 yards from three receptions in coverage, while he also added an interception late in the fourth quarter to kill off any comeback hopes for the Jets.
Flex Defense
Jackson saw 11 targets in coverage against the Broncos but allowed six receptions for just 54 yards. 18 of those yards came on one play, meaning that his other four receptions allowed went for an average of just 7.2 yards per catch.
Kicker
Lutz attempted just one field goal on the day, but it came from over 50 yards, and he duly delivered to split the uprights. Elsewhere, he was automatic on six extra points in the Saints win over the Rams.
Punter
Dickson has been climbing our season grades after a slow start to the season and is now our fourth-highest graded punter in the NFL after a big performance against the Chargers. Four of his six punts landed inside the Chargers 20 yard line, with two going out of bounds, while he averaged a whopping 52.7 net yards per punt.
K/PR
We've yet to see a touchdown on a kick or punt return this week, but Patterson showed his ability with some impressive work on Sunday Night Football against the Packers. On just two kick returns, he averaged a very healthy 32.0 yards per return.
Special Teamer
Williams saw 16 snaps on special teams, seeing time with the kick return, kick coverage, punt return and punt coverage units. His key contribution on the day was a blocked punt midway through the third quarter.