It is time again for the PFF NFL Team of the Week – highlighting the best individual performances from the weekend's worth of action.
The team format will match the improved All-Pro system when it comes to offensive and defensive formation, with a flex player for both sides of the ball that can be either a receiver, slot weapon, tight end or running back on offense, and anybody in the defensive secondary on defense. This gives us the flexibility to reward the player that best deserves it across multiple positions, rather than shoehorning in somebody just to fit a slot receiver or cornerback role.
We lend some weight to playing time, and a variety of factors are considered, but these will largely be the best-graded players at their respective positions throughout the league. This year, our Team of the Week will be coming out before Monday Night Football has been played, featuring the best performances from the Thursday Night and Sunday games. In the occurrence that a performer on Monday night is worthy of a spot on the team, this list will be updated and those with standout performances from the weekend will still be appreciated.
Check out all of our regular season advanced statistics and information including every player's grade with PFF Elite and Premium Stats 2.0.

Offense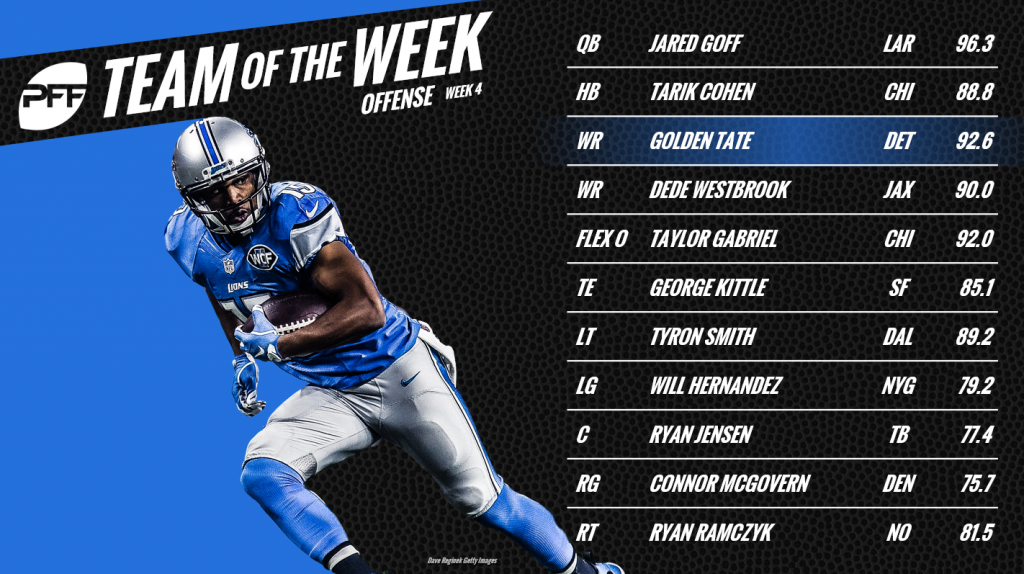 Quarterback
Goff was on fire on Thursday Night Football, and while the Rams offensive scheme put their playmakers in position to make plays, Goff's pinpoint accuracy on the night was just as important to their overall success. On throws traveling 20+ yards downfield, the number one selection in the 2016 NFL Draft went five-for-five for 190 yards and four touchdowns.
Running Back
Cohen made a huge impact in the passing game for the Bears on Sunday, averaging 8.07 yards per route run, picking up 121 yards from 15 snaps as a receiver. He also forced two missed tackles after the catch, taking his total on the year to six.
Wide Receiver
Tate's 4.55 yards per route run average ranked third among wide receivers with at least five targets yesterday, with the former second-round draft pick at his tackle-breaking best. He forced two missed tackles yesterday, taking his season total to eight, putting him on pace to force at least 20 missed tackles for the seventh season in a row.
Wide Receiver
In a breakout game, Dede Westbrook showcased his ability to make plays in the passing game, averaging an impressive 3.71 yards per route run from 35 snaps as a receiver. Westbrook saw nine catchable passes thrown his way on the day and he caught all of them on his way to the first 100+ yard game of his career.
Tight End
Continuing his breakout campaign and earning a spot on the Team of the Week for the second week in a row, Kittle racked up 125 yards on 34 receiving snaps. That was good for a 3.68 yards per route run average that led all tight ends with at least 15 receiving snaps yesterday.
Flex Offense
Gabriel was another member of the Bears offense who made big plays on Sunday, ranking fourth among wide receivers with an average of 4.33 yards per route run. He was a playmaker downfield, catching both deep targets thrown his way for 63 yards, and added a touchdown on a jet sweep pass.
Left Tackle
This was Tyron Smith at his masterful best. Injuries have given him problems in the past couple of seasons, but Smith looked back to his peak on Sunday. He looked good as a run blocker, as part of a Cowboys offensive line that cleared the way for Ezekiel Elliott, but it was in pass protection where he really impressed. From 35 pass-blocking snaps, he didn't allow a single sack, hit or hurry, giving him a perfect 100.0 pass-blocking efficiency rating on the day.
Left Guard
Continuing his stellar rookie season, Hernandez produced a PFF grade of 70.0 for the third straight week. Hernandez now hasn't allowed a sack, hit or hurry on 82 pass blocking snaps over the past two games, and is fast becoming one of the top guards in the NFL, even as a rookie.
Center
After struggling on Monday Night Football last week, Jensen bounced back to have his best game as a member of the Buccaneers to date. For the second time this year, he didn't allow a single sack, hit or hurry, giving him a perfect 100.0 pass-blocking efficiency rating.
Right Guard
The lone player from Monday Night Football to land on the list, McGovern earns the right guard spot for the second week in a row after another dominant run blocking performance. He did allow three hurries in pass protection, but his power in the running game, including driving linebacker at will at the second level, was enough to earn the spot.
Right Tackle
Quickly becoming one of the very best right tackles in football, Ramczyk had another impressive game on Sunday. From 38 pass-blocking snaps, he allowed just one hurry and has allowed only four total pressures on 182 pass-blocking snaps so far this season.
Defense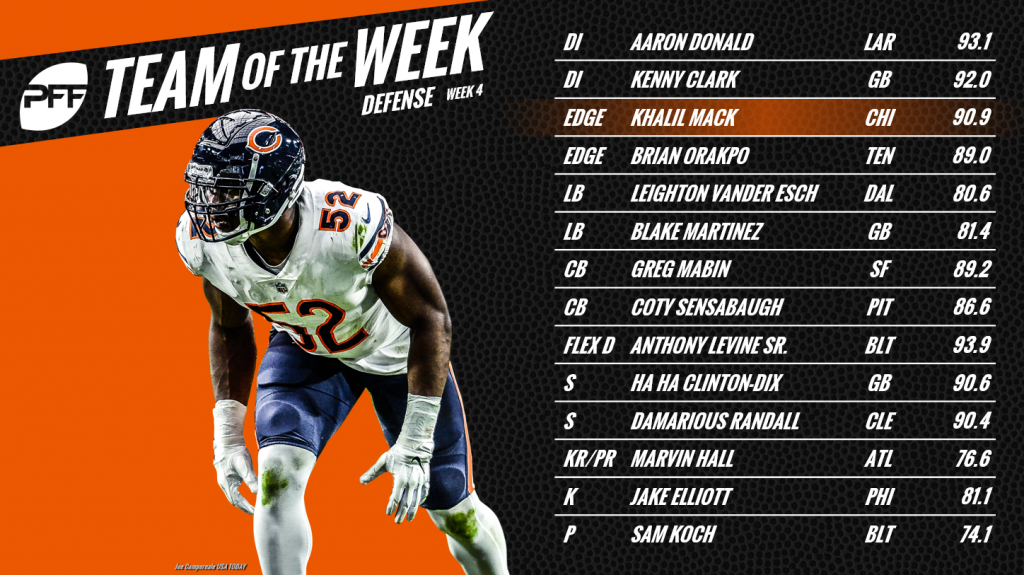 Edge Defender
Mack was dominant off the edge once again for the Bears, racking up a sack and three hurries from 33 pass-rushing snaps. Mack has now produced 24 total pressures through four games and has forced a fumble in every game of the year so far.
Interior Defensive Lineman
It doesn't get much better for the Rams than their franchise quarterback and star defensive player having the nights they did against the Vikings. Donald racked up a ridiculous 13 total pressures, including two sacks and two hits from 56 pass-rushing snaps. Through four games this year Donald has produced 28 total pressures, two more than he produced in his first four games last year.
Interior Defensive Lineman
Clark's PFF grade has improved every single week of the season so far, and through four games he is on pace for the highest graded season of his three-year career. Against the Bills he produced four hurries as a pass-rusher, and forced a fumble, giving the Packers a true difference maker up front.
Edge Defender
Orakpo produced two hurries from 29 pass-rushing snaps, but his biggest play of the game came on a wide receiver screen. Tackling wide receiver Nelson Agholor, he forced the fumble. The Titans weren't able to capitalize, but that doesn't make Orakpo's feat any less impressive.
Linebacker
It wasn't just improvements from Dak Prescott and a big game on the ground and through the air that should give the Cowboys reason for optimism, they also saw a big game out of their first-round draft pick at linebacker. Vander Esch made five tackles on Sunday, with four of them resulting in a defensive stop.
Linebacker
Martinez made an impact against the run, in coverage and even as a blitzer in the Packers shutout win over the Bills. In coverage, the four receptions he allowed went for just 24 yards, while he added a sack and a hurry when he has asked to rush the passer. On the day, he made eight tackles, with five of them resulting in a defensive stop.
Cornerback
An undrafted free agent in 2017, Mabin saw 29 snaps on the field on Sunday and was targeted five times. From those five targets, he allowed just two receptions for 18 yards and a passer rating of just 50.4. Mabin also finished the day with three tackles, with two of those resulting in a defensive stop.
Cornerback
On the field for 30 coverage snaps, Sensabaugh was targeted three times, allowing just one reception for five yards. That resulted in an NFL passer rating allowed of 42.4 on throws into his coverage, while he also registered a tackle resulting in a defensive stop.
Safety
The Packers safety had a fantastic day in coverage, coming away with an interception and allowing no receptions on throws into his coverage. Clinton-Dix registered two tackles, with one of those resulting in a defensive stop. Through four weeks he has picked off three passes and broke up one more.
Safety
Randall allowed a touchdown from two targets in coverage, but also came away with an interception and pass breakup on the day. He attempted six tackles and didn't miss a single one, with one of those tackles resulting in a defensive stop.
Flex Defense
Normally our FLEX spot goes to a cornerback, but this week it is Levine who gets the honors after coming up with a huge play for the Ravens defense on Sunday Night Football. Live often plays in a linebacker/strong safety role in the Ravens defense. It was from here where he effectively sealed the game on Sunday night, dropping into coverage from his spot next to C.J. Mosley and picking off the Ben Roethlisberger pass.
Special Teams
Kicker
Elliott only made two field goals on the day, but both were extremely important. The first sent the game into overtime, while the second put the Eagles in front in overtime before the Marcus Mariota to Corey Davis game-winner gave the Titans the victory.
Punter
Joe Flacco and the Ravens offense got a lot of the credit, but punter Sam Koch was key too, putting the Steelers offense in tough positions. Three of his four punts landed inside the Pittsburgh 20-yard line and his punts yielded just three return yards.
Kick/Punt Returner
Once again there were no touchdowns on kick or punt returns, but Hall did have the longest kick return of the day at 53 yards.
Special Teamer
Had Chubb played more snaps on offense, he very well might have been our running back in the Team of the Week, but he still finds his way onto the list for the first time in his career thanks to making the tackle on three of the seven punts he was on the field for.