After each week of the NFL regular season, and once our exhaustive All-22 review processes are in the books, PFF will be bringing you the insights from our play-by-play grading of every NFL game with our Team of the Week.
The team format will match the improved All-Pro system when it comes to offensive and defensive formation, with a flex player for both sides of the ball that can be either a receiver, slot weapon, tight end or running back on offense, and anybody in the defensive secondary on defense. This gives us the flexibility to reward the player that best deserves it across multiple positions, rather than shoehorning in somebody just to fit a slot receiver or cornerback role.
We lend some weight to playing time, and a variety of factors are considered, but these will largely be the best-graded players at their respective positions throughout the league. This year, our Team of the Week will be coming out before Monday Night Football has been played, featuring the best performances from the Thursday Night and Sunday games. In the occurrence that a performer on Monday Night is worthy of a spot on the team, this list will be updated and those with standout performances from the weekend will still be appreciated.
Check out all of our regular season advanced statistics and information including every player's grade with PFF Elite and Premium Stats 2.0.

[Editor's note: The Team of the Week was originally published on the morning of September 10, but has been amended to reflect some of the dominant performances from the Monday Night Football contests.]
Offense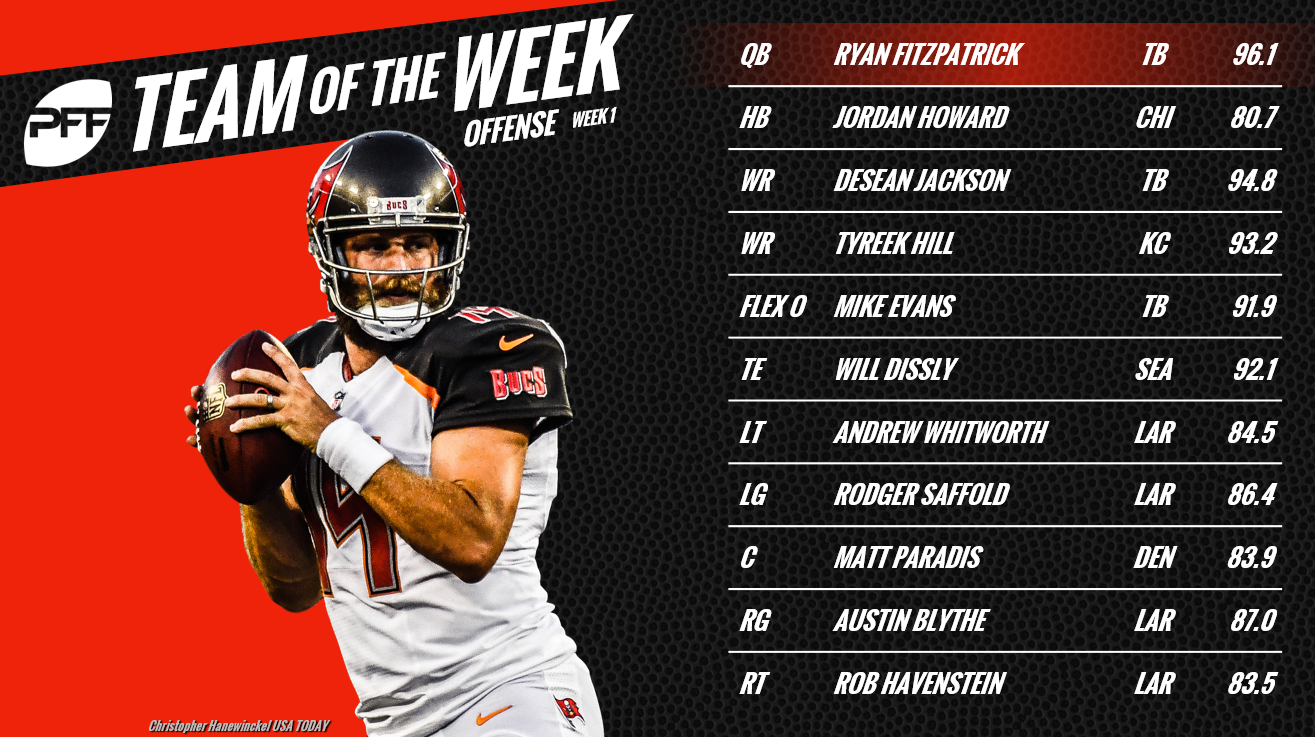 Quarterback
This was Fitzpatrick at his Fitzmagic best. Delivering dime after dime and picking the Saints apart with back-shoulder throws, he delivered one of the best quarterbacking performances you'll see all season. On throws 20-plus yards downfield, he went 4-for-5 for 179 yards and three touchdowns.
Running Back
Jordan may not have led the NFL in yards or touchdowns this week, but he was consistently impressive in the loss to the Packers. From 15 carries, he forced three missed tackles and averaged 3.9 yards after contact per attempt.
Wide Receiver
Just like Fitzpatrick, Jackson could do no wrong on Sunday, dominating against New Orleans. Despite being limited to just 13 snaps as a receiver due to a couple of injuries, Jackson averaged 11.23 yards per route run, the most of any wide receiver this week.
Wide Receiver
Similarly to Jackson, Hill just couldn't be stopped, averaging 8.45 yards per route run in the win over the Chargers. He showcased how dangerous his speed is downfield, with two receptions on throws of 20-plus yards, and on shorter routes too, scoring on a jet sweep.
Tight End
A performance that came out of nowhere, Dissly was dynamic as a pass-catcher, averaging 5.25 yards per route run from 20 snaps as a receiver. Too much for the Broncos to handle, he averaged 22.3 yards after the catch per reception and forced a missed tackle.
Flex Offense
The third member of the Buccaneers offense in our Team of the Week, Evans finally got the better of Saints cornerback Marshon Lattimore at the third time of asking. When being covered by the Saints star cornerback, Evans picked up four catches for 115 yards and a touchdown.
Left Tackle
(Previous LT prior to MNF: David Bakhtiari, Green Bay Packers – 84.1)
The Rams offensive line as a unit was fantastic, and that starts with Whitworth. He allowed just one hurry, and no hits or sacks, for 36 pass-blocking snaps in the win over the Raiders.
Left Guard
(Previous LG prior to MNF: Ali Marpet, Tampa Bay Buccaneers – 82.4)
Saffold produced a perfect 100.0 pass-blocking efficiency, with no pressures allowed all game. He also impressed as a run-blocker, producing the highest run-blocking grade among offensive guards this week.
Center
Paradis did allow a sack, but it was the only pressure he allowed from 42 pass-blocking snaps in the win over Seattle. He was also really impressive in the running game, producing the highest run-blocking grade at the position this week.
Right Guard
(Previous RG prior to MNF: Kyle Long, Chicago Bears – 81.4)
Saffold's teammate was our second-highest graded run-blocking guard this week, trailing only his teammate. Similarly, he too produced a perfect 100.0 pass-blocking efficiency rating, with no pressures allowed all game.
Right Tackle
(Previous RT prior to MNF: Lane Johnson, Philadelphia Eagles – 76.7)
Like Whitworth, Havenstein didn't allow any sacks or hits, and just one hurry, from 36 pass-blocking snaps. That's an impressive duo, with quarterback Jared Goff having to deal with just two pressures against his tackles over the course of the game.
Defense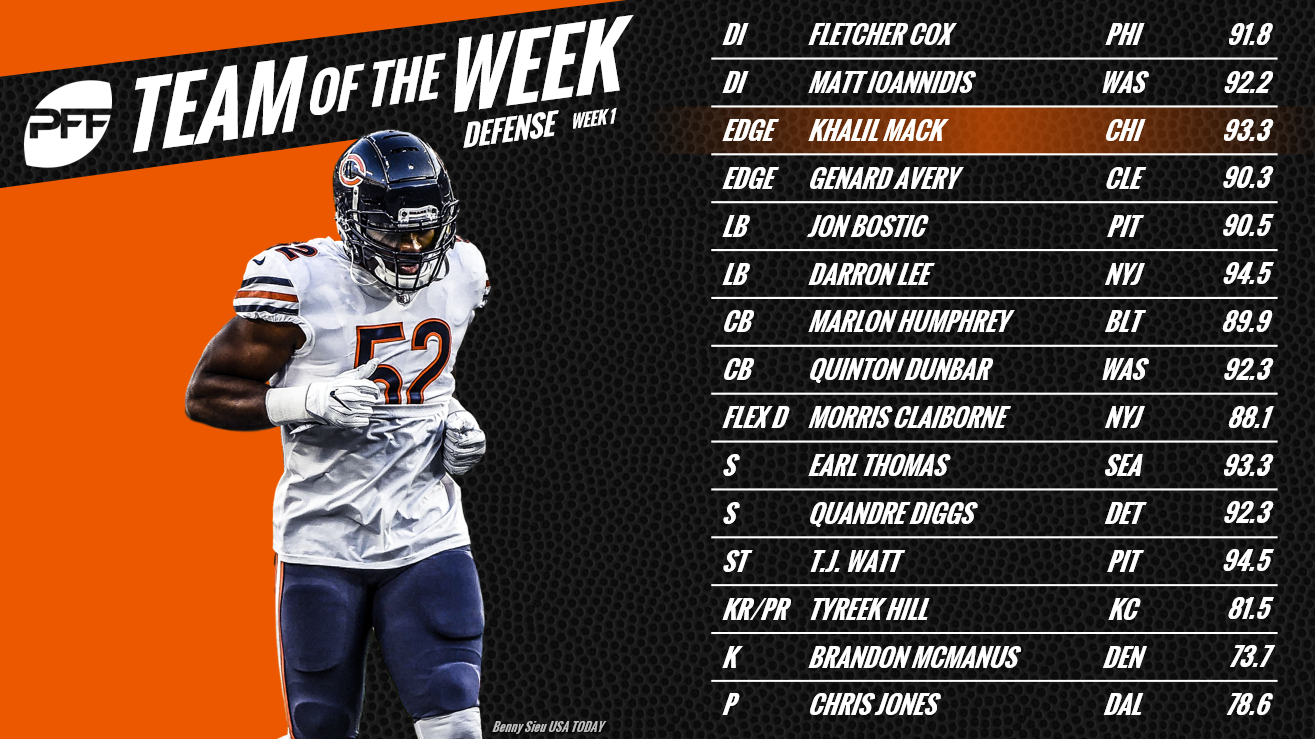 Edge Defender
The third member of the Bears to make this week's Team of the Week, Mack was dominant in his debut, particularly in the first half. On the field for 32 pass-rushing snaps in the game, he racked up a sack and five hurries. He also had a forced fumble on one of those sacks and returned an interception for a touchdown.
Interior Defensive Lineman
Continuing right where he left off in 2017, Cox was dominant in the season opener against the Atlanta Falcons. From 48 snaps as a pass-rusher, he picked up seven total pressures, including a sack and three quarterback hits.
Interior Defensive Lineman
Ioannidis saw just 27 snaps, but after a performance like that, there will be calls for him to see even more playing time. On the field for 19 pass-rushing snaps, he picked up a sack and three hurries, providing a consistent pass-rushing threat against the Cardinals.
Edge Defender
Avery was a force against the run and as a pass-rusher in his regular season debut. From 29 pass-rushing attempts, he picked up a sack, a hit and a hurry, and finished the game with three total defensive stops. Not bad for a fifth-round rookie.
Linebacker
Bostic delivered against the run and in coverage for the Steelers, finishing the game with four defensive stops. While he allowed two receptions in coverage, they totaled just four yards.
Linebacker
(Previous LB prior to MNF: Deion Jones, Atlanta Falcons – 90.3)
Lee was outstanding in coverage for the Jets, and not just because of his pick-six. He was targeted 13 times all night, allowing just 6.4 yards per catch, and finishing the game with two interceptions and a pass breakup.
Cornerback
From 27 snaps in coverage, Dunbar allowed just two receptions for 10 yards and came away with an interception. All of that resulted in a passer rating allowed of just 8.3 on the day, making life miserable for Cardinals quarterback Sam Bradford.
Cornerback
In their first game without cornerback Jimmy Smith, another Ravens cornerback makes the Team of the Week. Humphrey was outstanding, allowing just two receptions for six yards from six targets, and came away with two pass breakups.
Safety
If it was ever in doubt, Thomas' importance to the Seahawks defense was on display early in their loss to the Broncos, with the free safety snagging an interception. He also didn't allow a single reception on plays where he was the primary coverage defender, sealing an impressive return to the field, even if it was in a losing effort.
Safety
(Previous S prior to MNF: Clayton Fejedelem, Cincinnati Bengals – 91.7)
Diggs season could not have gotten off to a better start as he picked off the first pass of rookie Sam Darnold and took it to the house for six. Years from now, if Darnold goes on to have a long and storied career, that will be a trivia answer to remember, but for this week it was just an incredible play by Diggs, who produced the highest coverage grade among any safety in the league this week.
Flex Defense
Previous flex prior to MNF: Denzel Ward, Cleveland Browns – 85.6)
Targeted five times on the night, Claiborne allowed two catches for 31 yards. Of the three passes that weren't caught, Claiborne broke one up and picked off another. On the night, he allowed a passer rating of just 21.7 on throws into his coverage.
Special Teams
Kicker
McManus was perfect on all three extra points and connected on both field goals from 50-plus yards. He did everything that was asked of him in the Broncos win and earns himself a spot on the Team of the Week in the process.
Punter
As shocking as it may be to not have Michael Dickson here, the fact of the matter is that Jones was the best punter in the league yesterday. He averaged 4.72 seconds of hang time on six kicks, with two of those landing inside the opposing 20-yard line.
Kick/Punt Returner
It's only Week 1 and Hill is already up to two appearances on the PFF Team of the Week. A 91-yard punt return for a touchdown to go along with his exploits on offense will do that for you.
Special Teamer
Watt's blocked field goal is the main reason right now that the Pittsburgh Steelers and Cleveland Browns have 0-0-1 records, and the Steelers aren't the lone team at the foot of the AFC North after one week.