ENGLEWOOD, Colo. – Today was a joint practice with San Francisco, so I expected a lot, and to be fair, it was pretty good—while it lasted, that is. The best part of camp, for me, are all the one-on-one and 11-on-11 drills, and we certainly got those, but only for a short time, as the 49ers retired to the new indoor facility and the Broncos—clearly happy with their day—decided an hour and a half was enough.
San Francisco isn't the topic of conversation here, though—Kiernan Hogan covered them when he visited their Camp in Santa Clara two weeks ago. This is about the Broncos, and by far the biggest question for them is quarterback, so that's where we'll start.
2015 seventh-rounder Trevor Siemian winning QB competition?
Trevor Siemian is pulling ahead in the race to be the Week 1 starter. On the basis of what we saw against Chicago, I thought the QBs were about even, but Siemian looked to have the better upside. His top-end throws, despite being balanced by some very bad decisions, were excellent. That was reinforced today when, in my opinion, he looked far better than either Mark Sanchez or rookie Paxton Lynch. He seemed more in command, more efficient in his movements, and made superior throws.
Siemian starts against the same 49ers team on Saturday, and if he can cut out a percentage of his poorer decisions, the job can be his. As my partner for the West Coast part of this tour, Sports Illustrated's Peter King, says, "This is clearly the story of the preseason—we are looking at last year's afterthought, a seventh-round pick starting for the world champion Broncos against the Panthers on Sept. 8."
For that reason, let's spend most of our time on Siemian and what we do know about him.
His senior season at Northwestern was a good, though not great, affair. He was our 18th-highest graded draft-eligible quarterback, but perhaps the most important part of his grade was how it was broken down.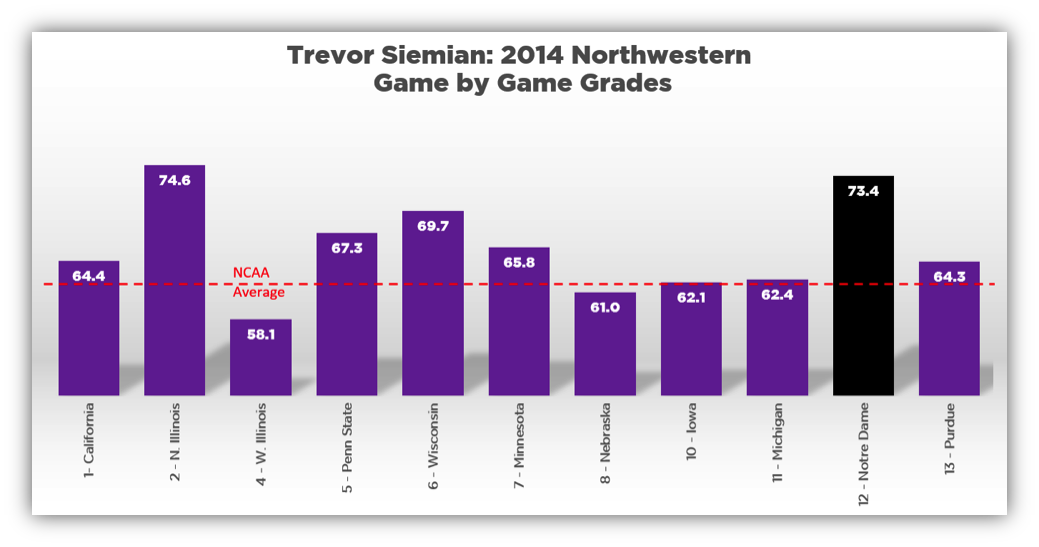 As can be seen above, his second-best game that season was against Notre Dame, and in all probability, it was this that meant he squeaked into the draft as selection No. 250, as opposed to going undrafted. What's interesting about this game, though, is that he had excellent protection—he was only pressured on 10 of 54 dropbacks—so it did come with an asterisk.
During the 2015 preseason, Siemian was really the least of anyone's concerns, as he graded out as average in 44 third-string dropbacks; most, coincidentally, came unpressured.
It's hard to see Siemian's ascent as a carefully-crafted plan on the part of the Denver front-office, but if he works out well—at least, well enough for their defense to take charge—I'm sure they'll be happy with an accidental hero.
Shane Ray ready to take next step?
As I watched the one-on-ones, the 49ers' offensive line handled the Denver front (Note: DeMarcus Ware, Von Miller, and Derek Wolfe were nowhere in sight) with one exception: Shane Ray beat his man more often than not. The 2015 first-round pick was in the second-string rotation last year, and somewhat underwhelmed. He was the only Broncos edge rusher to grade below-average overall in 2015 (he struggled against the run), and his return of 23 QB disruptions from 187 rush attempts was just okay.
In the first 2016 preseason game, he started and played only 10 snaps, picking up a sack in the process against Charles Leno, Jr. on an inside spin move. How he progresses from here is crucial.
Last year, Ray had a very good preseason, and then declined. Can he have a similar preseason this year and carry that momentum into Week 1 and on?