It goes without saying that each drive in the NFL is crucial to a team's overall success. To keep a drive alive, a team must either gain large chunks of yards on first and second down, or they must convert an often-pressured third or fourth down. When the latter comes into play, it's necessary to have a reliable option at the wide receiver position – someone who won't drop the ball, someone who gains yards after the catch and someone who simply finds pockets of space in coverage to make things easy for his quarterback.
A list of the wide receivers with the highest passer ratings when targeted on third and fourth down should suffice to show exactly who had the most success on crucial downs last season – many of them are young studs who clearly have bright futures:
[Editor's note: The receivers included in this study must have recorded at least 20 targeted passes on third and fourth downs in 2017.]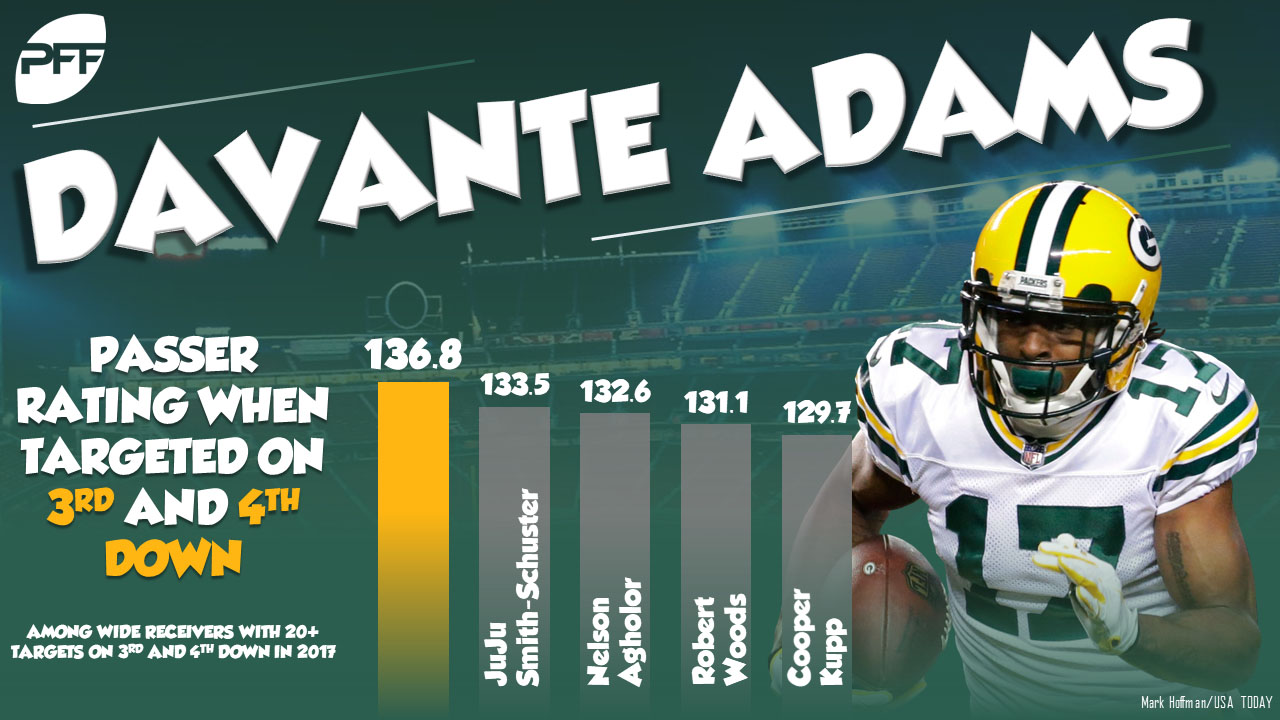 Adams finished first in passer rating when targeted on third/fourth down, and understandably so as he hauled in 20 receptions on 31 targets for five touchdowns. He was also a stud on catching passes in traffic – he hauled in 5-of-9 contested targets. Oh, and he was also a stud on third/fourth down with five or fewer yards to go. He finished second in passer rating (152.1) on third/fourth and short, including three of his touchdowns. The list goes on and on for Adams, and if his last two seasons are any indication, he could very well be on pace to possibly become a top-five receiver by the end of the year.
There's no Antonio Brown on this list, and that says a lot about Smith-Schuster's value to the Pittsburgh Steelers. He had a 70.0 percent catch rate on third/fourth down and hauled in four touchdowns – three more than Brown. Two of Smith-Schuster's touchdowns came on third/fourth down of five or fewer yards – he finds pockets of space when his quarterback needs someone to step up. That was evident against the Detroit Lions in Week 8 when he found space up the seam en route to a 97-yard touchdown on third-and-nine. Brown is the clear No. 1 receiver in Pittsburgh, but don't count out Ben Roethlisberger's tendency to look for Smith-Schuster on third/fourth down.
As you look deeper into Agholor's 2017 stats, it becomes quite obvious that he has evolved into something far superior than what he was during his first two seasons in the NFL. He had the second-most yards on third/fourth down in 2017, not to mention he didn't drop a single pass when targeted on those downs. On third/fourth down of 10 or more yards, Agholor was virtually unstoppable, reeling in 10-of-12 targets for 263 yards and three touchdowns – all tops among wide receivers. No more needs to be said about a receiver who has put himself on a path to stardom for years to come.
With Sammy Watkins gone, its Robert Woods and Cooper Kupp (and Brandin Cooks) at the top of the Los Angeles Rams depth chart – and they're both on this list. Woods had the best hands on third/fourth down among wide receivers in 2017, snagging more than 80 percent of the balls thrown his way. Efficiency was the name of the game for Woods, as he also caught 8-of-11 targets on third/fourth down of 10 or more yards. Keep an eye on the Rams' receivers and their ability to be silent assassins in a league filled with flashy pass-catchers.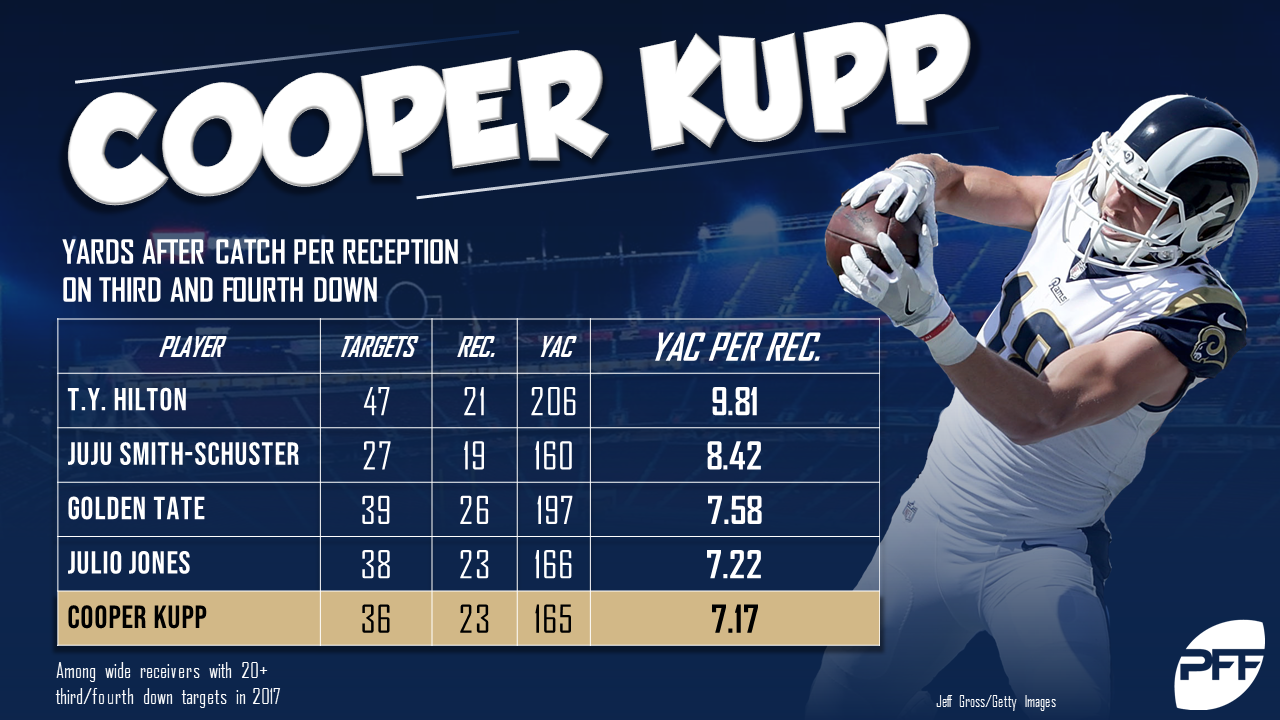 The Rams knew what they were getting when they drafted Kupp in the third round of the 2017 draft, but it's hard to tell if other teams knew just how good he could be. The shifty receiver put up four touchdowns on third and fourth down and finished sixth in yards after the catch on those downs (165). He admittedly had the most drops (six) of any receiver on a drive's crucial downs, but he was generally efficient, catching 23 of his 36 targets. His shiftiness was on display with his yards after the catch on third/fourth down, with an average of 7.17 (fifth).
Jones Jr. was one of two wide receivers to have two touchdowns on contested targets on third/fourth down. In Week 12, Jones made a jaw-dropping contested catch on third-and-14 against double coverage. It would go down as a 43-yard touchdown that brought the Lions within four points of the Minnesota Vikings in an eventual loss. However, the catch itself is a prime example of Jones' ability to make big plays in big moments. Since joining the Lions in 2016, Jones has had two career years, and there's no reason to believe 2018 will be any different.
It's probably safe to say the Packers are in good hands with their current wide receiver corps, with Cobb being the second Green Bay receiver on this list. Quite literally, Cobb's hands are his biggest strength – he didn't have a single drop on third/fourth down in 2017 and he didn't drop a single pass in 2016. Cobb was clean on third/fourth down, catching 21-of-29 targets for 238 yards and two touchdowns. He and the aforementioned Adams make quite the clutch duo – something Aaron Rodgers will appreciate with Jordy Nelson now in Oakland.
An offseason fiasco that led Grant to sign with the Indianapolis Colts instead of the Baltimore Ravens doesn't take away from what he accomplished in 2017. Three of his four touchdowns came on third/fourth down and nearly 40 percent of his receiving yards came on third/fourth down and half of his catches on third/fourth down went for first downs. He isn't as flashy as the other receivers on this list, but he should be able to help a team that ended the season in the bottom 10 in third down conversions on pass plays.
A favorite of Jimmy Garoppolo, Goodwin is a reliable threat on all downs, but it was what he did on third/fourth down in 2017 that should have San Francisco fans excited. In six games with Garoppolo at the helm, Goodwin was targeted 13 times on third/fourth down. In 10 games with other quarterbacks, he was targeted just nine times on money downs. Keep in mind, Goodwin's 2016 passer rating when targeted on third/fourth down was just 46.7 – 71st of 76 wide receivers. Despite just one touchdown to show for his work in 2017, Goodwin should be a happy receiver in 2018 as Garoppolo's most-reliable target.
The Baltimore Ravens receivers had a rough 2017 season, leading to an offseason revamp. However Wallace, now with the Eagles, was generally a consistent option for Joe Flacco, whether it was on a deep bomb or on a short crossing route. It was on third/fourth down and short where Wallace really made his mark, though. Wallace was one of only three wide receivers to have three touchdowns on third/fourth down and less than five yards to go. He only had four touchdowns on the year, his production on these downs was quite impressive. Nearly 70 percent of his third/fourth down yards were with less than five yards needed to convert – and 10 of his 12 catches went for first downs.