We've now seen at least two games from all 32 franchises, which means it's time to make some gross overreactions from our data. Oh, wait, that's not quite right. It's time to give credit to those who have performed admirably in their limited exposure. Preseason grades aren't the end all be all, but it's always better to show on the high-end of our grading scale rather than the low.

[Editor's Note: All ELITE subscribers have access to all of PFF's advanced stats and grades for the NFL preseason, regular season and postseason dating back to 2006. Subscribe today!]
91.5 Overall Grade
Jones' 91.5 overall grade has to look wholly unfamiliar for Vikings fans. This is an interior offensive line that was among the bottom-five in our grading system in all the NFL last year. Jones looks like he wants his playing time back after the Vikings drafted Garrett Bradbury in the first round. The veteran center hasn't allowed a single pressure on 44 pass-blocking snaps through two games.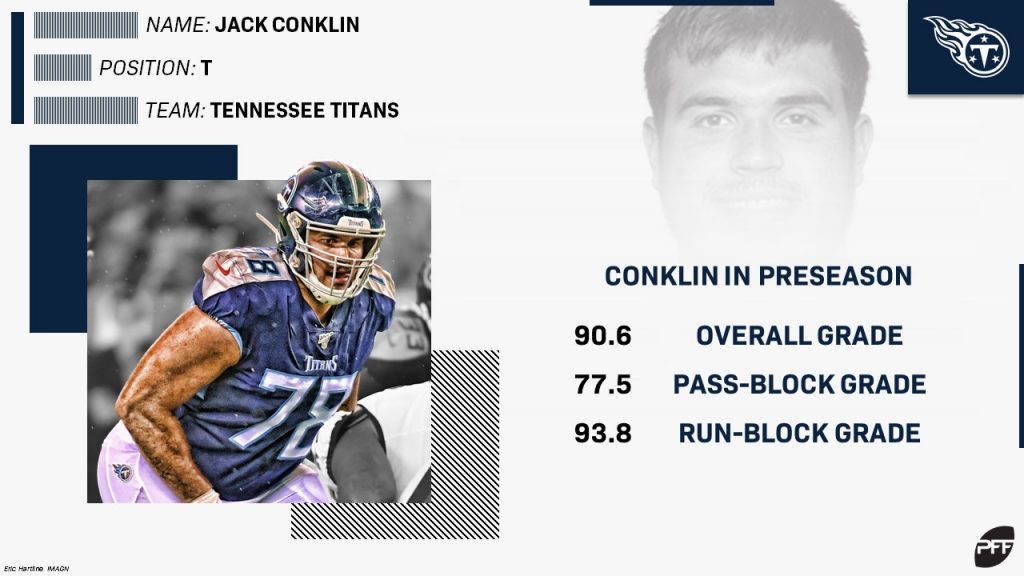 90.6 Overall Grade
After a career mired by injuries, Conklin didn't get his fifth-year option picked up by the Titans this offseason. Through two preseason contests, he looks like a man set out to prove that move foolish. He's allowed one hurry on 20 pass-blocking snaps and earned a 93.8 run-blocking grade on eight snaps in the run game. Conklin was a one-time PFF All-Pro right tackle back in 2016, but he has been unable to recapture that form since as his grade has decreased each season.
84.5 Overall Grade
Warford, like Conklin, is another player who head-scratchingly peaked from a grading perspective as a rookie. He earned an 84.9 overall grade back with the Lions in 2013 and has had only one season grade over 80.0 since. Still, he's been a terrific pass protector for the Saints, allowing fewer than 20 pressures each of the past two regular seasons. He's picked up where he left off in that regard with zero pressures yielded through 18 pass-blocking snaps this preseason.
84.3 Overall Grade
The former undrafted free agent out of Boise State back in 2016 has yet to play a single regular-season snap in his NFL career. If he keeps up his solid play, though, that could be changing soon. On 27 snaps this preseason, he's allowed only one hurry and earned an 86.3 run-blocking grade. All those snaps have come late in games, though, against third-stringers, so we'll pump the breaks a tad.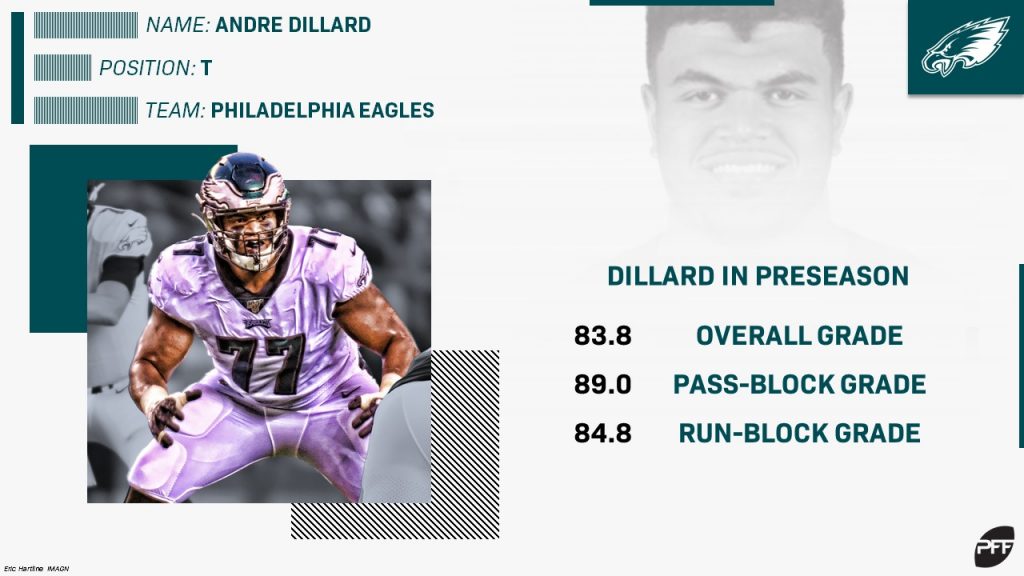 83.8 Overall Grade
The lone rookie to make the list, Dillard is making Howie Roseman look like a genius for jumping the tackle-needy Texans to get their guy back in April. They've given him an extended run in both of their games, playing 33 snaps against the Titans and 37 against the Jaguars. In both, he's been lights out in pass protection. Dillard hasn't allowed a single pressure this preseason and has earned an 84.8 run-blocking grade, to boot.