The NFL has announced its roster selections for the 2019 Pro Bowl, so we've taken a closer look at this year's picks to delve into the biggest snubs. Below, we've detailed our top-10 snubs from this year's Pro Bowl and added who we'd have each of them replace from the NFL's list.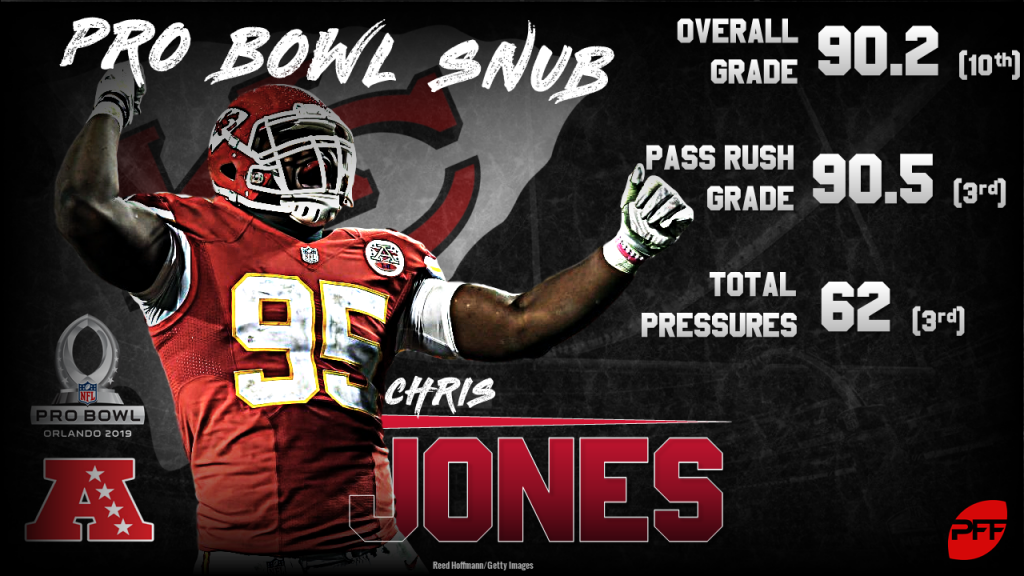 Replace: Melvin Ingram III, Los Angeles Chargers
This isn't even a hipster PFF selection. Traditional stats show that Jones was a monstrous snub. He's tied the NFL record with 10 straight games with a sack and has 14 total on the season. Oh, and he's done it all from the interior. No defensive lineman over 300 pounds has recorded as many sacks as Jones has since Warren Sapp. He's breaking records over here and can't even get recognition. Meanwhile, Ingram floundered for much of the season without Joey Bosa to take attention away.
Replace: Max Unger, New Orleans Saints
While the rest of the line around Kelce hasn't been up to their 2017 form, the center is right back at his All-Pro level. He's the highest-graded center in the NFL once again and has actually been even better in pass protection this season with only nine pressures allowed. Unger, on the other hand, has the second-lowest grade of any Pro Bowler at 64.5 overall.
Replace: Eric Fisher, Kansas City Chiefs
This one is particularly egregious considering pretty much every Chiefs game you flip on this season it's clear which tackle is performing better. Schwartz has given up exactly half as many pressures as Fisher this season (19 vs 38) while having the more difficult task of facing Von Miller twice a year.
Replace: Jadeveon Clowney, Houston Texans
Leonard got the unfortunate distinction this season of being in the same category as outside linebackers who play a completely different position. Still, Leonard rushed the passer 38 times this year and has seven sacks while Clowney rushed the passer 501 times and has eight sacks. Leonard is one of the most complete and dynamic playmakers at linebacker today. Leaving him off for all edge rushers is comical.
Replace: Trai Turner, Carolina Panthers
Marpet has been the lone bright spot on the Bucs' offensive line all season. He's in the midst of a career year and is PFF's fourth highest-graded guard. Turner, on the other hand, has missed two games so far and has only been PFF's 18th highest-graded guard when he's been healthy.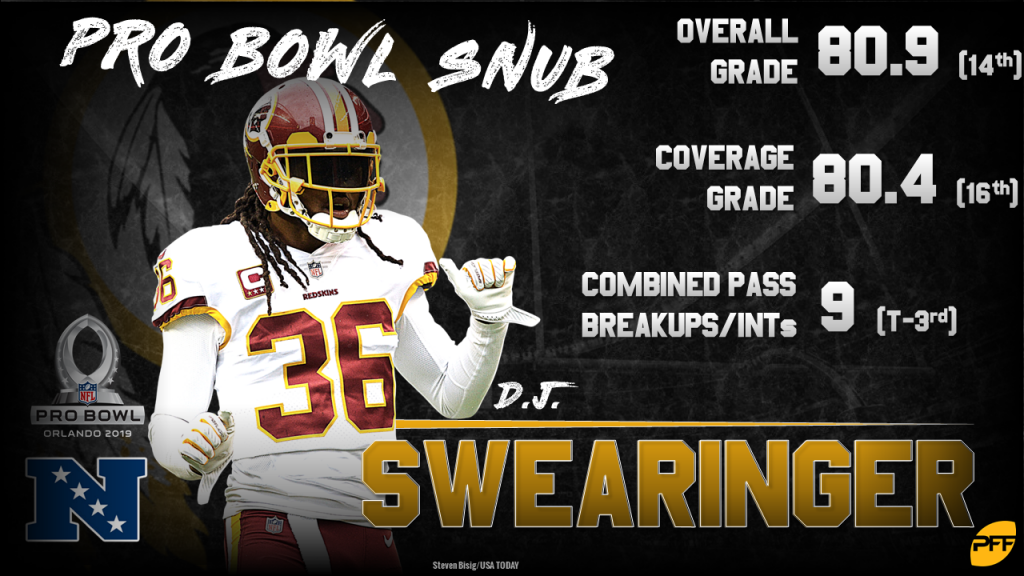 Replace: Landon Collins, New York Giants
The player that Collins has been in New York the past couple of seasons is what Swearinger is in Washington this year. Swearinger's nine combined pass breakups and interceptions are third-most in the league, and his eight coverage stops are 18th-most.
Replace: Trent Williams, Washington Redskins
The amazing thing about a reputation along the offensive line is that once you develop one, you can do no wrong. Offensive line play, though, is subject to fluctuations in performance like every other position on the football field. Nevermind the fact that Williams has missed three games this year and parts of others or that his nine penalties are the eighth-most among tackles. Bakhtiari has yet again been arguably the best pass-protecting left tackle in the NFL and has given up only three more pressures than Williams on 219 more pass blocking snaps.
Replace: Mike Pouncey, Los Angeles Chargers
All Hudson has been over the past couple seasons is quite easily the best pass-protecting center in the NFL. Mike Pouncey has given up three times as many pressures as Hudson this season even though both play with quarterbacks that have particularly quick releases.
Replace: Eric Weddle, Baltimore Ravens
Weddle has had his fair share of snubs in the past, but this hasn't been a banner year for the veteran safety. Byard has built upon an outstanding sophomore campaign to become one of the most consistent free safeties in the NFL. He's allowed a 46.2 passer rating in his coverage this season and owns an 86.6 overall grade.
Replace: Anthony Sherman, Kansas City Chiefs
This is no knock on Sherman, who is a fine fullback, but the man played 89 snaps this season!! Janovich has been of similar quality albeit on 216 snaps. Truthfully, the position needs to be eliminated altogether, as it's no longer even a viable role for the vast majority of teams in the NFL.