With the Super Bowl the only remaining NFL game left in the 2016 season, it's time to begin turning our attention towards the offseason, and in particular, free agency.
At this time of year, the list of prospective free agents always looks mouth-watering, with names like Steelers RB Le'Veon Bell, Chiefs S Eric Berry, Panthers DT Kawann Short and Redskins QB Kirk Cousins among those slated to hit the open market, but a large portion of the top-end talent will either be re-signed or franchise tagged, keeping them with their current teams and away from the clutches of potential rivals.
Instead, let's take a look at 10 of the best players that are more likely to be available once free agency officially opens:
1. Melvin Ingram, EDGE, Los Angeles Chargers
The Chargers will likely try and keep Ingram around, but they don't have a huge amount of cap space and have a second stud edge rusher in 2016 rookie Joey Bosa. After a slow start to his career, Ingram has developed into a dominant edge rusher, posting 72 total QB pressures in 2016 after recording just 83 over the previous two seasons. He was PFF's sixth-ranked edge rusher overall this past season, slotting in just behind Bosa. Ingram posted solid grades in every facet of the game PFF measures, and his pass rush, in particular, has been improving year over year since his disappointing sophomore season that saw him play just 241 snaps. Ingram would upgrade most team's pass-rush unit immediately.
2. Alshon Jeffery, WR, Chicago Bears
The Bears will likely part ways with Jeffery this offseason, having been toying with the idea of locking him down long-term over the past few seasons. Jeffery has missed too much time for the team to be able to confidently rely on him as their No. 1 target long-term, and his elite play has been too fleeting over the past few seasons. In 2016, he recorded more than five catches just twice, and had only one 100-yard plus game (in the first week of the season). Jeffery has shown big-time ability, but the Bears will likely let somebody else roll the dice on the big contract it will take to see it in the future.
3. Jason Pierre-Paul, EDGE, New York Giants
Jason Pierre-Paul played well in 2016, his first full season after his gruesome hand injury sustained in a fireworks accident on July 4, 2015. JPP finished this season as PFF's 13th-ranked edge defender with a grade of 86.2, just ahead of teammate Olivier Vernon. The Giants already have big money tied up in that defensive line, though, with Vernon and defensive tackle Damon Harrison both getting hefty contracts a year ago. Pierre-Paul was good this past season, but not so good that the team has no choice but to re-sign him. He notched 54 total QB pressures in 498 pass-rushing snaps before being lost to injury late in the season.
4. Ronald Leary, G, Dallas Cowboys
Ronald Leary regained his starting guard spot this season after La'el Collins went down hurt, and reminded everybody that he was a pretty good starting guard before Collins landed in the Cowboys' lap. He finished the season as PFF's 25th-ranked guard (80.4), and didn't allow a sack all season, totaling 21 pressures surrendered over the year. Leary's best trait was his run blocking, though, and he was 13th league-wide at guard in that area. He would be a solid starting option for many teams once Dallas presumably hands the job back to Collins.
5. DeSean Jackson, WR, Washington Redskins
It sounds like DeSean Jackson is on his way out of Washington, and much of the talk seems to surround a return to Philadelphia, the team he departed for the Redskins. Other teams could certainly be in the mix for a player that still has blazing speed and the ability to make big plays for a passing offense. Jackson averaged 17.9 yards per reception, with 4.9 of those coming after the catch this past season. When throwing Jackson's way in 2016, Kirk Cousins had a passer rating of 107.2—better than Matt Ryan's passer rating when targeting Falcons WR Julio Jones.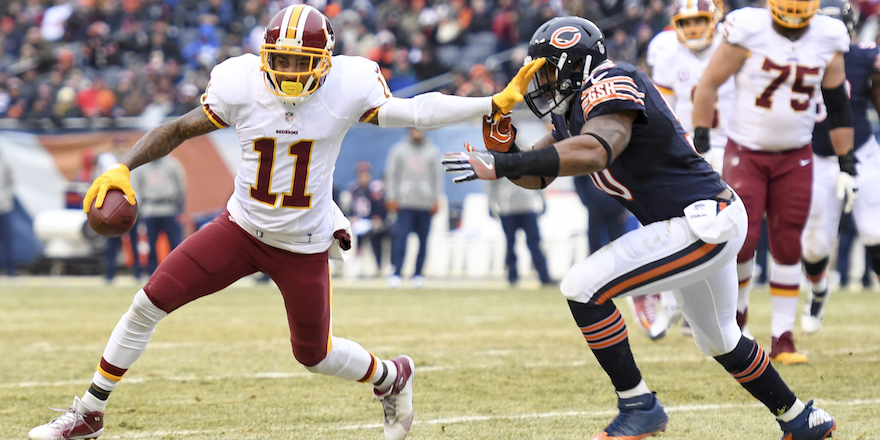 6. A.J. Bouye, CB, Houston Texans
A.J. Bouye was one of the breakout performers of 2016, and sustained his high level of play throughout the season and even into the playoffs. Including the postseason, Bouye allowed just 51.1 percent of passes thrown his way to be caught (seventh-best) for a passer rating of 59.5 (sixth-best), and was beat for only 10.0 yards per catch (16th-best) while intercepting or breaking up 16 of the 92 passes thrown his way. In the playoffs alone, Bouye allowed a passer rating of 5.6 when targeted.
7. Trumaine Johnson, CB, Los Angeles Rams
Trumaine Johnson was kept around by the Rams a year ago in preference to tying down cornerback Janoris Jenkins, who put together an excellent debut season with the New York Giants. Johnson wasn't bad this season, but he didn't take a step further or suggest that he is really worth elite money for the position. He allowed 60.7 percent of passes thrown his way to be caught and surrendered four touchdowns, up from just two over the previous two seasons combined. At 6-foot-2 and over 200 pounds, Johnson has the size and measurables that a lot of NFL teams covet at the minute, but his play is still more potential than actual proven production five years into his career.
8. Morris Claiborne, CB, Dallas Cowboys
A season ago, Claiborne looked like a draft bust for the Cowboys, but this year, he was a different player, finishing the season as PFF's 12th-ranked CB with an overall grade of 84.7. Claiborne only played half of the 2016 season before going down hurt, but in that half of a year, he looked like a different player than in previous seasons. When targeted, the completion percentage he allowed dropped 10 percent from the best previous year of his career to 51.9, and he gave up a passer rating of 63.0, more than 30 points better than any other year. When beaten, he was even giving up smaller plays, averaging just 8.9 yards per catch this past year—his previous career average was 14.4.
9. Tony Jefferson, S, Arizona Cardinals
Tony Jefferson is another player who took a big step forward this season, ending the year ranked No.5 overall in PFF's safety rankings with a grade of 88.6. Jefferson's run grade was stellar this season (98.0), as he notched 35 defensive stops (tied for third among safeties), but his coverage was also solid as a strong safety for the Cardinals. Jefferson played in the box 59.1 percent of the time for Arizona this season and was used in underneath coverage often, where he averaged just 7.1 yards per reception allowed when acting as the primary coverage defender. One-season wonders will always make teams a little concerned come free-agency time, but Jefferson's play this year was excellent.
10. Dontari Poe, NT, Kansas City Chiefs
Kansas City has some choices to make this offseason, with both safety Eric Berry and nose tackle Dontari Poe slated to hit the open market. My hunch is that they will choose to retain Berry and let Poe walk, given his regression from being one of the game's top nose tackles back in 2013. At 346 pounds, his pass-rush has never been much of a factor, but the Chiefs have consistently kept him on the field for 74 percent of defensive snaps or more over his career. His run defense has been good in two of the past four seasons, but entirely average in two others. In order to be worth the kind of big-money contract Damon Harrison got from the Giants a season ago, Poe needs to show that he is a guaranteed monster in that area, and he hasn't been to this point in his career.