Every Tuesday, PFF will be releasing its Team of the Week, representing the highest-graded players at each NFL position for that week. But Senior Analyst Sam Monson gets a jump on that by picking out the 10 most impressive individual performances from Sunday's games.
Here are the 10 best players from Sunday's Week 5 action:
[Check out the 10 worst performances from Sunday of Week 5 right here, or access our Player Grades tool to see how every NFL player measures up through three weeks of the season.]
1. Nickell Robey-Coleman, CB, Buffalo Bills
While Buffalo's top two cornerbacks (Stephon Gilmore and Ronald Darby) continued their relative struggles in Sunday's win over the Rams, Robey-Coleman was near-perfect. He played 25 snaps as the team's slot corner and was thrown at three times in the game, allowing no catches and picking off two passes. Rams QB Case Keenum had a passer rating of 0.0 when targeting him in the game.
2. Mason Foster, LB, Washington Redskins
Foster was an important player in the Washington defense, leading the team with four defensive stops for the day and consistently making tackles for short gains in the passing game. He may have allowed a catch on seven of the eight passes thrown into his coverage, but those passes went for a total of just 29 yards, as he closed quickly to limit gains and keep the Ravens behind the chains, and put the defense into more favorable positions.
3. Von Miller, OLB, Denver Broncos
Hey guys, Von Miller is pretty good at football. He had another sack and three hurries this week in Denver's loss to the Atlanta Falcons, not to mention a batted pass and three defensive stops, but the most interesting thing is that he was largely working against the Falcons' Ryan Schraeder, one of the league's best right tackles, and he definitely got the upper hand in that battle. Miller has been on a tear since getting paid a long-term deal this offseason, and is playing as well as he ever has.
4. Karl Klug, DE, Tennessee Titans
Klug has always been a productive sub-package player for the Titans on the defensive line, regardless of what scheme they have run. Against Miami he was a force against a makeshift Miami offensive line. He was only on the field for 24 snaps, but recorded two hits and four hurries as well as a defensive stop, and consistently made a mess of blocking assignments with his quickness and leverage.
5. Randall Cobb, WR, Green Bay Packers
If you've been wondering what happened to the old Randall Cobb that was once one of the league's most versatile and destructive offensive weapons, we got to see a little look at him this week in Green Bay's "Sunday Night Football" win over the Giants. Cobb was thrown at 11 times, catching nine of those targets for 108 yards, gaining 74 of them after the catch and forcing three missed tackles along the way. It's no coincidence that the Packers offense looked far more lively with him playing that well.
6. Tom Brady, QB, New England Patriots
Did we ever think that Brady would be anything less than dominant in his return? Brady was pretty close to as good as it gets in a ruthlessly efficient performance against Cleveland. He completed 75.8 percent of his passes when under no pressure, and if you factor in drops (three), batted passes (one) and throwaways (one), his adjusted completion rate overall for the game was an impressive 81.6 percent — fourth-best in the NFL this week.
7. Joey Bosa, OLB, San Diego Chargers
27 snaps of Bosa was all the Chargers fans got for his rookie debut, but it was more than enough to leave them excited about their No. 3 overall pick. Bosa notched two sacks, and seven total pressures on only 20 pass-rushing snaps, while playing both defensive end and outside linebacker and splitting between the left and right side of the line. (Check out his various alignments below.) He looked every bit the player he was at Ohio State — which is to say the most dominant defender in college football over the past two seasons.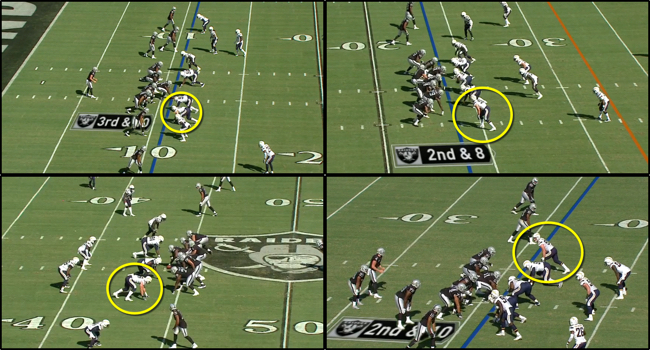 8. Christopher Hubbard, OT, Pittsburgh Steelers
Without their starting right tackle Marcus Gilbert versus the Jets Sunday, the Steelers could have had a problem, but Hubbard in his place was excellent in Pittsburgh's win. He didn't allow a single pressure over 52 pass-blocking snaps, joining the interior trio in shutting down the Jets pass-rush, while enjoying some good run-blocking snaps against the big men of their defensive front too. For a stand-in starter, the Steelers couldn't have asked for any more.
9. Terence Newman, CB, Minnesota Vikings
Newman is 38 years old and still producing well as a starting cornerback. It's not a direct comparison, but the Jets' Darrelle Revis is seven years younger and his athleticism is declining to the point that may not be true any longer. This week Newman went up against rookie speedster Will Fuller in Minnesota's win over the Texans, and held him without a catch on four targets. Fuller had one catch for four yards in the game, but it didn't come against Newman. For the game, Newman was perfect on six targets, notching two passes defensed.
10. Cody Whitehair, C, Chicago Bears
Whitehair isn't just starting at center as a rookie – an unusual and tough proposition on its own – but is doing so making the switch from playing left tackle last season for Kansas State. To be keeping his head above water would be an achievement, but this week he dominated the Colts' defensive front in Chicago's loss, allowing no pressure at all in pass protection and moving D-linemen around in the run game.