We're halfway through the season, and Dallas Cowboys RB Ezekiel Elliott is running away with the 2016 Rookie of the Year award so far. If you can devise a way to stop the former Ohio State Buckeye, congratulations, you can make millions as an NFL coach. With both rookie quarterbacks having their fair share of ups and downs, Elliott continues to steamroll his way to the top.
1. Ezekiel Elliott, RB, Cowboys
The decision to go Ezekiel Elliott over Dak Prescott or Carson Wentz at this point comes down to consistency. After a rocky start to the season, Elliott now has seven straight games of at least 4 yards per carry, with four of those games topping 5 yards per carry. He's also started creating much more on his own in recent weeks. In the Cowboys' last three outings, Elliott has 16 broken tackles on the ground. If this hot streak is more trend than aberration, the Rookie of the Year award is Elliott's to lose.
2. Dak Prescott, QB, Cowboys
The quarterback flip-flopping continues at the No. 2 spot. Dak Prescott soundly shredded a hapless Browns' defense in Week 9, going six-for-seven for 115 yards on intermediate throws (between 10 and 20 yards downfield). As long as he protects the ball, the Cowboys will be in every game this year, and Prescott will maintain his advantage over Carson Wentz in these rankings. For all the flak Prescott has received for not throwing the ball downfield, 58.9 percent of his yards have come through the air, the 10th-highest rate in the NFL.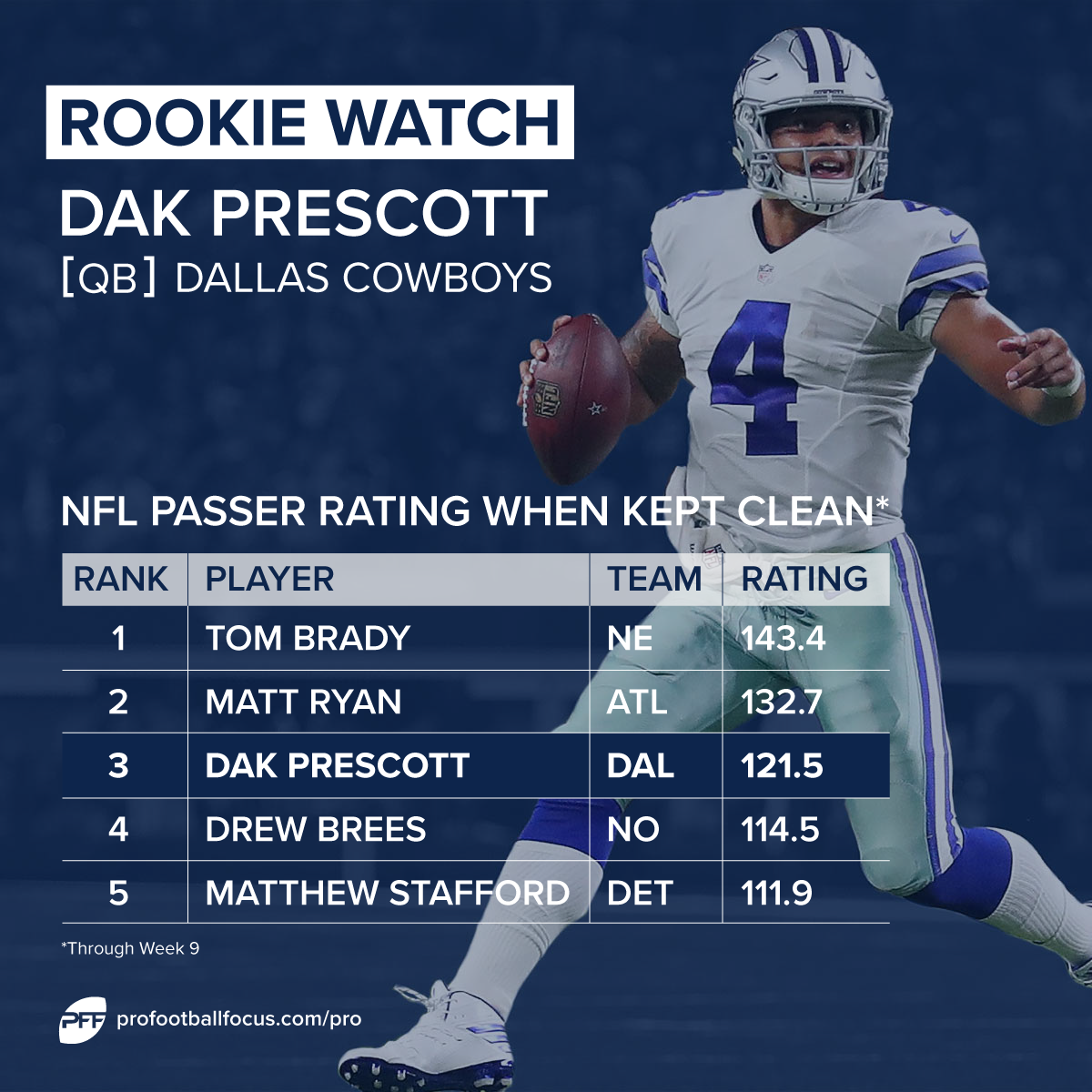 3. Carson Wentz, QB, Eagles
Sunday's game started as poorly as is physically possible for Carson Wentz, with two picks in the Eagles' first two drives. He rebounded well, but not nearly well enough to overcome the hole he dug himself into. Wentz's four deep completions (throws traveling 20+ yards in the air) and 153 deep yards were both high marks in the league this past weekend.
4. Jack Conklin, RT, Titans
The second-highest-graded right tackle in the NFL finally showed some cracks in the armor. Against the Chargers, Jack Conklin allowed six QB pressures in 45 pass-blocking snaps after surrendering just 11 in 303 such snaps heading into Week 9. That said, it was far from a liability-level performance, and Conklin still hasn't been attributed with a sack all season.
5. Joey Bosa, OLB/DE, Chargers
Joey Bosa was one of the main culprits in Jack Conklin's Week 9 struggle, but it wasn't the utter domination we'd become accustomed to through his first four games. Bosa didn't make a single stop in the game, and his four QB pressures were a career low. Simply calling four pressures a "career low," however, should tell you all you need to know about Bosa's standing on this list.
6. Michael Thomas, WR, Saints
Michael Thomas' production over the last four weeks of the season has been superb. He's caught 26-of-32 targets for 244 yards to go along with three touchdowns and six broken tackles. That's good enough to make him the third-highest-graded receiver in the league over that span—now among the top-10 for the whole season. Thomas has already become one of Drew Brees' favorite targets, with only two drops on 49 catchable passes this year.
7. Laremy Tunsil, LG, Dolphins
Laremy Tunsil wasn't lights out against the Jets like he has been in weeks prior, but I'll forgive him when going up against one of the toughest defensive lines he'll face all year. The upgrade that the Dolphins have seen from Tunsil at the guard position is what has fueled this newfound, run-heavy approach. What's impressed me most about the former Ole Miss left tackle is that, even when he loses blocks, they aren't complete whiffs like we saw regularly from Billy Turner and Dallas Thomas.
8. Keanu Neal, S, Falcons
It hasn't been a banner last two weeks for Keanu Neal, but if this is him at his worst, that's a good thing for the Falcons. Neal has as many missed tackles (three) as stops over that span, and has yielded 110 yards into his coverage. He's still among the 15 highest-graded safeties in the NFL, though, and hasn't been making classic "rookie" mistakes.
9. Hunter Henry, TE, Chargers
Hunter Henry's production has taken a noticeable downtick in recent weeks, as he continues to cede snaps to the ageless Antonio Gates. That being said, Henry is still grading out among the top-10 tight ends in the league, and hasn't dropped a pass since 2014 (spanning back to his Arkansas days). Once he takes over as the Charger's No. 1 tight end on a full-time basis, look out.
10. Chris Jones, DT, Chiefs
Yet another defensive lineman thrust into a starting role and beginning to make waves, the Chiefs' second-round pick has taken the Colts' and Jaguars' offensive lines to task in back-to-back weeks, notching six total QB pressures in 46 pass-rushing snaps. Jones has provided a huge boost for a Kansas City front that was noticeably struggling to get after opposing quarterbacks early in the season.