After 10 weeks of the season, the top of our rookie rankings seems to have settled in. The top five has been static for two straight weeks now, and it would take something out of the ordinary for a new name to break into that tier at this point. Two new names grace the bottom half of the list, though, as some under-the-radar guys in the secondary have been making waves.
1. Ezekiel Elliott, RB, Cowboys
Another ho-hum 114 yards on the ground for Ezekiel Elliott on Sunday—oh, and don't forget the 95 receiving yards and three total touchdowns, including the game-winner. It's will be a surprise if the rookie doesn't crack the century mark every game now, as that's been the case in five of his last seven outings. There's not much more praise I can heap on the Cowboys' running back that hasn't already been said—Elliott has done it all this year, and then some.
2. Dak Prescott, QB, Cowboys
In any other season, Dak Prescott would be a shoe-in for this award, but getting scooped by your own teammate isn't the worst thing in the world. Prescott has simply not looked anything like a rookie for eight of the nine games he's played in this season; the way he's taking care of the ball through the air is mind-boggling at this point. Only Drew Brees and Sam Bradford have fewer turnover-worthy throws than Prescott's eight, and nine different quarterbacks have at least twice as many.
3. Carson Wentz, QB, Eagles
The raw stats for Carson Wentz at this point can't compare to Prescott's, but the level of play is neck and neck. Wentz, though, simply hasn't had the same help. Philadelphia's receivers have dropped 20 passes this season, compared to only seven by Dallas, while the Eagles' receivers have broken 18 tackles post catch, compared to 23 for the Cowboys. The one area that separates Wentz and Prescott, though, is performance under pressure. Wentz has been among the worst in the league with the heat on, posting a 46.8 QB rating on 93 pressured dropbacks, while Prescott's is 70.7 on 105.
4. Jack Conklin, RT, Titans
Entering Week 11, Jack Conklin is again the highest-graded RT in the league. He's one of only three offensive tackles to start every game and not allow a single sack so far, and he's only been responsible for two QB hits. Conklin's consistency has been his most impressive trait, with only two below-average games all season.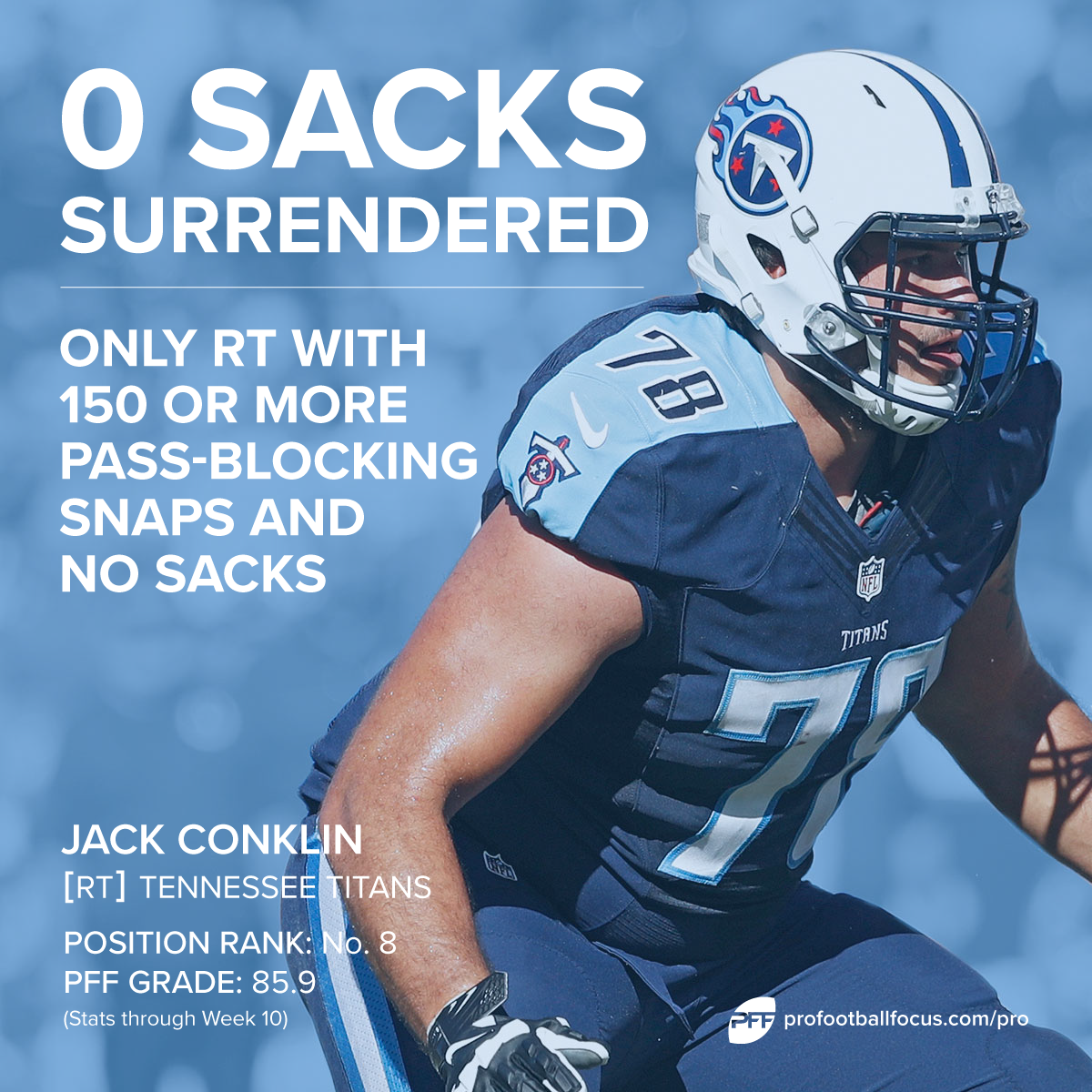 5. Joey Bosa, DE, Chargers
Joey Bosa's unsustainable pace statistically has slowed down a bit in recent weeks. In his last two games, the rookie from Ohio State has just five total pressures and zero stops. That doesn't mean he's not still grading out well, which he very much is. Bosa hasn't had a single game with a below-average grade as a pass-rusher.
6. Chris Jones, DT, Chiefs
In arguably his toughest matchup of the season—facing off against Trai Turner for much of the game—Chris Jones more than held his own. His sack versus Turner at the end of the third quarter was as clean as you'll see against the Panthers' RG. It also proved to be a game-changer, as it took Carolina out of field-goal range, forcing a punt.
7. Keanu Neal, S, Falcons
Keanu Neal continues to be the most-targeted safety in the NFL this year, yet he continues to be successful. Neal's 52 targets are seven more than the next-closest safety (T.J. Ward), but he's only given up 32 catches. The rookie has fit perfectly in as an underneath player in the Falcons' cover-3 scheme.
8. Tavon Young, CB, Ravens
Tavon Young had been on the precipice of this list for some time now, and finally breaks through after back-to-back quality performances. Over the past two weeks, he's been targeted 19 times, allowing 12 catches for only 76 yards. That's a yards per target average of only 4.0. He's currently grading inside the top-20 at the cornerback position.
9. Andrew Adams, S, Giants
Another newcomer, Andrew Adams may not be a familiar name to some, considering he was undrafted out of Connecticut and has only been starting since Week 4. Since then, though, he has earned the ninth-highest grade among safeties over that span, and is doing it against both the run and pass. For the season, Adams has allowed only five of his 10 targets for 48 yards, has and been a huge part of the Giants' defensive turnaround.
10. Michael Thomas, WR, Saints
While getting open and catching the ball wasn't an issue for Michael Thomas against the Broncos, holding on to it afterwards was. After not fumbling in the first nine weeks of the season, Thomas coughed it up twice on only four receptions. While that's not necessarily indicative of a fumbling issues, you still get dinged heavily for ball security issues.