With the NFL's 2019 compensatory picks officially announced, we at Pro Football Focus have decided to turn back the clocks a bit to rank the top-10 compensatory picks drafted in the PFF era (2006-Present).
Below is a list of the best compensatory picks with details on their careers in addition to their career-best seasons in the PFF era.
[Editor's Note: All PFF Elite subscribers have access to Premium Stats 2.0, which contains advanced statistics and grades on every NFL player that has taken a snap since the 2006 season. Subscribe today!]
A no-brainer for the top spot on this list, longtime Green Bay Packers guard and former fourth-round pick Josh Sitton earned 77.1-plus overall grades in each of his first nine seasons in the NFL. He's been the epitome of consistency throughout his career, especially as a run blocker.
In 2013, Sitton earned a career-high 90.7 overall grade, earning 93.6 pass-blocking and 84.8 run-blocking grades in the process. He also allowed just nine total pressures (one sack) across his 719 pass-blocking snaps that year.
 A Hofstra graduate and former seventh-round pick, New Orleans Saints' Marques Colston played well above expectation in his 10 years in the NFL, earning 72.4-plus overall grades in all but two of his years in the NFL.
Colston's 2011 season was easily his best, as he earned a career-high 89.5 overall grade, hauled in nine touchdowns, 62 first-down receptions, and 1,394 receiving yards. He also ranked fourth in passer rating when targeted (134.3) and ninth in yards per route run (2.45) among wideouts with 50-plus targets that season.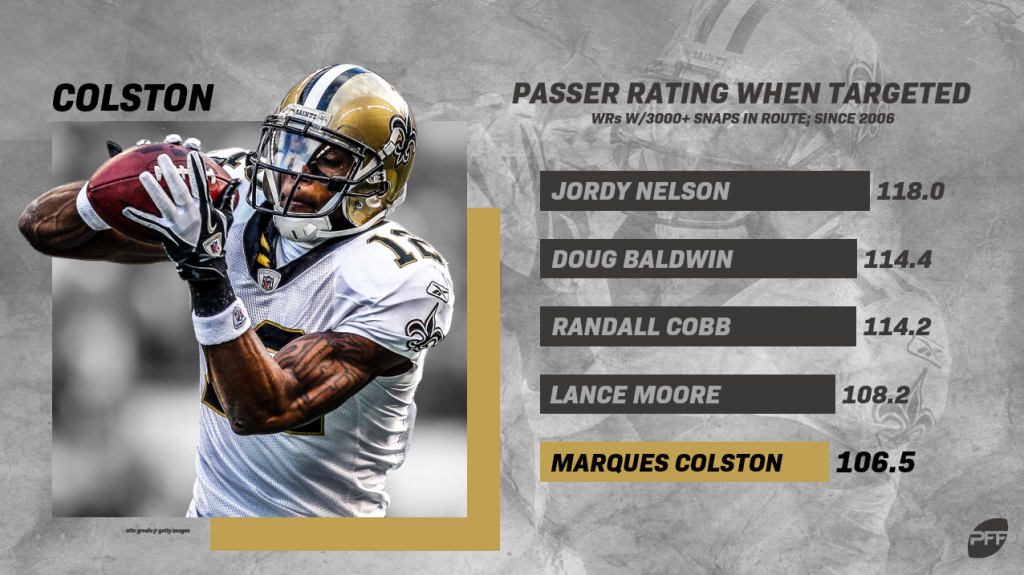 Green Bay Packers' Mike Daniels hasn't quite lived up to his 90.3 overall grade in 2015 in any of his other six seasons in the NFL, but he's still put forth stable, efficient play as a key cog along the defensive line. In his career-best season, he recorded 62 total pressures and 35 defensive stops.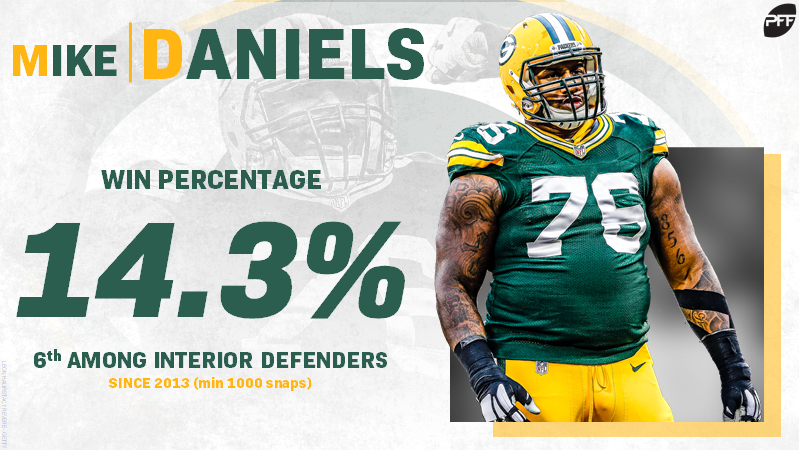 Pernell McPhee has never been a household name in the NFL, but his floor has remained high throughout his career and his two peak seasons in the NFL (2014 & 2015) were quite special. In 2015, McPhee earned an 86.8 overall grade and an 88.0 run-defense grade, both standing out as career-highs for the eight-year veteran. 
 Kyle Williams gifted the Buffalo Bills with 13 years of consistent, high-end production in return for the team's fifth-round investment in the 2006 NFL Draft. The recently-retired interior defender earned his career-best overall grade (85.9) in 2010, in which he logged a whopping 42 total pressures and 50 defensive stops. 
Ahmad Bradshaw earned a 74.2 overall grade the year he and the New York Giants beat the New England Patriots in Super Bowl XLVI, but his career-best season came in the year after. He earned an impressive 79.9 overall grade in 2012, ranking sixth among all qualifying backs. He also averaged an NFL-high 12.0 yards after the catch per reception that season.
Like Bradshaw, Hixon earned his career-high overall grade (81.6) the year after the Giants' epic Super Bowl run. He recorded a 110.3 passer rating when targeted and 22 first-down receptions in addition to his two touchdowns that season. 
 The Dallas Cowboys haven't doubled down on former fourth-round pick Dak Prescott as their quarterback of the future, yet. But he has still more than outperformed his draft status in his first three years in the NFL.
Prescott earned a career-high 83.7 overall grade as a rookie in 2016, ranking seventh among qualifying quarterbacks that season. His 75.3 adjusted completion percentage ranked 10th, and his 116.5 passer rating under pressure ranked fourth.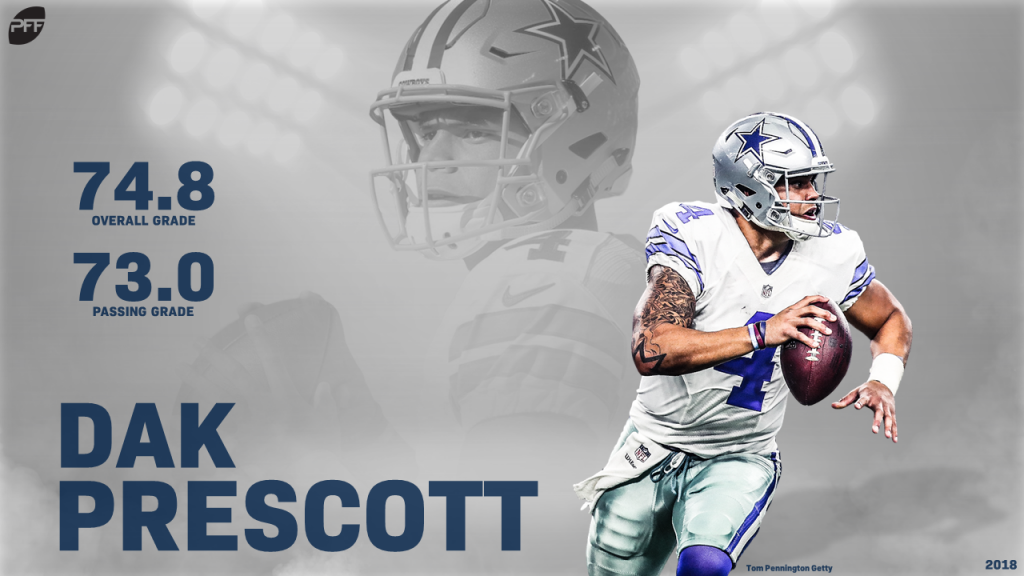 It's been quite some time since Antione Bethea ran his 4.39 40-yard dash at the 2006 NFL Scouting Combine, and the now 34-year-old vet has surely lost a step (or two) since then, but he's still finding a way to get the job done.
Bethea played an impressive 1,111 defensive snaps for the Arizona Cardinals this past season and earned an even more impressive 86.4 overall grade in the year prior. In his career-best season (87.7 overall grade in 2007), Bethea allowed just a 50.2 passer rating in coverage, logging four picks and three pass breakups in the process.