Interior defenders vary in their tasks from playing heads up on the center (nose tackle) to heads up on the offensive tackle. Each player's role will differ depending on the scheme and position. The best are able to stuff the run and disrupt the passer but this class offers more players that excel in one area or the other.
Below are the top 10 impending free agent interior defenders for this offseason.
To see Pro Football Focus' full NFL free-agent rankings featuring the top 50 players set to hit the market in 2017, click here.
1. Kawann Short, Carolina Panthers (87.7 overall 2016 grade)
At the top of another about-to-be-free-agent list, what has already been said about Short is extensive. His production the past four seasons has been impressive and his ability to defend the run and disrupt the pocket rushing the passer is at a near-elite level — 21 sacks and 24 hits over the past two seasons while racking up 77 defensive stops are all top 10 marks among all interior defenders. Short still hasn't put together a complete season, as he had some ups and downs in 2015 and started 2016 really slowly. Once he puts it all together, Short has potential to break into the elite level and into the top 20 of PFF's top 101 players.
2. Calais Campbell, Arizona Cardinals (90.4)
While he earned himself a better season than Short, Campbell's age is what knocks him to No. 2 on this list. Both players will earn themselves sizeable contracts and most likely produce at near elite levels in 2016, but Short is entering the prime of his career while Campbell is in the middle of his. Campbell's past two years is just a step below what Short posted – 15 sacks, 28 hits and 74 defensive stops – but the leap in efficiency that Campbell made rushing the passer is noteworthy as he improved his pass-rushing productivity from 7.2 to 9.2. Arizona would be wise to re-sign the former Miami Hurricane, but he will demand top dollar.
3. Brandon Williams, Baltimore Ravens (75.9)
Strictly a player teams want for his run-stuffing ability, Williams is coming off the worst season of his career at the worst possible time. Teams still value players that can stop the run as Damon Harrison showed last year, but considering that Harrison showed major improvement in his contract year while Williams regressed, his market will likely be dampened. That said, Williams still graded above average in run defense and one year isn't enough to call a player on the decline. Williams has never graded well rushing the passer so any team looking to sign the big nose tackle will do so with an understanding that any extra pressure is purely a bonus and should utilize him to his strengths in run defense.
4. Chris Baker, Washington Redskins (82.2)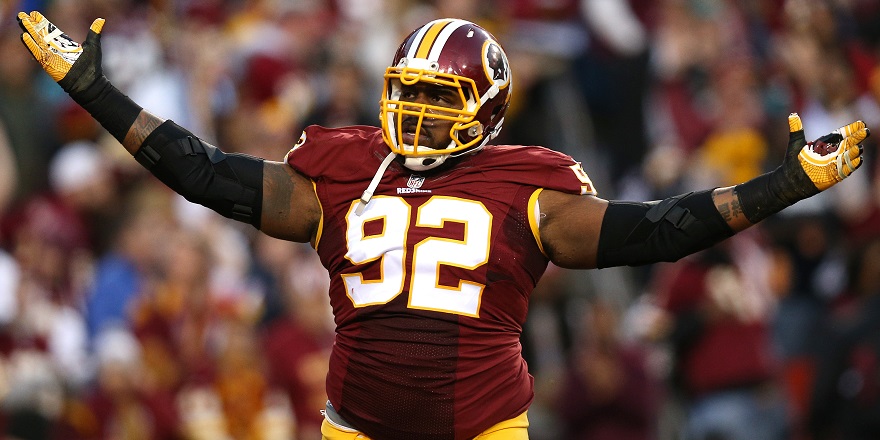 An underrated player, Baker has produced at a high level the past two seasons and finished 2016 seeing a career high in snaps with 782. Baker will never be an elite talent but his consistency the past two seasons means that team looking for quality interior defenders would be hard pressed to find a better bargain. A better run defender than a pass-rusher, Baker still creates pressure with 13 sacks, 17 hits and 55 hurries over that timeframe. Averaging 29 defensive stops, Baker is a complete player and will be a player that improves any defense he'll play for in 2017.
5. Dontari Poe, Kansas City Chiefs (55.8)
Poe's 2016 season alone was bad enough to keep him from consideration for this list, but what he has shown in the past still lands him here. Poe graded very well defending the run in 2015 and put together a complete season in 2013 where he racked up 40 defensive stops and 41 pressures. The issue is that the former first-round pick hasn't lived up to his potential on a consistent basis. Poe might benefit from a change of scenery and his athletic ability and past seasons will have teams calling, but he's a bit of a risk since he's coming off such a poor season.
6. Johnathan Hankins, New York Giants (47.1)
Hankins played out of position with the Giants adding Damon Harrison last offseason and his production took an understandable drop. After seeing almost 37 percent of his snaps at nose tackle in 2015, Hankins lined up over the center just 15 percent of the time. At 320 pounds, Hankins was asking to penetrate from the 3T position far more often than previously and he doesn't possess the athleticism to do so. That said, if used correctly, Hankins will be a productive player, defend the run well and be a solid bargain veteran free agent.
7. Alan Branch, New England Patriots (80.4)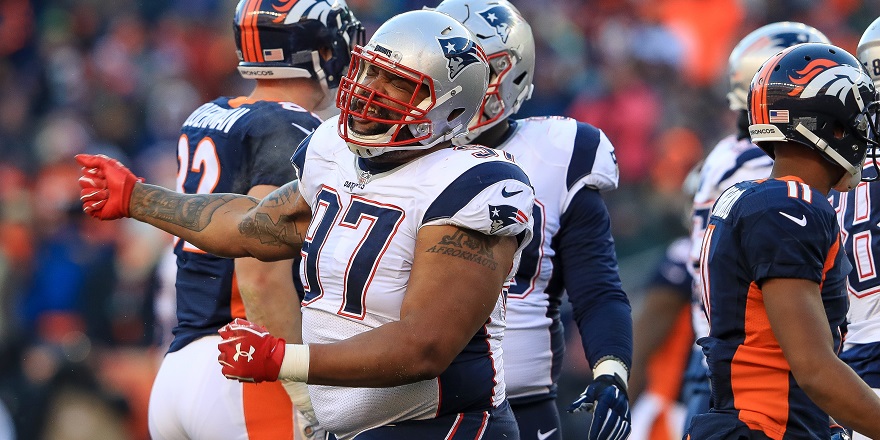 Branch was a key run defender for the Super Bowl champs in 2016 and his play since Week 12 of 2015 is impressive, with 56 defensive stops in that time frame. Branch won't provide any consistency rushing the passer but his ability to force cuts and squeeze run gaps will provide teams with a reliable veteran. Branch's age is a concern, as he's 32 and turns 33 at the end of the season but considering his recent play, he doesn't look to be showing any signs of decline and will be a good short term option for teams needing to upgrade their run defense.
8. Stephen Paea, Cleveland Browns (75.7)
Relegated to a part-time role the past two seasons, Paea is a decent pass-rusher and has improved his run-stopping ability from early in his career. He had a career year in 2014 as he graded extremely well rushing the passer, recording 5 sacks, 11 hits, and 31 hurries. The former Oregon State Beaver hasn't reached that level of production since. That said, Paea is much improved from his first three seasons and has shown to be a solid part-time interior defender that will provide quality depth.
9. Lawrence Guy, Baltimore Ravens (76.2)
Guy was a solid producer on a Ravens defense that graded extremely well vs. the run, but his lack of a consistent pass rush hurt the Ravens and his market this offseason. Guy didn't miss a single tackle in 2016 and played about 46 percent of his team's snaps the past two seasons. He'll provide any team quality depth and his ability to stop the run will have some teams interested.
10. Karl Klug, Tennessee Titans (81.3)
Klug tore his Achilles and had surgery in December so his place on his list is assuming that he'll bounce back and be able to play the majority of the 2017 season. Klug has been remarkably consistent playing at a slightly above-average level throughout his career before having a breakout season in 2016 before the injury. Klug's market will be limited and most likely re-signs with Tennessee because of his late-season injury but he warrants a spot on this list because of his production as a role player. Klug has recorded a pass-rushing productivity in the top 10 of all 3-4 DEs the past two seasons ranking fifth in 2016 at 9.2.