Free agency is just around the corner, and with teams looking to shore up any holes on the defensive side of the ball, these players will likely become valuable commodities. To see Pro Football Focus' full NFL free-agent rankings featuring the top 50 players set to hit the market in 2017, click here.
1. Kawann Short, DI, Panthers (87.7 overall grade in 2016)
In the Panthers' Super Bowl 50 run, Kawann Short and LB Luke Kuechly were battling for the title of best player on the Carolina defense. Kuechly ended up with one of the best grades ever in the PFF era, but that shouldn't overshadow Short's impact that season, or his 2016 campaign. Short somewhat struggled through the first six weeks of the 2016 season, grading as the 23rd-best interior defender over that span (12th in run-defense grade, but below-average and 53rd in pass-rush grade). Over the final 10 weeks, however, Short regained his 2015 form and finished the season as the third-best interior defender—second-best in run-defense grade, and eighth in pass-rush grades. At 28 years old, Short likely has several years of top-tier play left in him. He's graded very well from the minute he entered the league in 2013, and his second-half season explosion in 2016 lands him as the best defensive player in this free-agent class.
2. Melvin Ingram, EDGE, Los Angeles Chargers (88.1)
Melvin Ingram has posted back-to-back excellent seasons rushing the passer, but in 2016, the former first-round pick put together a complete season defending run the very well and grading extremely well in coverage. Through his first four seasons, Ingram was a marginally above-average run defender and struggled when asked to drop into coverage. Whether it was Joey Bosa's presence on the opposite edge or Ingram putting in the work in the offseason to improve in those facets of the game, the thing that is clear is that he's peaking at the perfect time to land a big-money contract.
The former South Carolina Gamecock lands at No. 2 on this list because of his improving play, relatively young age of 28, and consistency. Ingram recorded at least two pressures in each game, and least four in 13 games while grading below-average rushing the passer in just two of his last 27 games. Grading as one of the better well-rounded edge defenders in the NFL, any team looking to upgrade their edge talent with a proven player would do well targeting Ingram this offseason.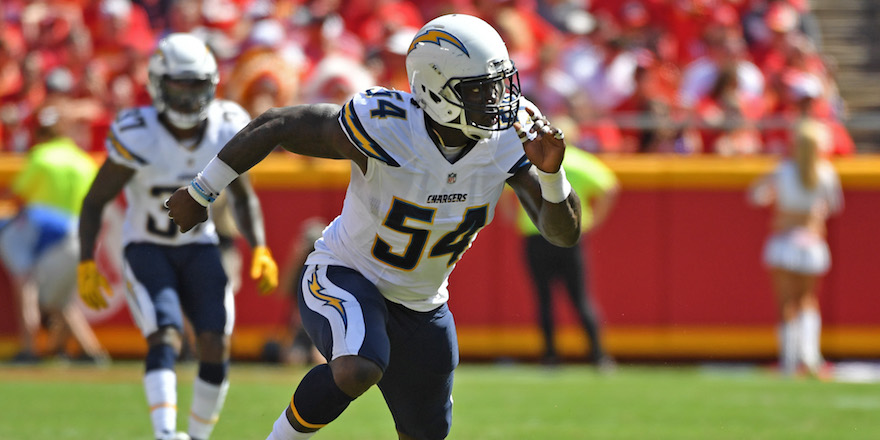 3. Calais Campbell, DI, Arizona Cardinals (90.4)
One of the most consistently-great interior defenders in the NFL over the past six seasons, Calais Campbell turned in his best performance yet in 2016, and shows no signs of slowing down. Campbell will turn 31 before the start of the 2017 season, and has seen his snap count decrease each of the past four seasons, which has been good for his production. With a career-high 9.2 pass-rushing productivity, Campbell racked up nine sacks, 15 hits and 32 hurries on 481 pass-rushing snaps while also getting his hands up for for batted passes. Combining his best pass-rushing season with his best run-defending season lands Campbell on this list at No. 3.
As stated in our top 50 free agents article, Campbell can play in any scheme. Arizona runs a 3-4 base defense, but Campbell lines up at 3-technique (the traditional pass-rushing alignment of a four-man D-line defensive tackle) most often, and can play any interior spot on the line. The only reason Campbell isn't higher on this list is his age, as the further north of 30 a player gets, the more likely that player's production will take an unexpected dive. Campbell has yet to show that, however, and players have shown to defy Father Time, like Pittsburgh's James Harrison.
4. Chandler Jones, EDGE, Arizona Cardinals (87.4)
Acquired in a 2016 offseason trade with the New England Patriots, Chandler Jones cashed in on the opportunity and feasted on the weak offensive lines of the NFC West. That said, getting double-digit sacks and QB hits is no easy feat in the NFL, and Jones' 26 sacks and 18 hits the past two seasons will turn into a big pay-day this offseason. The Cardinals have said they will franchise tag Jones if they are unable to reach a long-term deal with the former first-round selection. If that happens, Jones will make a minimum of $14.6 million (projected number for linebackers) which is about half of the Cardinals' available cap space for this offseason.
Jones does have a bit to prove still despite his impressive numbers the past two seasons, but his level of play in that time is not just a fluke—he has top-tier talent. Jones will be 27 years old at the start of the season and likely has multiple seasons of prime play left in his career. At No. 4 on this list, he hasn't graded quite as consistently as the players above him, but considering that sacks typically translate into dollars, he might get the biggest contract this offseason if the Cardinals opt to not use the franchise tag on him.
5. Jason Pierre-Paul, EDGE, New York Giants (86.2)
Jason Pierre-Paul has been in the league for seven seasons, but is just 28 years old. Never grading as an elite edge defender in any one season, Pierre-Paul has shown remarkable top-tier consistency, even in 2015 after his infamous fireworks accident. The former first-round pick in the 2010 draft was on his way to a double-digit-sack season for the third time in his career before injury set in during New York's Week 13 matchup with Pittsburgh.
A solid all-around edge defender, Pierre-Paul posted a respectable 7.1 run-stop percentage this season and graded among the top 20 in run-defense grades. Pierre-Paul expects to get paid this offseason, and his play has earned him that privilege. He's logged 5,386 snaps in his career (Melvin Ingram has played 3,176 snaps, and is the same age), so his body has more wear and tear than most 28-year-olds.
6. Eric Berry, S, Kansas City Chiefs (87.6)
Arguably one of the best stories in the NFL in recent memory, Eric Berry was diagnosed with Hodgkin's lymphoma in 2014, received chemo the following offseason, was cured of cancer, and returned to grade as one of the best safeties in 2015. The Chiefs franchise tagged Berry last offseason and despite holding out until late August, he again graded as one of the best safeties in the NFL.
One of the league's more versatile safeties, Berry is able to play both in in the box as well as a deep free safety—the latter which is becoming more coveted in the NFL with the lack of talent at that position. Despite recording just 16 interceptions in essentially five and a half seasons, Berry wins by preventing big gains and keeping plays in front of him. He hasn't surrendered a pass over 40 yards in three of his last four seasons, and allowed just 8.6 yards per reception in 2016. Berry's ability to play anywhere will make him very attractive on the open market if Kansas City isn't able to extend the former No. 5 overall pick.
7. Dont'a Hightower, LB, New England Patriots (85.7)
A player that has graded consistently well since coming into the NFL in 2012, Dont'a Hightower will likely continue to perform at a high level but his upside is limited considering his usage in New England. Exposed a bit once Jamie Collins was traded to Cleveland, Hightower's play declined to finish the 2016 season, but he did turn it around in the playoffs somewhat. No ILB rushes the passer more than Hightower, as he did so on 29.4 percent of his passing snaps this past season.
If Hightower leaves New England, his new team will need to understand his strengths and utilize him in that fashion. That being said, Hightower's run-stopping ability is great and he has excellent instincts on the field. Hightower isn't a liability in coverage by any means, and has graded well in that area for three straight seasons. At just 27 years old, Hightower will likely be productive for several more years.
8. Stephon Gilmore, CB, Buffalo Bills (73.2)
The relative weakness of the cornerback free-agent market this offseason might result in some discounts for teams looking to add quality talent. Gilmore represents this weakness, as shown by his down 2016, but his play the previous two seasons warrants his inclusion at No. 8 on this list. Grading well in 2014 and 2015, Gilmore allowed under 13.3 yards per reception, and in 2015, allowed a 54.3 catch rate.
In 2016, Gilmore surrendered the fewest number of passes to be caught in his coverage area, at 41, but allowed a career-high 15.6 per reception and missed a career-high seven tackles. Gilmore still recorded a career-high five interceptions, but lacked the consistency each game to grade well, as he was susceptible to getting beat more often than in the previous two seasons. That being said, Gilmore has showcased his talent the past three seasons, and his down year should result in a smaller contract, which is great for CB-needy teams.
9. A.J. Bouye, CB, Houston Texans (90.9)
With the best 2016 grade of any player on this list, A.J. Bouye put himself in the perfect position in a contract year. The reason he isn't higher than No. 9 is because his elite play was put on display for just one season. In his first three seasons, Bouye battled for roster spots and earned himself just 211 snaps in 2015. He broke out in a big way in 2016, but the risk for any team, even the Texans, of signing him to a big contract is that this past season was an outlier, and not an indicator of what's to come.
Allowing just 9.7 yards per reception, Bouye disrupted 17 passes (three interceptions and 14 passes breakups). He stepped up in the playoffs, as he recorded an interception and a pass breakup in each game—against Oakland, he allowed zero catches on seven targets. If Bouye had shown anything like his 2016 play in either of the previous three seasons, he'd be close to the top of this list.
10. Nick Perry, EDGE, Green Bay Packers (82.2)
A consistently average player during his first four pro seasons—never grading below 71.1, but never higher than 72.9—Nick Perry turned in a career 2016 season in a contract year. A former first-round edge defender out of USC, Perry has increased his sack totals each of the past three seasons, finally cracking double digits in 2016, along with posting career highs in hits and hurries. A better run defender than given credit for, Perry missed just four tackles all season, and none since Week 6 while recording 42 defensive stops.
With a draft class loaded with edge talent, Perry's market will be interesting to see unfold. He set himself up well to get a sizable contract, but years of average play will temper the offers. That said, he brings versatility to adapt to either defensive end or outside linebacker, and NFL teams know exactly what he can produce.
To see more free agent rankings, be sure to check out PFF's Top 50 free agents of 2017.