For the second year in a row, New England Patriots quarterback Tom Brady earns PFF's top passer award. The 40-year old signal-caller showed little sign of decline this season, rather adding another piece to his Hall of Fame legacy.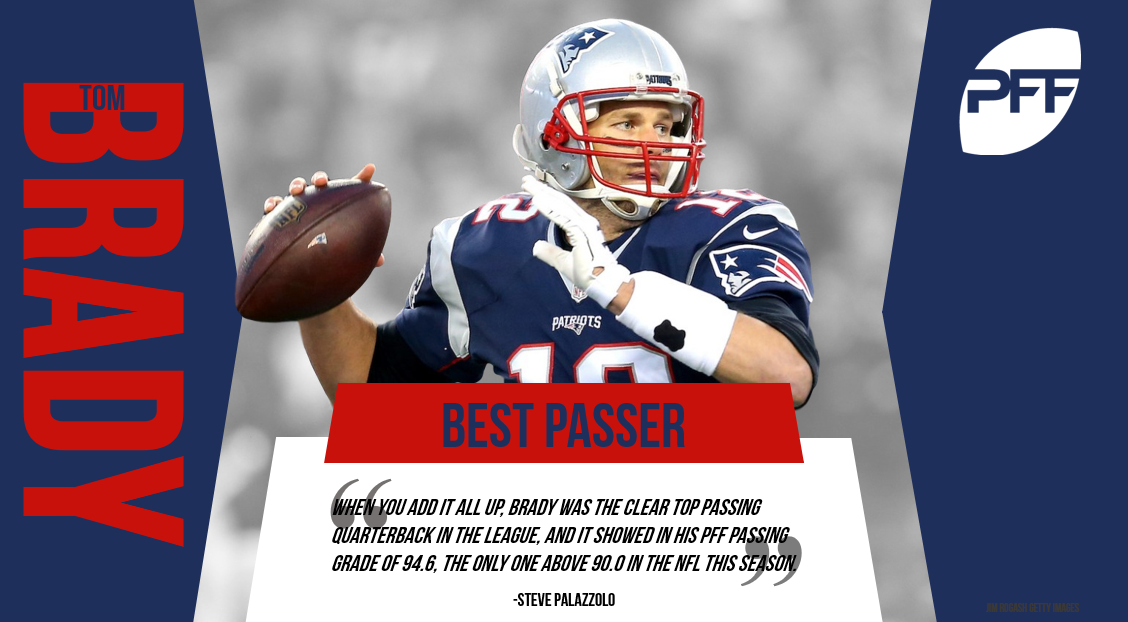 The top-graded overall offensive player for the second year in a row, Brady found success in a slightly different style than previous years as the New England passing attack took more of a vertical approach throwing down the field. Brady's average depth of target of 9.5 yards was the highest we've seen since 2006 and ranked 12th-highest in the league, yet he still maintained the accuracy and decision-making that make him an all-time great.
While most players are declining later in their careers, Brady is finding places where he can improve. His downfield passing is one area in which he's found much more success than in earlier years, and 2017 was no different. He finished sixth in the NFL with an adjusted completion percentage of 46.3 percent on deep (20-plus yard) passes, and his throw-for-throw grading on the deep ball ranked second in the league. The intermediate (10-19 yard) level was similar, as he finished fifth in the grading while posting a passer rating of 122.6.
Perhaps the most telling statistic for Brady in 2017 was his passer rating under pressure, as he dwarfed the rest of the league at 96.6 (league average is 67.4). He consistently made downfield throws while under duress, including a big-time throw percentage of 10.3 that nearly doubled the league average of 5.2. He maintained his usual strong play from a clean pocket with the best PFF grade among quarterbacks, but his work under pressure made him the highest-graded signal caller in the league by a wide margin.
Changes were everywhere for the New England offense, but the more aggressive attack did not hinder Brady's ability to take care of the ball. Yes, the interception total went from two in 2016 to eight in 2017, but when isolating the reasons for those interceptions, we see that Brady took only a slight step back when it comes to avoiding turnover-worthy plays. He finished fifth in the league in turnover-worthy throw percentage at 2.2 percent, and aside from a few poor fumbles early in the year, many of his risky passes were downfield shots rather than blatant misreads of coverage.
[Editor's Note: All quarterback stats in this story can be found in our QB Annual, released for PFF Edge & Elite subscribers. The QB Annual contains detailed profiles, exclusive signature stats, grades and much, much more. Not a member of PFF Edge? Sign up now.]
Another area in which Brady has improved in recent years is his ability to extend plays and stay efficient later in the down. As recently as 2013, he ranked 30th in the league with a passer rating of 69.2 on plays lasting at least 2.6 seconds, but a concerted effort was made in 2014 to improve in these situations and it's showed up in the stat sheet. His passer rating steadily rose to 83.4 in 2014 to 91.6 in 2015, and he's now posted two straight seasons above 100 (112.0 in 2016, 102.0 in 2017), ranking second in the league both times.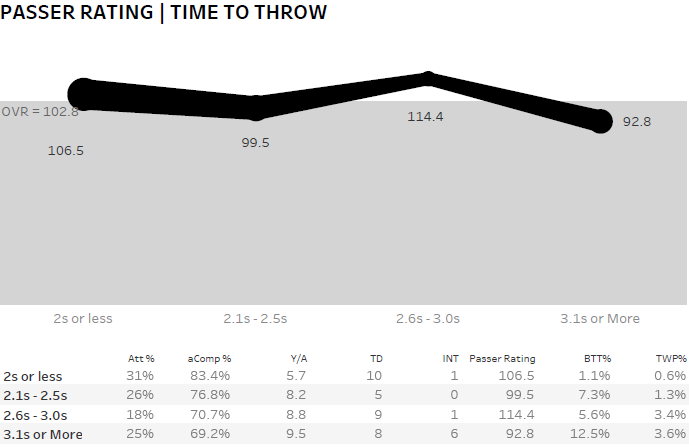 When you add it all up, Brady was the clear top passing quarterback in the league, and it showed in his PFF passing grade of 94.6, the only one above 90.0 in the NFL this season. The No. 2 passer in the league during the regular season, Ben Roethlisberger, was closer to ranking seventh in the league than he was overtaking Brady for No. 1, showing just how dominant Brady was compared to his peers. It's his third straight year grading at 90.0-plus, as Brady has continued to add positive elements to his game while maintaining the consistent production that makes him arguably the best quarterback of all-time.