On Wednesday, Tennessee Titans left tackle Taylor Lewan was suspended for the first four games of the 2019 NFL season for testing positive for a banned substance. While Lewan plans to fight the suspension, the team is now faced with the prospect of starting the season without their franchise left tackle. As of right now, seven-year veteran Dennis Kelly would be the man to step into the starting role in Lewan's absence. Before we get into what that would look like, we have first to understand what the team will potentially be missing with Lewan on the sidelines.
Taylor Lewan has developed into everything you would hope for in a former first-round draft selection. The former 11th overall pick got off to a rough start in his rookie season but has been the full-time starter at left tackle for the Titans since 2015. The former Wolverine hadn't finished outside of the top-15 in terms of pass-blocking grade until this past season when he finished 19th among tackles with at least 500 offensive snaps.
Despite his pass-blocking grade of 79.2 checking in at 19, Lewan still had his best season in terms of total pressures, allowing only 20 over 482 pass-blocking snaps. That figure is good for the sixth-fewest among full-time starting tackles. In short, Lewan has done an admirable job protecting Marcus Mariota for the last four seasons and is an integral part of the Titans' offense.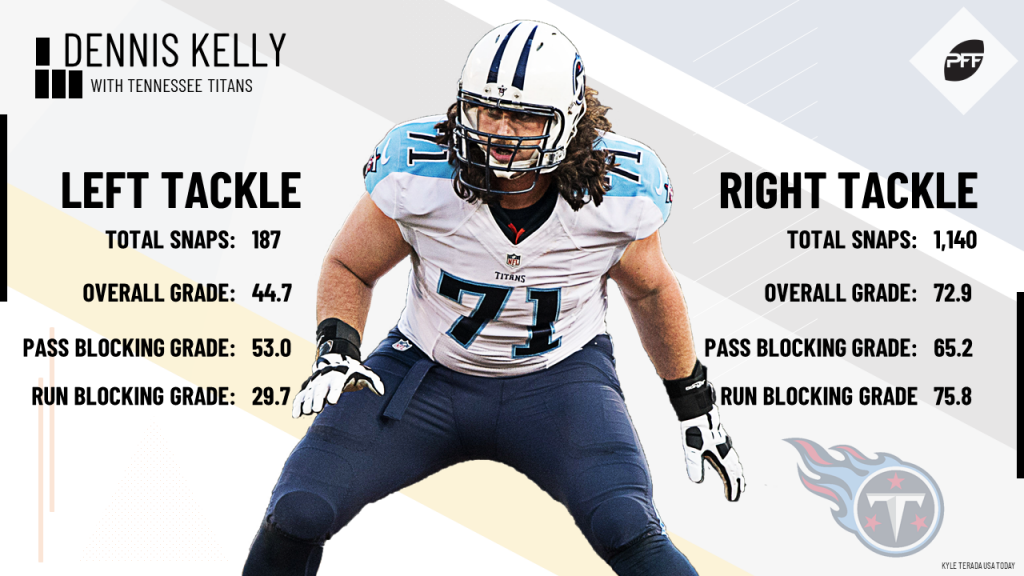 The task of replacing him for the first month of the season falls to swing tackle Dennis Kelly, who has been with the Titans since 2016. In that time, Kelly has played at least 20 snaps at tackle in 11 games, so he's not a stranger to filling in at a moment's notice.
The problem is that there is a stark difference between his time at right tackle and his time on the left. In 2018, Kelly saw his most significant time on the field with the Titans, logging 376 snaps at both tackle positions but with his most snaps coming on the right side. Overall, the results were encouraging with a 75.4 overall grade, 77.4 pass-blocking grade and a 71.3 run-blocking grade. Kelly allowed one sack and four total pressures on 185 pass-blocking snaps at the right tackle spot, and it would seem as if he's a capable fill-in for the four games that Lewan will potentially miss.
The issue is that he's not filling in at right tackle. Seven years into his NFL career, things have gone poorly for Kelly on the left side of the line. The last time that Kelly was asked to fill in for Lewan was in 2017 —  Week 5 against Miami and Week 14 against Arizona. Kelly surrendered seven pressures in those two games combined and had a pass-blocking grade of 41.0 and 52.5, respectively.  In fact, Kelly has surrendered two or more pressures in every game in which he played at least 20 snaps at left tackle. His career overall grade on snaps at left tackle is 44.7, with a pass-blocking grade of 53.0 and a shockingly low grade of 29.7 as a run-blocker.
There are a night and day differences between his performance on the left and right side. When he's filled in on the right side, he's earned a career run-blocking of 75.8, while is pass-blocking grade is an acceptable 65.2. He's also seen 1,140 snaps at right tackle to verify those numbers.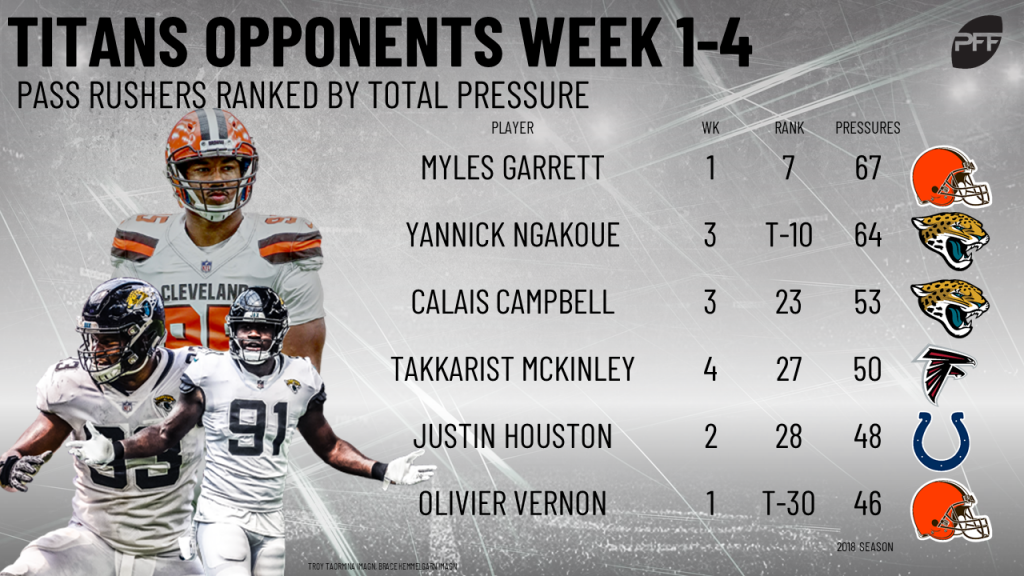 This puts the Titans in a pickle because the team will face six top-30 pass-rushers in the first four weeks. The toughest challenge will be Week 1 when Tennessee faces the new-look Browns that boast Myles Garrett and Olivier Vernon, who combined to produce 113 total pressures last year. Week 2 features Justin Houston, who finished the 2018 season with 48 pressures. Assuming that Yannick Ngokoue ends his holdout and plays in Week 3, the Titans face the duo of Ngokue and Calais Campbell, who racked up 64 and 53 pressures in 2018, respectively.
In a seemingly make-or-break season for bot Mariota and the Tennessee Titans as a team, the side may have to get creative once again if Kelly is indeed forced into the lineup to replace Lewan on the blindside.