Ryan Fitzpatrick might be the most inconsistent and high-variance QB in the National Football League. He is a true gunslinger, only without the arm of Brett Favre or any kind of filter to weed out the worst of the decisions. He believes he can make every throw and will give his receivers a chance to make a play almost regardless of the situation.
With Brandon Marshall and Eric Decker at full fitness it can sometimes work out, but the team is now without Decker, and Fitzpatrick hasn't been capable of dialing it back. He now has 11 interceptions for the season, more than double the number of touchdowns he has thrown for, and three more picks than any other quarterback. Packers QB Aaron Rodgers, whose play is in enough of a funk to be considered worrisome, has thrown four picks to 10 touchdowns.
Over the past four weeks, Fitzpatrick's over game grades have been 33.8, 48.1, 45.2, and 21.4. That 21.4 was the lowest single-game grade a QB has ever earned during the PFF era (since the 2006 season). The real problem with Fitzpatrick is that it came on the heels of a near-perfect 93.2 overall grade from his game against the Bills. That's the true danger with Fitzpatrick—he makes you hang on just long enough to see the swing back.
Like gambling in a casino, eventually Fitzpatrick will pay off big, but by that point, you may have gone broke, and the house always wins.
The Jets right now keep pushing money into the middle of the table waiting for the good Fitzpatrick to come back, but how deep in the hole are they going to find themselves before that happens?
Fitzpatrick is just too inconsistent to be worth waiting for, and the net performance you get from him over the season is not going to be high enough to justify it.
When kept clean against Arizona, Fitzpatrick was actually relatively efficient. He completed 66.7 percent of his passes for 134 yards and a passer rating of almost 90.0 on such plays. That QB rating is pretty much dead in line with the league's overall average passer rating. What that means is that, in ideal circumstances against the Cardinals, the best Fitzpatrick managed was baseline average. Over the season, the story is actually worse. Under no pressure at all, his completion percentage in 2016 is just 62.3 percent, and his passer rating is 73.8, about 15 points below league average. He has thrown seven picks to four touchdowns on those plays.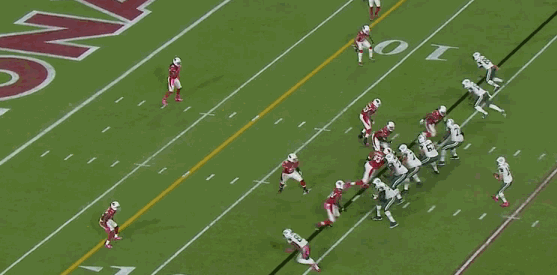 Needless to say, like all QBs, his numbers are worse when he has been pressured. In fact, they're a dumpster fire. Under pressure this season, Fitzpatrick has completed only 42.6 percent of his passes, for an average of 4.8 yards per attempt and a passer rating of 35.7. To be clear, his passer rating under pressure is worse than if he had just thrown the ball to the turf every snap, and that doesn't even factor in the yards lost due to sacks.
Geno Smith probably isn't the answer for the Jets, and this season, rookie Christian Hackenberg certainly isn't, but at this point, no good comes from starting Fitzpatrick. He was finally pulled from the game last night against the Cardinals because it had simply gone on long enough that the camel's back snapped in half.
There are 10 games remaining in the season. At 1-5, the Jets have already kissed goodbye to any hopes of the playoffs, so all that is left to do is build for next year. However, as much sense as Fitzpatrick made for the team in 2016, he makes even less in 2017, and the most useful thing they can do at the QB position is get a firm handle on what type of player Geno Smith is—even if he's somebody that has no place on the roster moving forward.
If Smith isn't the answer, perhaps Bryce Petty is. Petty was last year's fourth-round pick, coming from a hyper-spread system at Baylor. He has all of the measurables and the physical tools, and showed a huge improvement over the last 12 months from his first preseason to his second, making some excellent throws this time around. Petty was good enough to convince the Jets to carry four QBs on the roster, and might be the most viable option they have long-term.
Eventually, Fitzpatrick will put it together again and have a great game over the remainder of the season. Does that actually serve the team anymore, though? It's time to sit him down, give Smith or Petty 10 games, and start building for 2017.