Jadeveon Clowney came into the league with a lot of buzz surrounding him before succumbing to injury as a rookie. Since then, he has slowly worked to become a stalwart defender and found his way back into the spotlight as one of the league's premier edge defenders. Now, Clowney wants to be paid like one of the league's best and it has led to an impasse with the Houston Texans, who have been rumored to be considering trading the former No.1 overall pick. Coming off a career-best year, Clowney is a high-level defender at a premium position who could provide a huge boost to several potential playoff teams.

The South Carolina alumnus had health concerns that slowed the start of his impressive career, as he managed only 144 snaps as a rookie and 559 snaps the following season. However, since then, Clowney has played over 850 snaps in every season. Clowney has been very consistent, posting season grades of 75.0 to 80.0 from 2015 to 2017, and his progression culminated in a career-best year in 2018 when Clowney earned an impressive 89.5 overall grade (tied for seventh among qualifying edge defenders).
Clowney's calling card since coming to the NFL has been his exceptional ability to defend the run. What may surprise you is just how good he has been against the run when compared to his peers. All told, 47.2% of Jadeveon Clowney's career run tackles have been for a loss of yardage or no gain. This is second only to Michael Bennett (53.7%) among the 94 edge defenders with at least 500 run-defense snaps since 2014. It stems largely from the edge defender penetrating the line of scrimmage and wreaking havoc on opposing run-games, as he did below.
Clowney has earned a run-defense grade of 80.0 or higher in each of his last four seasons, and he earned a career-high run-defense grade of 91.8 last season, which was the second-best mark among edge defenders. His 28 stops against the run in 2018 were tied for the fourth-most at his position, and Clowney also produced a robust run-stop percentage of 9.9% (tied for ninth). He has been consistent in his production in the run game since getting healthy, generating run-stop percentages of 8.3% in 2017 and 11.5% the year prior, and whichever team he lands on will certainly be getting one of the league's premier run-defenders.
While there are those who would assume that because of Clowney's physical prowess and pedigree, he must also be an exceptional pass-rusher — that is not exactly the case. He has improved as a pass-rusher since entering the league when he earned a 64.6 pass-rushing grade, which is much closer to average than elite. Every season since, Clowney has improved upon his pass-rushing grade, which resulted in a career-high 78.8 pass-rushing grade in 2018. Clowney has been solid coming off the edge for the Texans, generating 58 or more pressures in each of his last three seasons and earning a career-high nine sacks last year, showing he is more than capable of terrorizing opposing quarterbacks.
The reason that Clowney hasn't graded particularly well when it comes to pass-rushing is due to his lack of efficiency, which has been an issue throughout his young career. Last season, Clowney produced a pass-rush productivity of only 6.2, which ranked tied for 55th among qualifying edge defenders. In 2017, he managed a slightly better mark of 7.9 (T-39th), and in 2016 he generated a PRP of 6.2 (T-59th), demonstrating that maintaining efficiency when pass-rushing with a significant number of attempts has been an issue for Clowney thus far. This is not to say that Clowney has been bad as a pass-rusher, as he can provide significant value when pass-rushing through his ability to rush from different alignments and stances. Last season, only five of Clowney's nine sacks and 36 of his pressures came from the right end alignment, while all others came from the OLB position or various other positions. He has demonstrated effectiveness when rushing from the interior, especially when in a two-point stance.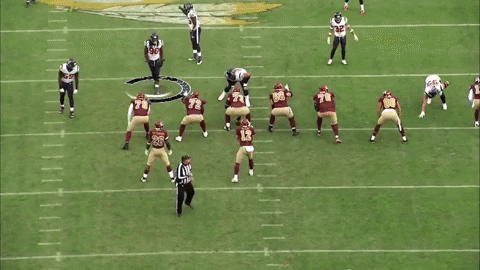 So, which teams are some intriguing landing spots for the talents of Jadeveon Clowney?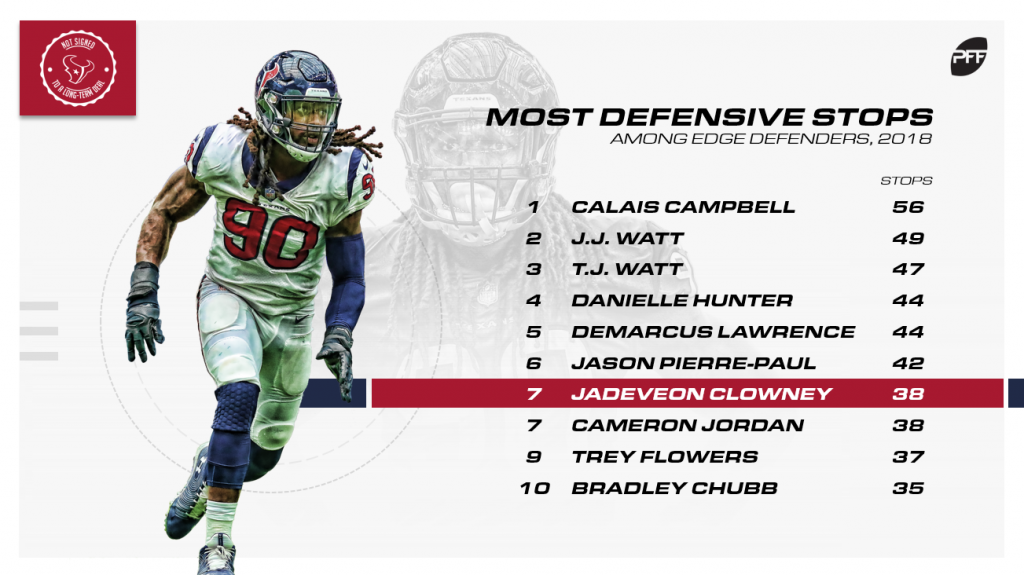 Atlanta's defense had a tough go of it last year, suffering multiple injuries that left the unit crippled. Still, they managed a modest 68.8 team pass-rush grade (18th) and a 75.6 run-defense grade (25th). Takkarist McKinley (66.5 pass-rush grade) and Grady Jarrett, who earned an 86.7 pass-rush grade and 90.0 run-defense grade last season, have anchored the Falcons' defensive line thus far, but with Vic Beasley (42.2 overall grade) struggling to recapture his 2016 magic, they could benefit from a player of Clowney's caliber on the defensive line.
The Baltimore Ravens were solid as a defensive unit when it came to run-defense (88.5) and pass-rushing (72.2) last season, but they lost two of their three highest-graded pass-rushers in Terrell Suggs and Za'Darius Smith and could use Clowney's help in replacing their combined 119 pressures and 18 sacks. The new additions of Shane Ray and Jaylon Ferguson, who has shown flashes in the preseason, will surely help to soften the blow of losing Suggs and Smith, but adding a player of Clowney's talent to an already-nasty Baltimore defense borders on "just unfair" territory.
The reasons that the Raiders would want to acquire Clowney should be fairly obvious when looking at how last season went for the squad. The team posted a run defense grade of 74.4 (27th) and a 53.0 pass-rush grade (32nd). They had no pass-rusher on their defensive line with a  pass-rush grade of higher than 65.5, and only two managed to surpass 60.0, one of which was Bruce Irvin, who is no long with the team. The Raiders have added a pair of nice young pass-rushers in Clelin Ferrell (52.8 preseason grade) and Maxx Crosby (76.2 preseason grade) in the draft, but the Raiders could use some veteran talent with proven production to help bolster their defense.
Whichever team ends up acquiring Jadeveon Clowney will be getting one of the league's best run-defenders and a very capable pass-rusher who has the versatility to rush from a variety of alignments and stances. Though injuries are a lingering concern, the edge defender has stayed healthy his last three seasons and looks to enter his prime and continue to wreak havoc on opposing backfields.
[Editor's Note: All of PFF's advanced stats and grades for every NFL player are made available in PFF's ELITE subscription. Subscribe today to gain access!]