As the 2017 season looms on the horizon, it's time to take a look at some of the league's lesser-known stars — players who have performed well but have yet to receive the recognition their play deserves.
We have run the secret superstar series before, but this time we are going to give them all to you in one block, covering each of the 32 teams in this one article.
Some of these players were rookies in 2016, but others are established veterans who either took a significant leap forward in 2016, or have simply been playing far better than their reputation would lead you to believe to date.
Without further delay, here are your NFL secret superstars (last updated 07/04/17 to correct an error in original copy):
AFC North

DI Michael Pierce
2016 snaps: 375
Key stat: Notched 25 defensive stops – one fewer than teammate Timmy Jernigan on 256 fewer snaps.
The Baltimore Ravens are excellent at discovering talent on the defensive interior, and part of the reason they were OK with letting Jernigan hit the open market was the play of Pierce last season. Pierce was a force against the run, notching 23 run stops and missing only a single tackle all season. He has so far offered little as a pass-rusher, but he showed enough to earn a bigger role in 2017.

S Shawn Williams
2016 snaps: 912
Key stat: Played 89.5 percent of defensive snaps in 2016 having played just 50.6 percent the season before.
The Bengals raised some eyebrows when they allowed Reggie Nelson to leave and break up an impressive safety tandem with George Iloka, but Williams was able to step into that void and continue his impressive play from the year before on more snaps. Williams notched 14 total pressures on the blitz, 19 defensive stops and was able to make some plays in coverage even if he was at fault for three touchdowns over the season.

CB Jamar Taylor
2016 snaps: 921
Key stat: Notched 10 pass breakups and three interceptions from 81 targets over the season.
Taylor had actually played significant snaps prior to the 2016 season, but last year was a career-high, and more importantly a huge leap forward in terms of production. His overall PFF grade of 82.8 was more than 30 points higher than his previous career best (47.4) and marked the first season of his career he notched more than one pass breakup over a season. Taylor still surrendered five touchdowns over the season, so needs to maintain that knack for making plays to offset that in 2017.

CB Ross Cockrell
2016 snaps: 1025
Key stat: Allowed just two catches for 38 yards on six targets against A.J. Green in Week 2, while breaking one up.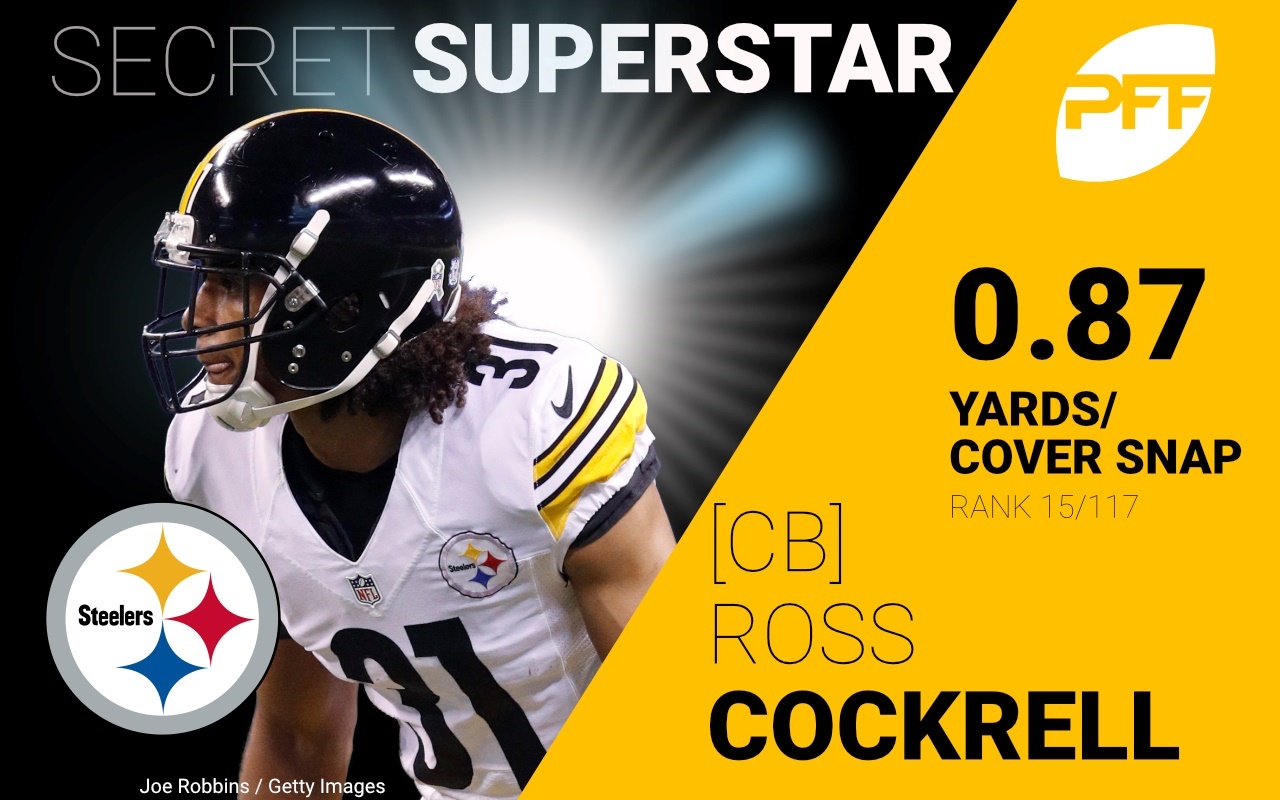 A fourth-round pick by the Buffalo Bills in 2014, Cockrell didn't make it in Buffalo before playing 1,953 snaps for the Steelers over the past two seasons and starting all 2016. He didn't record an interception in 2016, but did break up 10 passes and allowed just two scores over 93 total targets including the playoffs. Cockrell has size and range, and didn't allow a reception longer than 37 yards all season, despite facing some elite receivers.
AFC East

C Ryan Groy
2016 snaps: 539
Key stat: Did not allow a sack all season from 291 pass-blocking snaps.
Groy started the final seven games of the season for the Bills, filling in for Eric Wood in the middle of the offensive line and playing largely well over that span, particularly in the final two games of the season against tough divisional rivals on the defensive line in the Dolphins and Jets. Groy didn't allow a sack all season, and surrendered just nine total pressures – seven across those final seven games.

CB Byron Maxwell
2016 snaps: 846
Key stat: Allowed just three catches for 23 yards against Brandon Marshall in Week 9 on six targets
Maxwell had a quietly impressive season despite actually being benched in the midst of it by the Dolphins. He didn't begin the season well, and was sat down in Week 4, but from that point onward he allowed more than 30 yards just twice over the rest of the season and never more than 42 yards in a game. The longest catch he allowed after being benched was 19 yards and he amassed eight pass breakups and two interceptions over that time.

DI Trey Flowers
2016 snaps: 564
Key stat: Led the league with 18 total pressures when aligned as a true nose tackle at 0-technique.
Flowers was a favorite of the first season of PFF college grading, and he's proving to be an extremely disruptive force at the NFL level too. The Patriots use him all over their defensive line, but he is particularly effective rushing from the inside as a nose tackle in sub packages, where his quickness is too much for interior linemen to cope with. He tallied 35 total pressures over the regular season and 24 defensive stops.

G James Carpenter
2016 snaps: 994
Key stat: Had three perfect games of pass protection in 2016, all coming against AFC East opposition (Buffalo twice, New England)
Carpenter was a first-round draft bust for the Seattle Seahawks, but when he moved to a more favorable blocking scheme with the Jets, he has quietly become a very solid player over the past two seasons. In 2015 his run-blocking was vastly improved, but in 2016 his pass protection took a step to meet it, and he surrendered only 24 total pressures over his season. If he can maintain this improvement he will have executed quite the turnaround, but he did have a midseason slump during the season, grading poorly in six straight games.
AFC South

C Greg Mancz
2016 snaps: 1120
Key stat: Allowed just 18 total pressures across 1,120 snaps over the regular season.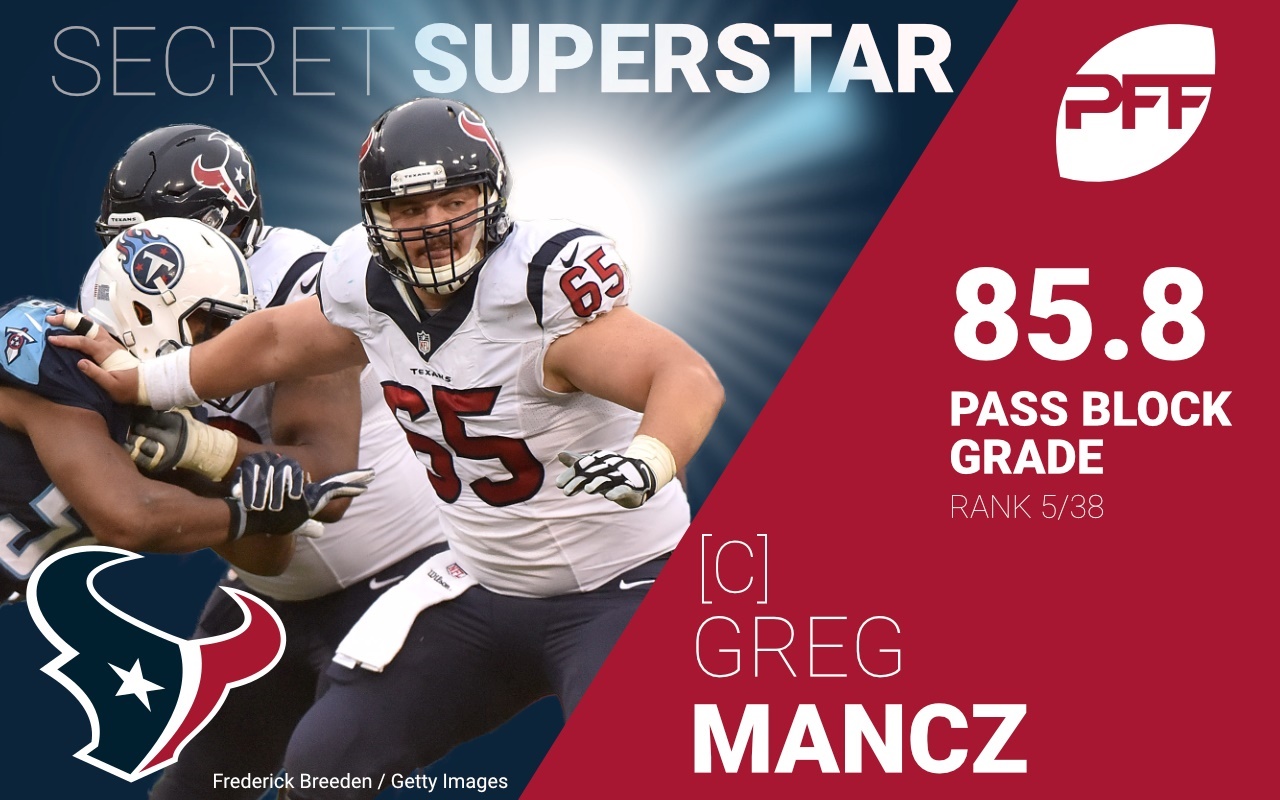 Another star of the PFF college grading, Mancz somehow went undrafted in 2015, but started last season for the Texans at center and had five perfect games of pass protection as well as grading solidly as a run-blocker over the year. His PFF grade of 84.2 was good enough to rank eighth in the NFL, higher than multiple Pro Bowl players. Mancz didn't allow a sack or hit across two playoff games.

DI Henry Anderson
2016 snaps: 308
Key stat: Has been limited to just 760 snaps over his first two seasons.
Anderson impressed as a rookie, particularly against the run, notching 23 defensive stops across 452 total snaps. Injury derailed his promising start, and he played just 42.5 percent of snaps in year two. Anderson has flashed ability, but needs a big year three to justify that talent. On the Colts roster though there aren't many better options for a secret superstar.

C Brandon Linder
2016 snaps: 909
Key stat: 108 of Jacksonville's 392 total carries went immediately to the left or right of Linder's block in the middle of the line.
Linder is one of the league's more underrated players, ranking fifth over the year with a PFF grade of 87.6 overall after his second fine season in three years. On both occasions that Linder has played 900 or more snaps in his career he has graded well as a run blocker and a pass protector. He allowed 13 total pressures in 2016 and was flagged just twice all year, both coming in one game against Tennessee.

WR Rishard Matthews
2016 snaps: 782
Key stat: Dropped just one pass from 104 targets. His drop rate was the fourth-best in the NFL among WRs.
The Titans were desperate for a true No. 1 WR in 2016, but they do have a capable starter in Matthews, who caught nine touchdowns across the season. 782 snaps represent the most of his career by 250, and he had a WR rating of 104.8 from his 104 targets over the season. Matthews isn't capable of carrying an offense, but he could have an even better year in 2017 if the Titans can find a true number one.
AFC West

Edge Shaq Barrett
2016 snaps: 415
Key stat: Has missed just four tackles over the past two seasons, two each in 2015 and 2016.
Barrett backed up his impressive 2015 with another excellent year, and will now likely have a chance to start with the retirement of DeMarcus Ware this offseason. Barrett played only 36.3 percent of the team's snaps in 2016, but still notched 19 total pressures and 20 defensive stops. He has overall PFF grades of 81.1 and 78.0 over the past two seasons.

C Mitch Morse
2016 snaps: 1019
Key stat: Did not allow a single sack across all of 2016, including the playoffs.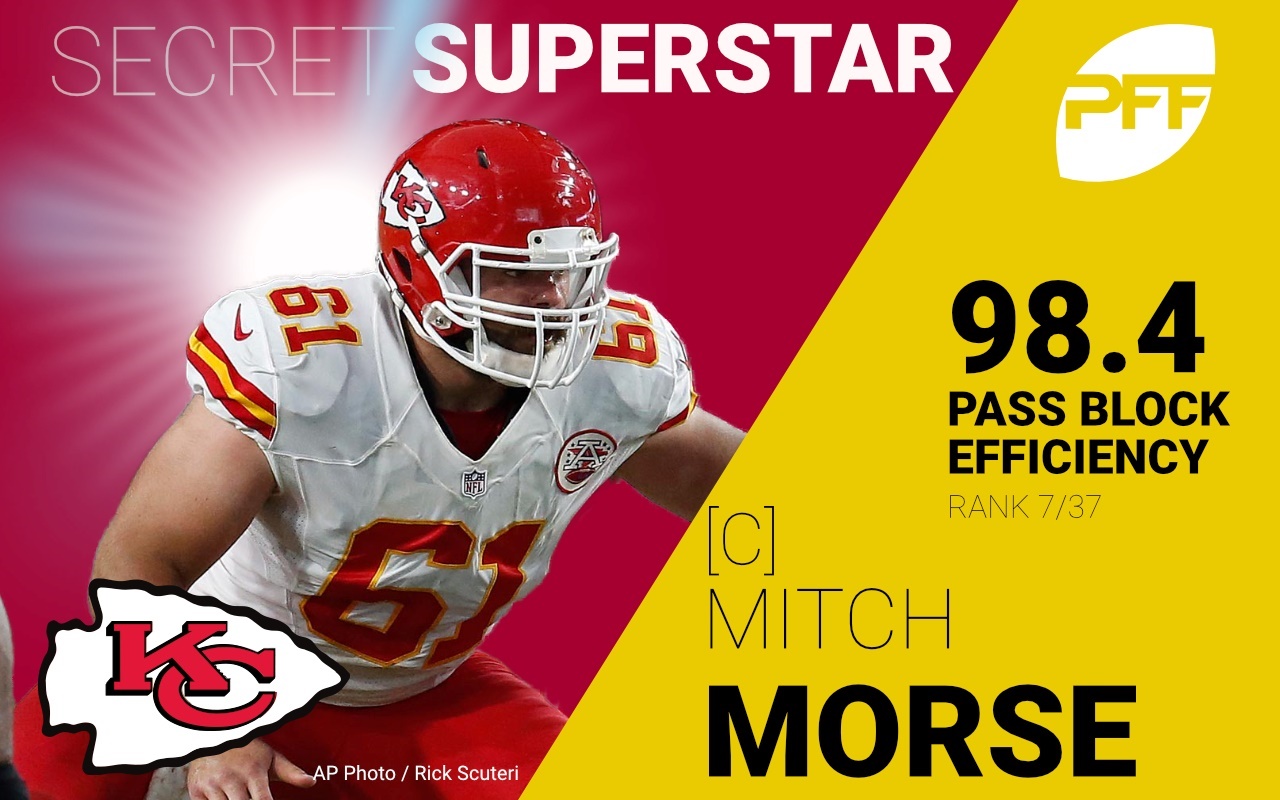 Morse has started at center for the Chiefs over the past two seasons and has been a solid player across the board. He had some poor games last year, but had an excellent run of run-blocking performances too, and over the season had nine perfect games of pass protection. He didn't allow a sack all season, and surrendered a total of 14 pressures across more than 1,000 snaps including the playoffs.

LB Jatavis Brown
2016 snaps: 600
Key stat: Had three or more defensive stops in seven different games.
Brown had an impressive rookie season, and was even better outside of two poor games against Oakland (Week 5) and Atlanta (Week 7), two of the league's most high-octane offenses. In coverage, he tallied five pass breakups over the season and recorded 29 defensive stops overall. Brown also recorded four sacks and 10 total pressures on the blitz.

RB Jalen Richard
2016 snaps: 235
Key stat: Broke 21 tackles rushing and seven as a receiver to earn an elusive rating of 90.7
Few runners proved as difficult to tackle in 2016 as Jalen Richard, who gained 3.6 yards per carry after contact and broke a total of 28 tackles across 112 touches from the backfield. Richard didn't have a single game in which he recorded double-digit carries, but the closest he came (nine) saw him notch 53 yards, 36 of which came after contact thanks to breaking three tackles on those carries.
NFC North

S Adrian Amos
2016 snaps: 938
Key stat: Has recorded exactly 20 defensive stops and 10 missed tackles in each of his first two seasons of play.
Despite being a fifth-round pick, Amos has started the past two seasons for the Bears and performed well in those snaps. He has been flagged just twice across two years, and has recorded 39 run stops in those seasons. Amos has been a force against the run and improved his coverage grade to 78.4 last season.

Edge Kerry Hyder
2016 snaps: 659
Key stat: Tallied 51 total pressures across 416 pass rushing snaps in 2016.
Hyder earned himself a respectable reputation thanks to tallying eight sacks last season, but his pass rush was much more than that, and he recorded a total of 51 pressures. Hyder's pass-rush productivity score of 10.5 was the same as Cameron Jordan and he recorded more pressure than multiple players with significantly more pass-rushing snaps.

RB Ty Montgomery
2016 snaps: 392
Key stat: Led the league with a staggering 5.1 yards per carry after contact after moving to running back in 2016.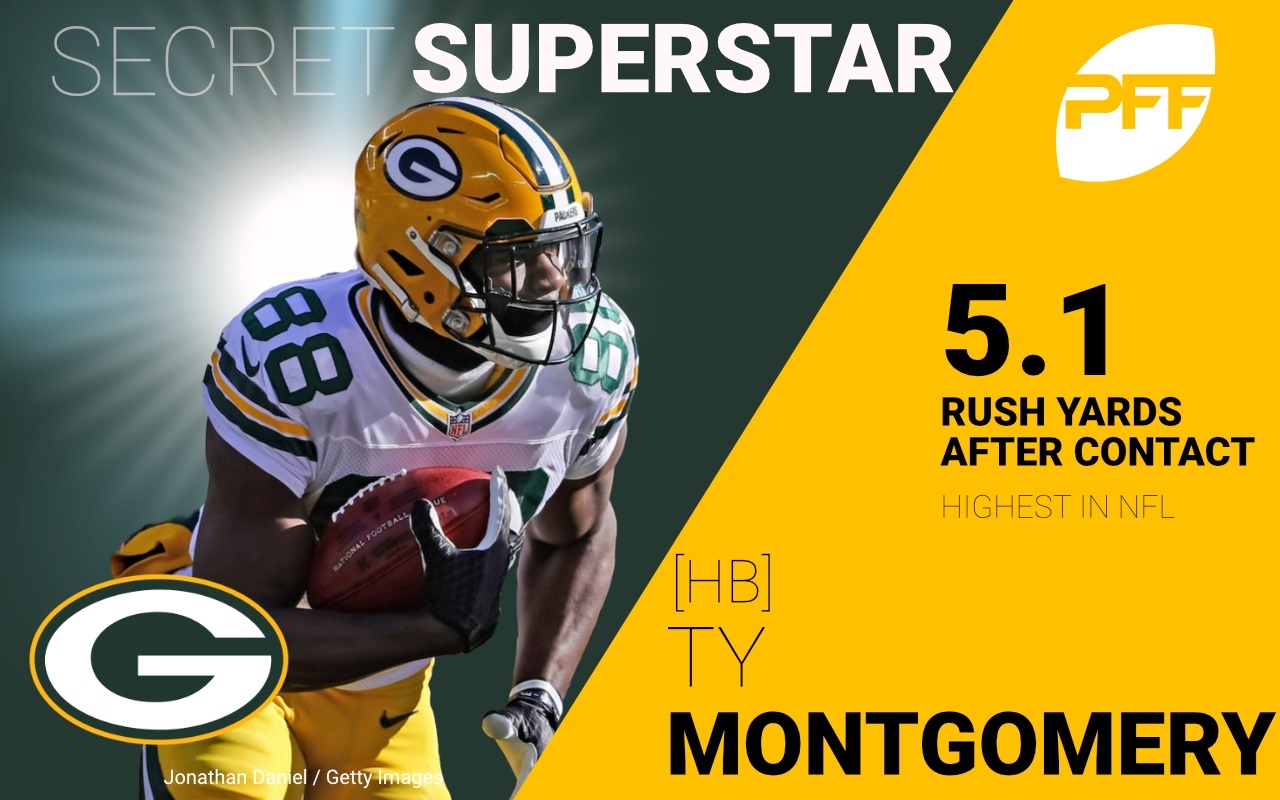 I've been calling for Montgomery to play running back since before he entered the league, and we finally saw the potential of that move in 2016 when the Packers were forced into the move through injuries. Montgomery broke 18 tackles on 72 carries from the backfield, and gained 370 of his 451 rushing yards after contact.

OL Joe Berger
2016 snaps: 852
Key stat: Allowed only 10 total pressures in 2016 on a line that surrendered 198 as a unit over the season.
Berger was a journeyman backup offensive lineman for the Vikings before getting an opportunity to start and never looking back. In 2015, he was an All Pro-level performer, and while he didn't live up to that in 2016, he was once again an impressive performer and by far the best lineman the Vikings had. On a line that was hemorrhaging pressure, Berger surrendered very little and maintained a solid run-blocking grade. Berger's overall PFF grade was 85.0.
NFC East

DI David Irving
2016 snaps: 486
Key stat: Spent 35.3 percent of his snaps on the edge and the rest on the inside of the Dallas defensive line.
Irving has just cost himself the first four games of the 2017 season thanks to a suspension, but his 2016 in particular showed some impressive potential, and he recorded 39 total pressures and 14 defensive stops. Irving played just 486 defensive snaps and had the fifth-best pass-rushing productivity score of 8.5 among defensive tackles.

S Andrew Adams
2016 snaps: 747
Key stat: Played 77.7 percent of the team's defensive snaps as an undrafted rookie free agent.
Landon Collins was transformed as a player by moving to strong safety where he could be a bigger impact force in and around the box, but the play of Adams in his old free safety role was also a huge factor in the transformation of New York's defense. Adams got his chance to start in Week 5 and put together a sequence of impressive displays, ending the year with a PFF grade of 79.4.

LB Jordan Hicks
2016 snaps: 971
Key stat: Had the league's lowest passer rating allowed (53.7) of all linebackers in 2016.
Hicks was arguably the league's best coverage linebacker in 2016, and that continued a trend of impressive coverage grades since he entered the league. His play against the run has been less impressive, but in a passing league, his ability to make plays on the ball and limit the damage done in his coverage has been a big part of Philadelphia's defense.

T Morgan Moses
2016 snaps: 1017
Key stat: Had three perfect games of pass protection in 2016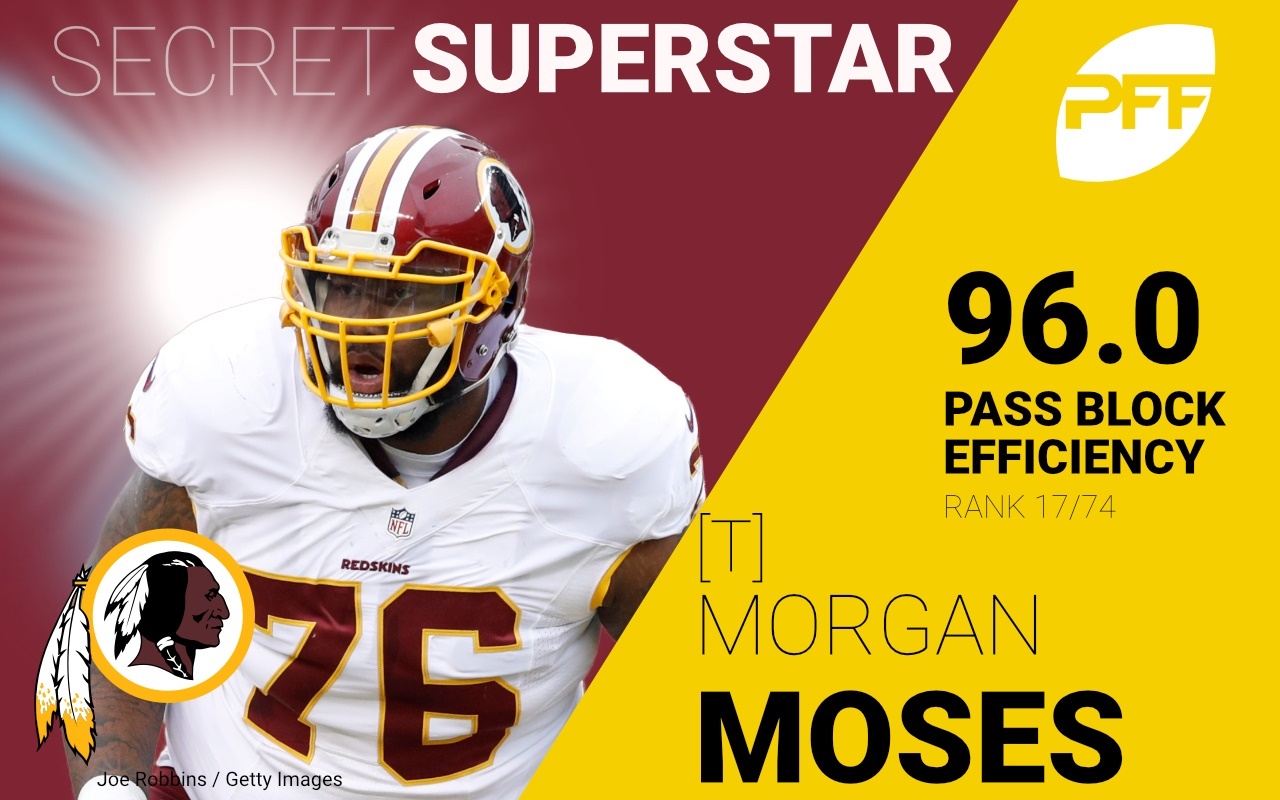 Moses has steadily improved each season in the league, and last year ended the season with a PFF grade of 85.1 overall, good enough to rank eighth among right tackles. Moses graded well as both a run-blocker and pass protector last season and had nine games in which he didn't allow a sack or hit on the QB.
NFC South

CB Brian Poole
2016 snaps: 834
Key stat: Allowed 9.3 yards per reception as a rookie, trailing only Tavon Young (9.0) among first-year cornerbacks.
Poole's rookie play was a big boost for the Falcons, particularly after losing top cover corner Desmond Trufant for the season. Poole only notched a single interception over the season, but he was rarely beaten badly and had just three games all year in which he allowed more than five catches. Overall gave up three scores, two of which came in the first month of the season.

CB James Bradberry
2016 snaps: 799
Key stat: Wasn't beaten for a reception longer than 31 yards all season.
Another impressive rookie cornerback, Bradberry started from day one despite making the step up from Samford college as a second-round draft pick. Exposed badly in Week 1, Bradberry performed very well after that, and showed some spectacular plays in zone coverage consistent with a player of much more experience. He was beaten for an average of just 10.6 all season despite playing on the perimeter and not the slot where catch averages are lower.

WR Willie Snead
2016 snaps: 744
Key stat: Caught 75.0 percent of passes thrown his way, the 14th-best mark among WRs leaguewide.
Snead may be stretching the definition of secret, but such are the options on the New Orleans roster. Snead is a solid slot weapon for the Saints, who has reliable hands but can also flash ability after the catch, forcing 10 missed tackles once he caught the ball and averaging 5.4 yards after the catch.

TE Cameron Brate
2016 snaps: 705
Key stat: Dropped only two passes all season to earn the fifth-best drop rate among TEs (3.4 percent).
Brate burst into the scene in 2016, more than doubling his snap count from the year before and dramatically eclipsing his receiving marks as well. He caught eight touchdowns from 78 targets and dropped just two of those targets for a drop rate of 3.4 percent of catchable balls, the fifth-best mark among TEs in the league.
NFC West

Edge Markus Golden
2016 snaps: 762
Key stat: Has notched 110 total pressures over his first two seasons in the league.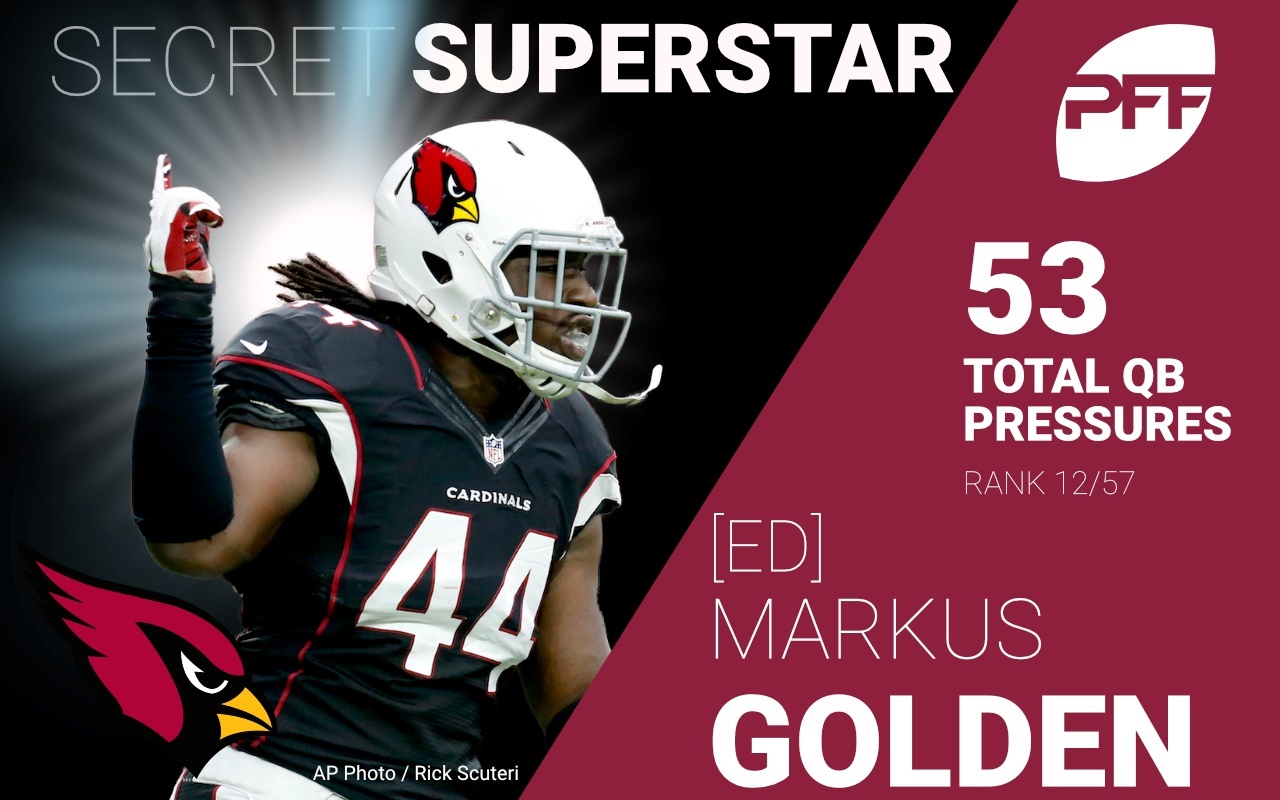 Not so much secret as continually overlooked, Golden has developed into a formidable edge defender, and has only been in the league for two years. He posted 53 total pressures in 2016, and upped his run stops to 41, the fourth-most of all edge defenders over the season. Golden graded well against the run and pass, and could have yet more untapped potential in year three.

S Maurice Alexander
2016 snaps: 920
Key stat: Improved his PFF grade from 44.6 to 83.4 from 2015 to 2016.
Alexander saw 434 snaps in 2015 for the Rams, but this past season he started all year, replacing the departed Rodney McLeod. His coverage was the biggest leap in performance, and he notched two interceptions while allowing no scores when in primary coverage from his safety spot. Alexander only really had one poor game all season, a week 12 outing against the Saints in which he missed three tackles.

FB Kyle Juszczyk
2016 snaps: 465
Key stat: Played 115 more snaps than any other fullback in the NFL in 2016 (for Baltimore).
Fullback is a position of declining importance in today's NFL as offenses focus ever more on the passing game and less on three yards and a cloud of dust, so to survive and thrive in today's NFL a fullback needs to be versatile, and Kyle Juszczyk is as versatile as they get. He played significantly more snaps than any other fullback in the league in 2016, and graded well as a blocker and pass catcher, but even earned himself five carries, gaining 14 of his 22 rushing yards after contact. He should make an intriguing free agent addition to the roster.

C Justin Britt
2016 snaps: 994
Key stat: Didn't allow a sack or hit all season.
The Seahawks offensive line surrendered 238 total pressures as a unit in 2016, but Britt was responsible for just 14 of them from his center position, and none were sacks or hits on the QB. Britt's first year playing center went dramatically better than his seasons playing tackle or guard, but he was a very boom-or-bust player, with a sequence of dominant games mixed in with ones in which he struggled far more.