When Drew Brees went down with a thumb injury against the Rams in Week 2, the Saints' playoff prospects immediately came into question. With an offense so reliant on the right arm of one Drew Brees, were they going to be able to keep pace in a loaded NFC South? Two weeks later, not only do they look like they should be in the mix when Brees returns, they should be the favorite in the division. The reason being a defense that has transformed into one of the best in the league and should only be getting better.

The success of the New Orleans defense begins and ends with an up and coming defensive line that could be in the conversation to become the league's best by the end of the season. Everyone knows about left defensive end Cameron Jordan. The perennial PFF Pro Bowler has earned 90.0-plus overall grades for three straight seasons and isn't showing any signs of slowing down soon with 24 pressures through four games already. It's the other three starters up front who may not be household names, but deserve credit for what they figure to bring to the table for the Saints down the stretch.
Rankins returned for his season debut Sunday, where he made a run stop along with a hit and a hurry. He didn't look quite up to game speed yet after tearing his Achilles in last year's playoffs. The former first rounder was a budding star who saw both his pass-rushing and run defense grades improve every single season of his career. Rankins finished 2018 with an 81.6 overall grade and 46 pressures. He also routinely flashed one of the deadliest spin moves of any defensive tackle in the NFL.
One of the coldest spin moves in the @NFL belongs to a Defensive Tackle…? ????

Sheldon Rankins is a MONSTER. pic.twitter.com/bDwTJVYiIx

— The Checkdown (@thecheckdown) December 18, 2018
That will come in handy for the Saints sealing out leads down the stretch this year.
This is the name you need to get to know. The former fourth-round pick went from a 57.2 overall grade as a rookie, to 71.6 in 2017, to 81.2 last year. After being suspended Week 1, he's earned an 80.2 run-defense grade and 66.6 pass-rushing grade. Onyemata overpowers opposing offensive linemen and was trying to single-handedly keep the Saints in the Rams game as he racked up six pressures. His ability to line up in any alignment along the Saints' defensive line is crucial to what they do. I called him a breakout candidate heading into the season and believe we still haven't seen his best football yet.
This man is the key to it all. He showed flashes as a rookie, but you could tell he didn't quite have it all together yet. At 6-foot-6, 265 pounds with off-the-charts explosiveness, it seemed like only a matter of time before Davenport became a consistent pocket collapser. After Sunday night's game against Tyron Smith, it appears that time is now. Davenport collected seven pressures on the day, handing Smith his first five of the season. How often do you see the All-Pro left tackle get walked back like this?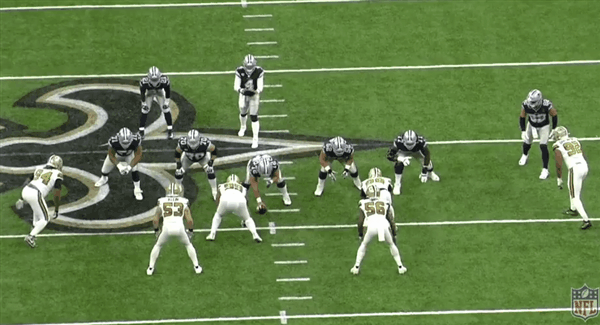 If Davenport can do that to Tyron Smith, the rest of the league better watch out for what the second-year player does for an encore. His 22 pressures already rank him ninth among edge defenders in the league. With Davenport and Jordan, the Saints have arguably the best bull-rushing tandem in the NFL. That ability to consistently impact the comfort level of opposing quarterbacks will do wonders for what's been an up and down secondary in New Orleans.