As the old saying goes, you can never have too much of a good thing.
When it comes to today's NFL, offenses are trending towards building the team around the most important position on the field: the quarterback. To that end, teams are ever-increasingly trying to surround their signal-caller with as many pass-catching weapons as possible, whether they be skillful route-runners, big-bodied contested-catch specialists or dynamic running backs who can excel in the passing game.
Of the past 10 Super Bowl champions, only two have not graded among the top five in passing offense. The lone exceptions were the Von Miller-led Denver Broncos (23rd) during their run to Super Bowl 50 in 2015, and the 2012 Baltimore Ravens during Ray Lewis' swan song season of 2012.
That championship-winning footprint left by some of the league's highest- graded passing attacks is one of the reasons that teams began leaning more on receiver-heavy packages. Among the 32 outfits in 2018, only one team used a two-receiver set more than a three-receiver set: The San Francisco 49ers used 21 personnel (two running backs, one tight end, two wide receivers) 41% of the time and 11 personnel (one running back, one tight end, three receivers) on 40% of plays. Every other team used 11 personnel as their primary grouping, and the league-wide average for 11-personnel usage jumped up to 63% as a result.
Leading the charge in this department was the Los Angeles Rams — for the second straight season — at 89%. But fielding three wideouts was only half the battle. After all, having three below-average pass-catchers on the field almost all the time would hardly make for a productive offense. The key to success in this formation is fielding three productive wideouts who can team up with their quarterback and make plays all over the field.
The Rams did just that by surrounding their franchise quarterback, Jared Goff, with new weapons in each of Sean McVay's first two offseasons. Prior to the 2017 season, the team signed Robert Woods and traded for Sammy Watkins to pair with incoming rookie Cooper Kupp. And even when Watkins left via free agency the very next offseason, the team made sure to replace him by trading for Brandin Cooks.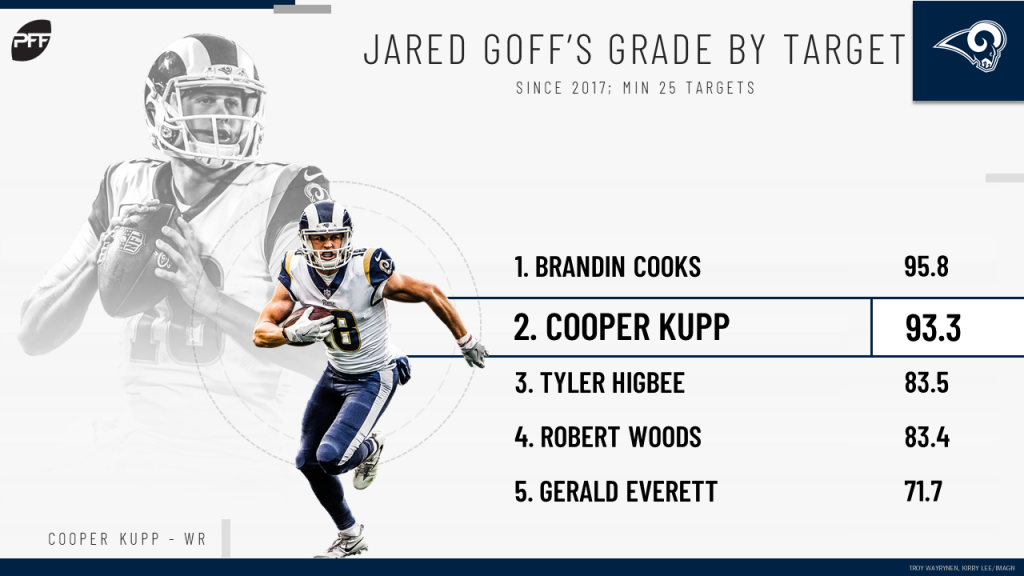 While the trio of Woods, Watkins and Cooks are much more household names, Kupp has arguably been Goff's most relied-on target since entering the league. That was never more evident than in 2018 when the so-called "small-school" wide receiver went down with a torn ACL in Week 10 and was lost for the Rams' playoff run. In the midst of a breakout campaign for the young receiver, Kupp had already bettered his receiving grade, his catch rate, his average yards per reception and his average yards after the catch per reception from his rookie year. And even though Kupp was third in the pecking order among Rams' wide receivers in terms of targets at the time of his injury, he ranked first with 424 yards after the catch, 100 yards after contact, six missed tackles forced and six touchdowns — which was still tied for the team lead by the season's end.
In 2018, Kupp's importance on the field was made crystal clear by Goff's dropoff in play. From Weeks 1-10, the Rams' signal-caller ranked third in the NFL in overall grade with a mark of 92.0, and he was well on his way to being in the MVP conversation. That was until Kupp went down in in the Week 10 clash with the Seattle Seahawks. The following nine games with Kupp sidelined, Goff's overall grade plummeted over 26.0 points to 65.3.
With Kupp out, there was no facet of the Rams' offense that was impacted more than play action — which is less than ideal for a quarterback that used it at the second-highest rate in the NFL last season. Goff's play-action passing grade dropped from 93.0 prior to Kupp's injury to just 66.4 after his exit. Even though his passer rating only dropped 20.0 points from 125.9 to a somewhat respectable 105.3, the film showed the two different sides of Goff's play with and without Kupp on the field.
However, the real significance of Kupp's impact on the offense is in some of the most crucial, high-leverage moments of the game. For instance, through 10 weeks of the 2018 season, Kupp earned a receiving grade of 81.7 on his third- and fourth-down targets, which was the ninth-highest grade by a player with at least 10 such targets in that span. The former Eastern Washington Eagle really shined after the catch on those late-down situations, and he was able to amass the fourth-most yards after the catch (112), third-most yards after contact (54) and the third-most yards after the catch per reception (11.2). However, possibly the most impressive aspect of his late-down play was his efficiency, as he converted all 10 of his third- and fourth-down receptions into first downs or touchdowns, while he also averaged 3.15 yards per late-down route run — the best among receivers with at least 20 routes run in that span.
Reiterating the theme of dependability, since 2017, only Los Angeles Chargers star Keenan Allen (2.90) has averaged more yards per route run on third down than Kupp's 2.50.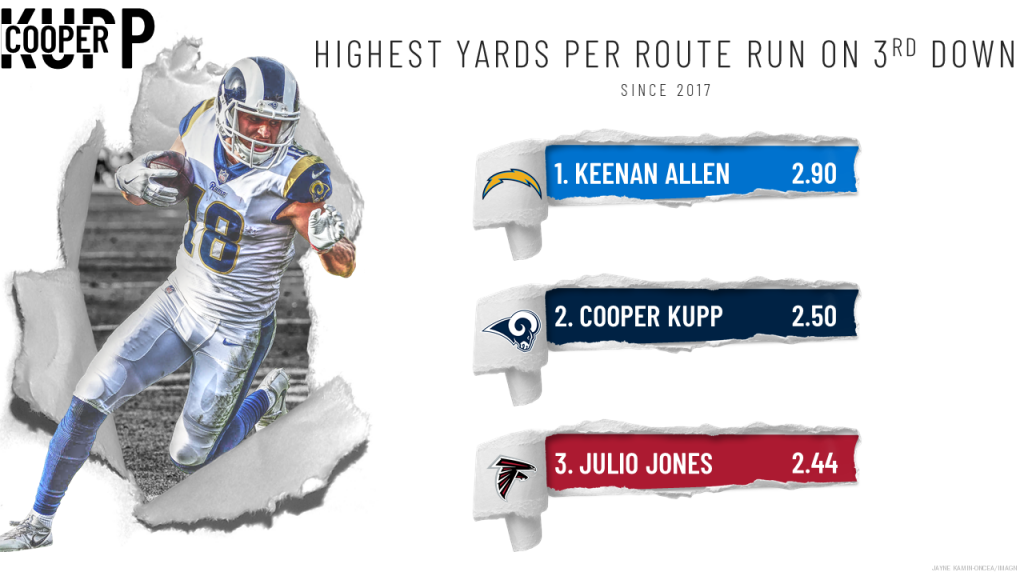 At the end of the day though, Kupp's biggest strength is his play in the slot. Last season, he saw an incredible 81.6% of his targets after he had lined up on the inside; even after missing the final six games of the regular season, the second-year wideout finished tied for third at the position with five receiving touchdowns from the slot, and he was as efficient as anyone, averaging 2.42 yards per slot route run which tied for fifth among qualifying pass-catchers last season.
And this shouldn't come as a surprise. Among the 51 different receivers in the PFF era (2006 – present) who have logged at least 400 snaps in the slot over their first two seasons in the league, Kupp ranks in the top 10 in receiving grade (80.6), passer rating when targeted (129.9), catch rate (78.0%), yards after catch per reception (6.3) and yards per route run (2.20). All considered, there is a case to be made that Kupp has had a historically great start to his career for a primary slot receiver.
The injury to Kupp forced Josh Reynolds into the lineup and bumped Woods to the inside, where he simply wasn't as efficient as the Rams' usual slot weapon: Woods' yards per route run dropped a yard between lining up out wide (2.60) compared to inside at the slot (1.60) this past season. In the end, Kupp's injury not only took away one of the Rams' better receiving options, but it also forced another top receiving option to play out of his most comfortable position.
Unsurprisingly, Kupp's strongest route that he has run in his short career has been the crossing route, and that just so happens to be Goff's favorite route to target. Over the past two seasons, the former Eastern Washington Eagle has earned an impressive 90.4 receiving grade to go along with his 4.29 yards per route run on such routes, and both rank in the top 10 at the position. Goff has targeted crossing routes 16.3% of the time in that span — more frequently than any other route.
With the way Goff's second half of 2018 went, it seems easy to play the what-if game, especially after the offensive performance (or lack thereof) in Super Bowl LIII. Especially considering how often eventual Super Bowl champions have used some sort of adversity to propel them to a Lombardi, many thought Kupp's injury could do just that for the Rams. But at the very least, Goff will have one of his favorite weapons back this upcoming season with high hopes of returning to the seemingly unstoppable form the offense was in prior to losing Kupp. Only time will tell if Kupp can return from injury and be the same reliable playmaker in crucial situations that Goff has become accustomed to seeing the past two seasons, but if he can, the league should be on notice for 2019.