Washington Redskins cornerback Josh Norman just capped off his third season in the nation's capital, but he has still yet to emulate the 2015 season in Carolina that placed him in the upper echelon of defensive players in the NFL.
Head Coach Jay Gruden has recently expressed that he wants to see more out of Norman in the upcoming season following another lackluster year from the cornerback. It is difficult to make the argument that the Redskins have gotten what they paid for in Norman's five-year $75 million deal which included $35 million in guarantees. He is currently the highest-paid cornerback in the NFL, but his 72.2 overall grade last season ranked 49th at his position. Norman has yet to reach his career-high 85.7 grade (2015) while in Washington, and surrendered eight touchdowns in 2018 alone, compared to the 13 he surrendered from 2012 to 2017.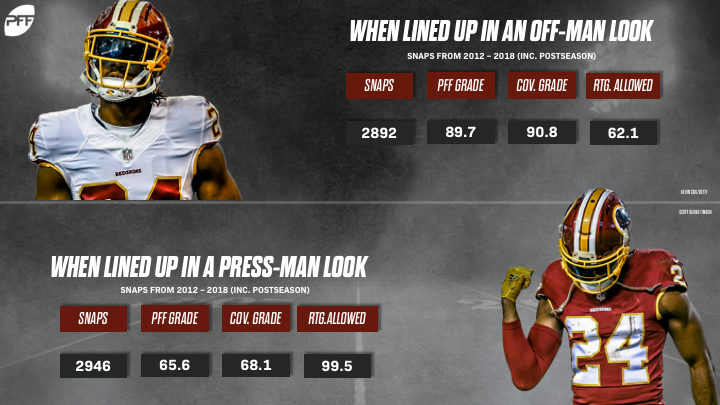 The root of some of Norman's struggles throughout his stint in Washington can be linked to the percentage of plays where the defense lines up in press coverage versus off-man coverage. In 2015, Norman's career year, Norman lined up in a press coverage shell on just 34.1% of his snaps. Over the past three seasons with Washington, he has played in that press coverage look on more than 65.0% of plays. 
Norman has yet to earn a 70.0-plus single-season coverage grade on his press coverage looks throughout his entire seven-year career, and even plummeted to a 58.9 mark on his team's press coverage looks in 2018. In comparison, Norman has achieved single-season coverage grades above 70.0 in five of his seven seasons from his snaps from an off-man look, including an 84.4 mark last season. 
Norman's issues with press-coverage are displayed here against the Seattle Seahawks as he struggles to regain position on the wide receiver following the snap.
The opposite end of the spectrum looks much brighter for the Coastal Carolina alumnus, as he has thrived in defending wide receivers in off-man coverage. In 2018, Norman surrendered a 135.6 passer rating when targeted in press-coverage versus a 31.0 passer rating when targeted in off-man coverage.  
Dating back to 2012, cornerbacks with 100-plus off-man look targets, Norman's forced incompletion percentage of 13.6% ranks 15th out of 107 qualifying cornerbacks. His passer rating of 62.1 when targeted ranks fourth over the same period.
When looking at Norman's athleticism, there are no complaints to be had. One of the main takeaways from Norman's play is that when the cornerback has time to see the play develop, he can be the coveted lockdown defender that NFL teams value so highly.
Now, the Redskins will need Norman to step up, especially after losing promising young slot cornerback Kendall Fuller a season ago, who tied for second at his position in 2017 with a 90.6 overall grade. While there is no indication that Norman can't regain his stellar 2015 form, defensive coordinator Greg Manusky should still play to Norman's strengths if he wants him to be the face of the Washington defense.