The Jacksonville Jaguars have sealed a trip to the playoffs for the first time since 2007 with their thorough beating of the Houston Texans this weekend.
The Jags have been moving in the right direction with their roster for a couple of seasons now, but it was slow to show up on the field. 2017 seems to have been the season that several years of moves have all come together at the same time to turn this team into one of the scariest outfits in the entire league heading into the postseason.
The improvement to the defense has been staggering, and it has been driven by both new acquisitions and established starters.  Let's take a quick look at some of the impact players driving this improvement: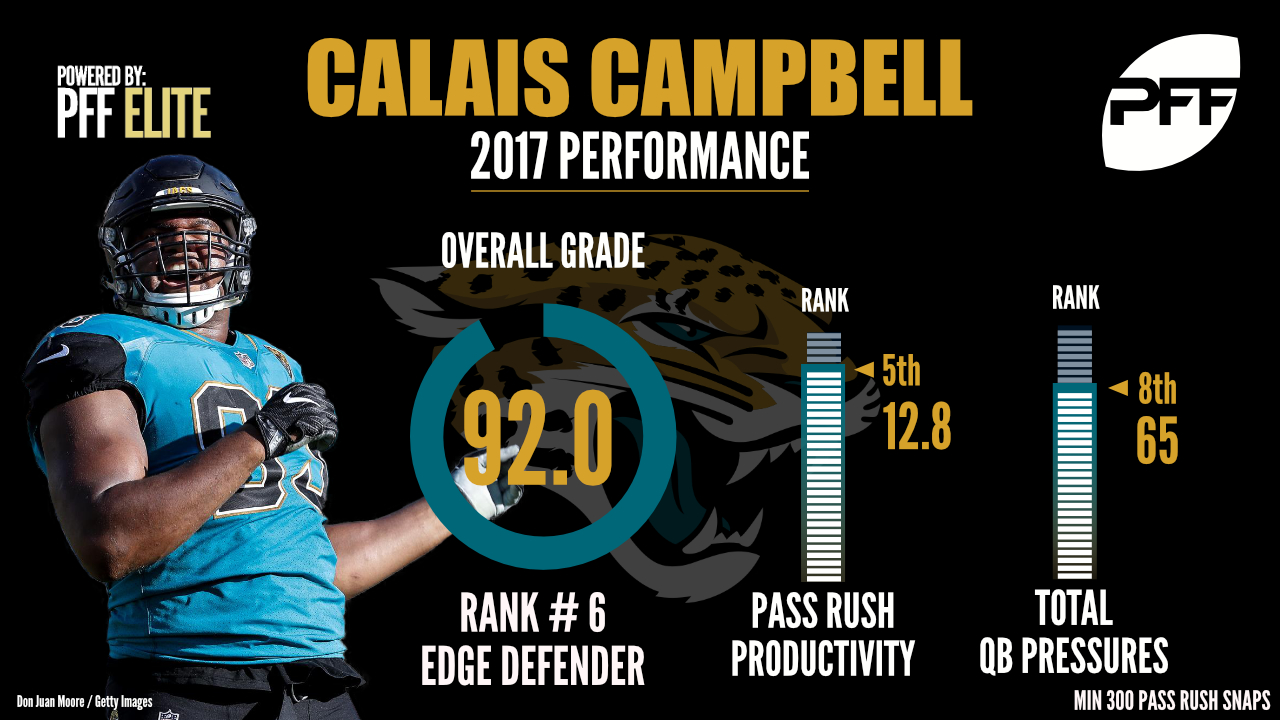 Calais Campbell was the marquee free agent signing of this prior offseason, coming off the best season of his career for the Arizona Cardinals, but given he is over 30 years of age and would be playing a new role within a new defense, it was by no means a slam dunk move. Campbell has embraced that challenge and been a monster as a pass-rusher for the Jaguars this season, notching 65 total pressures and sacking the quarterback a league-leading 16 times.
Campbell has the No. 6 overall PFF grade among all edge defenders, having previously been a pure interior rusher for the Cardinals, and ranks fifth in pass-rush productivity and eighth in total pressures. The Jaguars pass-rush has been dominant this season, giving the team the nickname 'Sacksonville,' and it has been led by Campbell.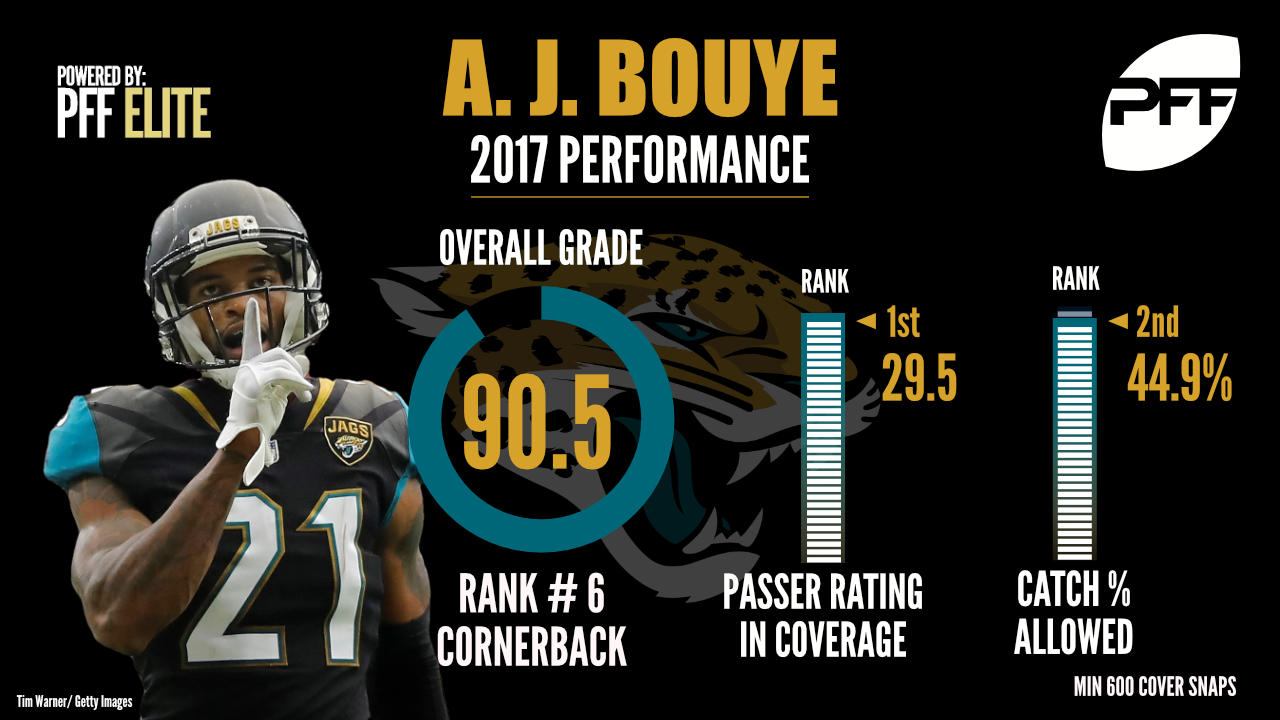 A.J. Bouye was another of the team's big free agent moves, and like Campbell was far from a sure thing. He was fantastic a season ago in Houston, but that was a huge outlier from his previous playing time and represented a big gamble that he was more than just a one-season wonder. As it turns out, he looks even better for the Jaguars than he was with the Texans, and now makes up half of the best cornerback tandem in the league when paired with Jalen Ramsey.
Since PFF has been grading (2006), no cornerback has allowed a passer rating under 30.0, but Bouye is two games away from achieving that, and has currently allowed a passer rating of just 29.5 when targeted this season. He has allowed just 44.9 percent of passes thrown his way to be caught, the second-best mark in the league.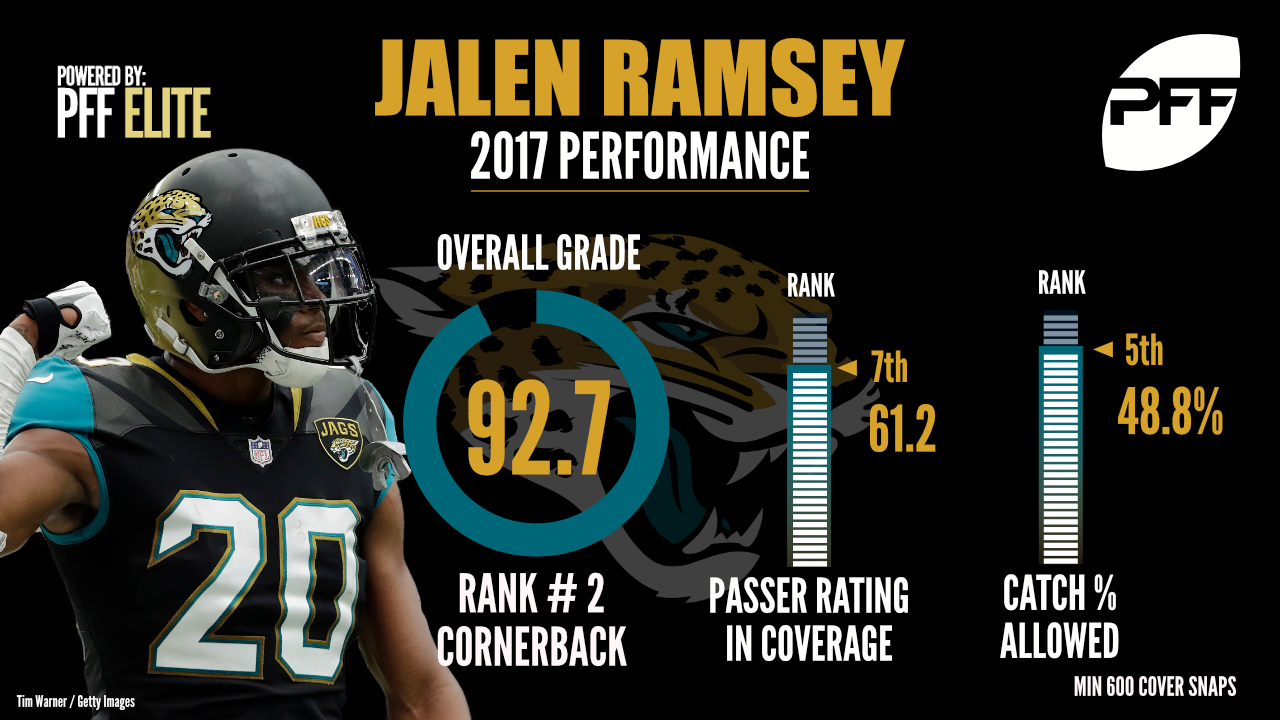 Second-year corner and aforementioned Jalen Ramsey has been one of the best corners in football this season along with Bouye, realizing his potential as one of the most talented players in his draft class. He has also allowed fewer than 50 percent of passes thrown his way to be caught (48.8 percent), and has the No. 2 overall PFF grade among all cornerbacks.
Ramsey has four interceptions and 10 pass breakups coming against some of the best quarterback-wide receiver tandems in the league this season. The combination of him and Bouye, paired with that pass-rush has made the Jags arguably the league's best defense against the pass.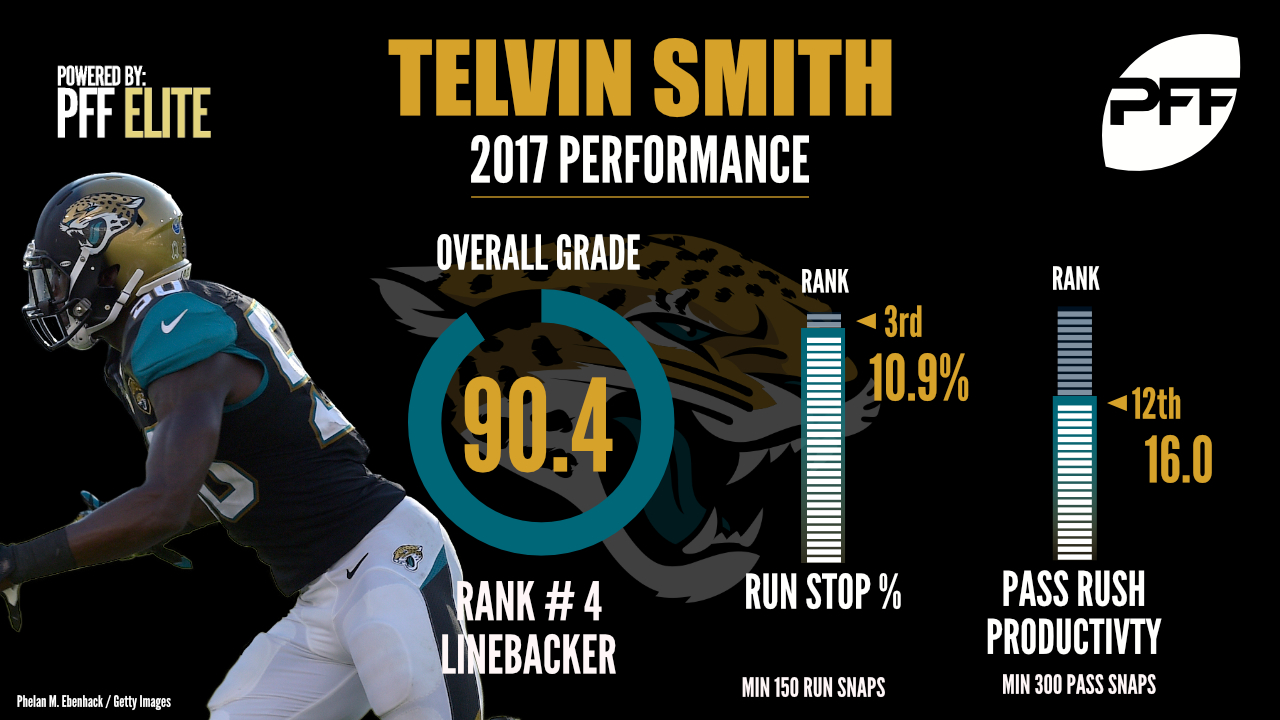 Telvin Smith has been an athletic freak throughout his NFL career, but it's only this season that we have seen that translate into consistently dominant play. He has always flashed the ability to be a playmaker, but this year he has done it almost every game. Smith has the third-best run stop percentage among all linebackers, and no linebacker has a better grade against the run than he has. Smith's speed and range gives him the ability to attack down hill and disrupt blocking schemes like few players can manage.