Since its debut in early January, the PFF Forecast podcast has provided an unprecedented investigation into how Pro Football Focus data and analysis can be used to make smarter football consumers, investors and fans. In possessing the most comprehensive dataset in the football industry, we can uncover insights unavailable to much of the football world. Our goal is simple, to learn as much as we can about what wins football games.
Both of us have teaching backgrounds, and this bend shows up throughout the show. Neither of us have a comedy background, this also shows up more than we'd like. Despite all this, you won't find anywhere else a show that delivers such meaningful insight in an easy to digest format. Here are some examples of topics we've explored so far and what to expect this offseason:
Game predictions
This season we went 47-35-5 (57 percent) during the 2017 season in our picks column and 14-6-1 (70 percent) on our lock of the week. We use our models to identify games that provide the best opportunity for profit and present the argument for and against each pick using the most advanced PFF data. Perhaps our best call of the season came in this year's biggest game, you can listen to it on Episode 4.
As we move into the offseason, we will focus on the draft, free agency and team win totals. This will include our quarterback scheme clusters to identify potential landing spots, and using "PFF NFL Throws" to suss out true quarterback potential aside from how each guy looks in shorts and dri-fit. While George has already correctly predicted the match up, spread, and winner of Super Bowl 53 in Atlanta (ep. 3), there will still be a need to peg the rest of the league which we will tackle using a variety of methods throughout the summer.
Unstable/Stable Stat of the Week
The only aspect less stable than these data points are the sponsors who fly in and out. Here we look to answer the simple question: is this stat predictive year to year (stable) or is it simply a descriptive stat that fluctuates like George's blood pressure during a Falcons' game (unstable)? Check out Episode 2 for a look at passer rating when clean versus passer rating when under pressure.
New Year, New Me
Unlike millions of poor people who set out on the path to failure each new year, we give mathematically driven 2018 resolutions for teams and players. Often we will look at areas of the game that provide more or less value to a team. On Episode 1, we hand out some country love to the Titans and on Episode 2, we deliver gifts to everyone in Sweatlanta.
RIP
Narratives run the football media, many are worthless and we lay those to rest in this segment. A certain type of play got a ton of love leading up to Super Bowl 52 and we buried it six feet beneath the turf with some extra TLC in Episode 4.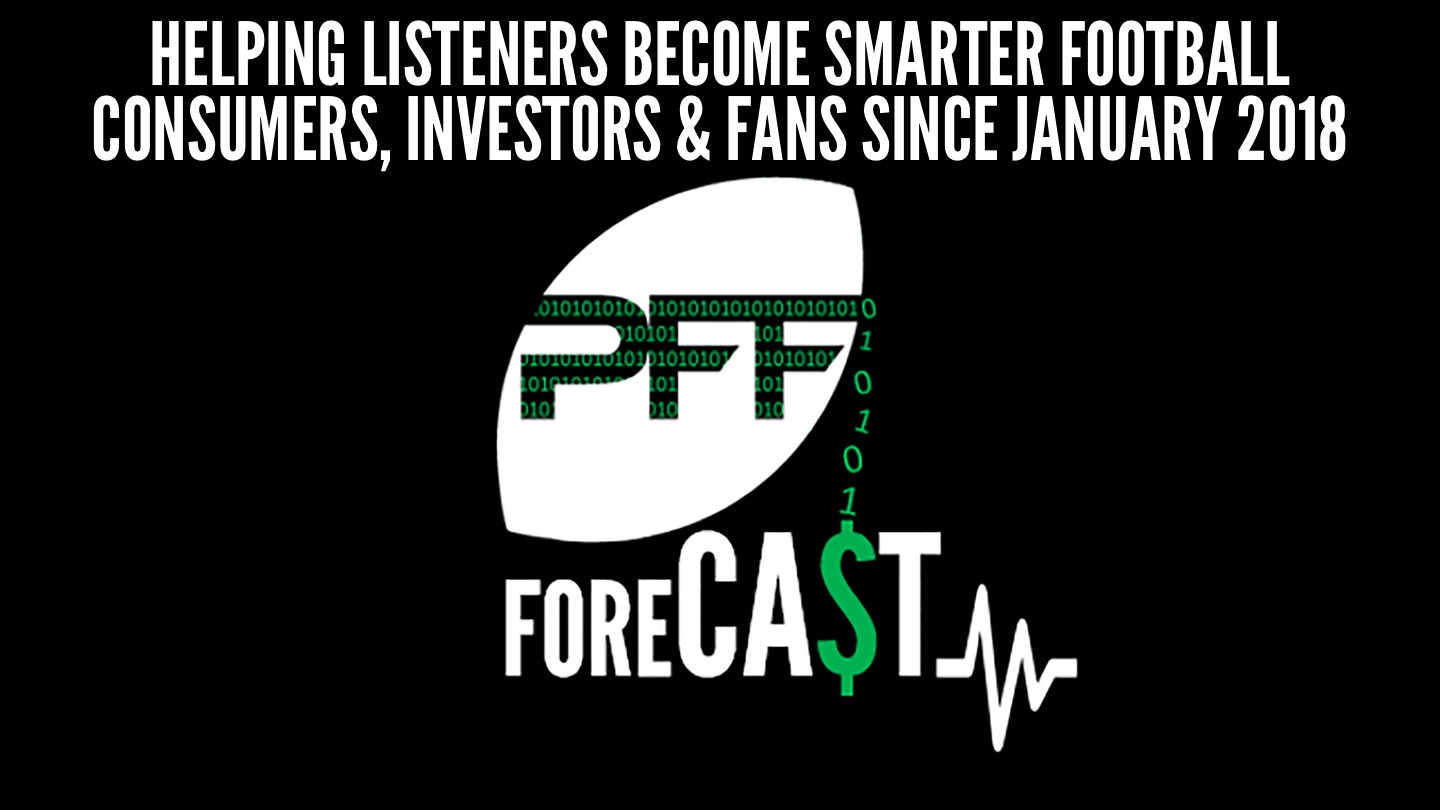 Sign of the Apocalypse
As an ode to the Sports Illustrated section, we look for something that is so horrific it can only lead to one thing, the end of time. In Episode 5, we tackle a potentially life-ending trade possibility.
2017 Team Reviews
We run through your squad's 2017 season, looking at how they ended up in overall PFFELO ranking, as well as offense, defense and special teams specific PFF opponent adjusted ranks. We take a look at the players who generated the most value (Wins Above Replacement) and those that created the least while reflecting on what each list says about the 2017 results and the upcoming 2018 campaign. We have our first two reviews on this week's podcast, Cardinals and Ravens.
Questions from the Dark Web
We scour the millions of Twitter questions that we receive each day and answer the most provocative of the bunch. Our very own Steve Palazzolo was the lucky recipient of some answers on Episode 6.
Deep Dive
On most episodes, we will take some time to go over a metric that we use to power our models or a topic that we have studied more rigorously. While some of these may sound familiar, we look to add a deeper level of understanding to help everyone evaluate football more intelligently. We recommend checking out each of our six deep dives that we've done so far, starting with PFFELO in Episode 1 and a look at running back value in our latest edition.
… and a few more that are too 'good' to write down
We appreciate your support and subscriptions. Please fire any ideas, feedback or hurtful words at us on twitter @PFF_George or @PFF_EricEager. Our intro song is by "The Lulls" – you can hear their music here.
Lock it up.