It's no secret to anyone that follows football, but Odell Beckham Jr. has been one of the NFL's top wide receivers since he entered the league in 2014. This past season, Beckham Jr. finished with an elite grade of 90.0, which ranked sixth among wide receivers and was the second-highest overall grade he has received since his rookie season, where he finished with an elite grade of 90.8. However, he's struggled with injury since his career began. Over the last two seasons, the Giants have played without their star wide receiver for a total of seventeen games, which has forced Eli Manning to rely on other offensive weapons to fill the void left by the All-Pro. The numbers show that Manning's play has declined over the past few seasons, but just how much has he struggled without Beckham Jr. suiting up for the New York Giants?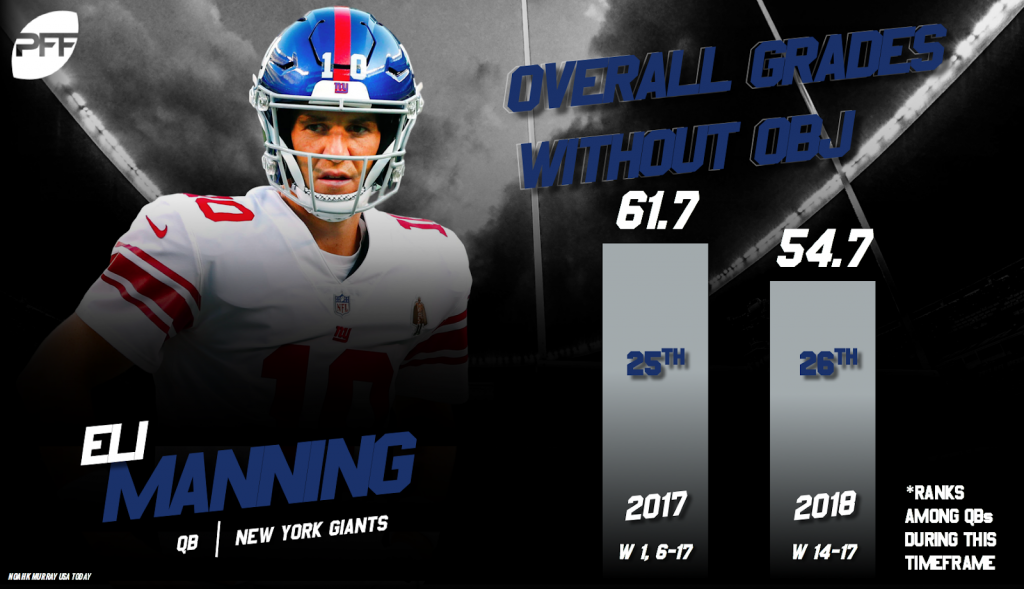 In the 2017 season, Manning recorded a 61.7 overall grade in games without Beckham Jr., which ranked 25th among NFL quarterbacks during that span. In 2018, his overall grade without Beckham Jr. had declined to a mere 54.7, which ranked 26th. Contrasting with these grades, Manning's overall grades with Beckham Jr. in the lineup have been higher, as he recorded a 79.0 grade (8th) in 2017 and a 67.4 grade (25th) this season in games when Beckham was on the field.
Odell Beckham Jr. not being in the lineup has affected other Giants' offensive weapons as well. Wide receiver Sterling Shepard serves as a great compliment to OBJ, and the Giants' offense thrives when these two are in the lineup together. When Shepard served as the Giants number one wide receiver during Beckham Jr.'s absence, his production declined. This season when Beckham was active from Weeks 1-13, Shepard recorded a 67.6 overall grade. When Beckham Jr was inactive during Week's 14-17, Shepard finished with a 63.4 overall grade. Even though the grade took a slight dip, Shepard regressed further in other areas. His WR rating dropped from 105.9 to 73.1 and his catch rate of 71.2% dropped to 48.3% with Beckham out. 
Beckham Jr being healthy and active is crucial for the team's success going forward into 2019. No matter who is under center for the Giants next season, Beckham will be the centerpiece of their passing attack and will continue to be a nightmare for even the top defensive players in the NFL. For Big Blue to take the next step this coming season, it starts with the health of their All-Pro receiver and his ability to stay on the field.