With the loss of J.J. Watt to injury, the league is not only without its best player this season, but without arguably its best pass-rusher, too. Watt is a devastating pass-rusher who has set the standard when it comes to getting after the QB, really since entering the league in 2011.
There are players having excellent seasons, but the overall number of dominant pass-rushers this season seems to be unusually down, and the sack numbers for many of them highlight the relative lack of total pressure across the board.
Here are the top 25 pass-rushers in the NFL right now, several of whom are leaning heavily on a past body of work to still be ranked as close to the top as they are, because so far in 2016, they haven't been able to match the standards of previous seasons.
1. Aaron Donald, DT, Rams
2016 PFF pass-rush grade: 95.6
Much like with Watt before him, I'm running out of ways to describe how good Aaron Donald is, and yet he still seems to be underrated, possibly because he hasn't recorded the same kind of sack numbers. Donald leads the entire league this season with 38 total pressures, averaging 5.4 per game with at least three against every opponent. Nobody uses his hands better as a pass-rusher, shedding blocks even when they manage to get ahold on him—simply put, he might be the single-most unblockable force in the league right now. Donald may not get to the QB immediately every time, but given enough time, the Rams' star DT will get there eventually. The same can't be said for even the most potent and explosive pass-rushers.
2. Von Miller, OLB, Broncos
2016 PFF pass-rush grade: 85.9
Von Miller has picked up this season right where he left off last year, winning games with impact plays and strip sacks. He has nine sacks and 33 total pressures to his name, and has been the league's most devastating edge rusher for awhile now. Miller owns the perfect blend of speed, athleticism, strength, and agility, and often proves just too difficult for tackles to contend with on the right side of the line. The best are stretched to the limit to contain him, and the worst might as well just give up and go home. Miller earned himself a blockbuster contract with his run to end last season, culminating in the Super Bowl 50 trophy and MVP award—he's done anything but take his foot off the gas since.
3. Chandler Jones, OLB, Cardinals
2016 PFF pass-rush grade: 89.0
Chandler Jones is proving to be one of the best pickups of the offseason for any team. He has been arguably the league's best edge rusher through seven weeks of the season, and almost single-handedly shut down the Seattle offense this past week by abusing their left tackle(s). Jones has exceptional length, which allows him to get into the pads of tackles, giving him the chance to win with strength more than speed (compared to a rusher like Miller). It's an unusual skill-set, though, and Seahawks LT Bradley Sowell, for one, had no answer, routinely ending up on the floor as Jones hit him with his push-pull move to defeat the block.
4. Brandon Graham, DE, Eagles
2016 PFF pass-rush grade: 87.5
Brandon Graham has been the league's most underrated pass-rusher for years now, and is finally starting to get some of the recognition he deserves. Graham has 30 total pressures on the season and four sacks across six games. The relative lack of sacks was always the bedrock of the criticism Graham received, so if he continues to notch them this season, he may continue to receive the plaudit. Even if they dry up, though, he is one of the league's most consistent players when it comes to generating pressure on the quarterback, regardless of which side of the line or from what stance he is rushing from.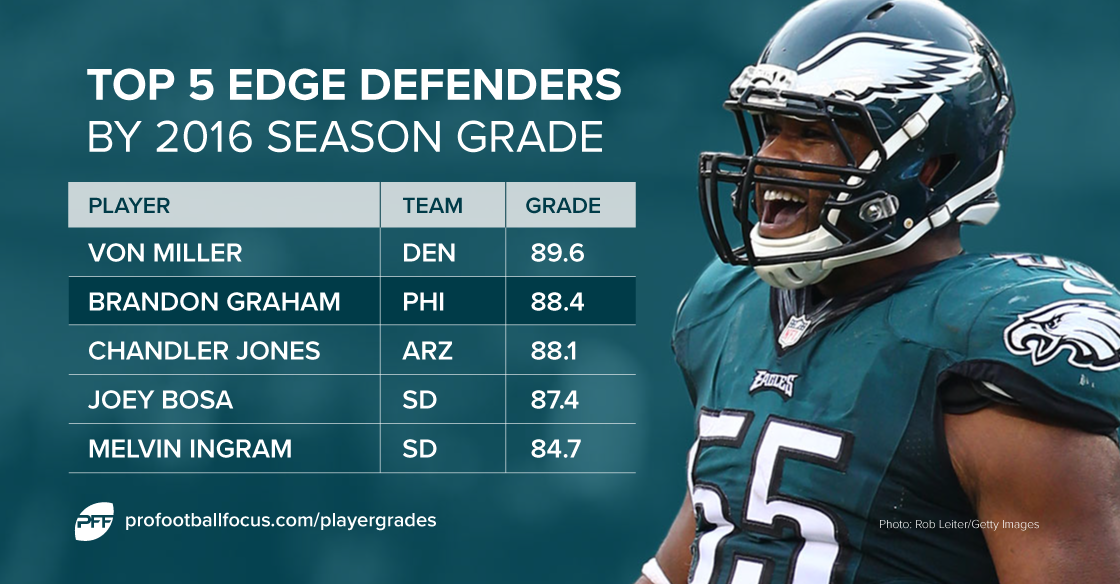 5. Calais Campbell, DT, Cardinals
2016 PFF pass-rush grade: 83.9
The quirk of this season is that Calais Campbell is a very good pass-rusher, but probably one that would be several spots lower on this list in a typical year. He has two sacks and 19 total pressures so far, and by far his best performance has come from beating up on the hapless Seahawks' offensive line. Campbell is a player that can change games with his ability to collapse pockets from the inside. While other pass-rushers seem to be having a down season, the Arizona DT continues to keep on trucking, matching his consistently-good pass-rush performance year after year.
6. Gerald McCoy, DT, Buccaneers
2016 PFF pass-rush grade: 83.7
Gerald McCoy is one of a few defensive tackles that have the ability to get somewhere close to Donald's transcendent dominance over a season, but it's been awhile since we have seen him hit those highs. This season, he has 19 total pressures, but more than 100 fewer snaps than many of his rivals. Against the 49ers, McCoy notched a ridiculous 11 total QB pressures in a single game, and showed that he can still be a force capable of wrecking games with his quickness and burst through the line.
7. Geno Atkins, DT, Bengals
2016 PFF pass-rush grade: 77.1
Geno Atkins has the ability to rival Aaron Donald for pass-rushing at the defensive tackle spot, and at his best, would probably be No. 2 on this list, but the 2016 version of Geno Atkins just hasn't been that guy yet. He has 23 total QB pressures, but in only one game—against Miami's porous offensive line—was he truly dominant as a pass-rusher. That game accounts for six of his pressures and two of his three sacks on the season. The rest of the time, Atkins has been closer to average. He only maintains a spot this high because of how consistently good he has been in the past, along with the assumption that at some point this season he will round back into old form.
8. Cameron Wake, DE, Dolphins
2016 PFF pass-rush grade: 84.3
Cameron Wake's career looks destined to be bookended with roles as a situational player only—a role that he probably didn't deserve at either end. Returning from injury this season, Wake found himself relegated to a situational rusher by the Dolphins, but he is still clearly their best pass-rusher, notching 26 total pressures in only 195 snaps. Wake has at least a pressure in every game this season—even the two in which he combined for just 31 snaps—and in the two games in which he has seen more of a starter's role, he has nine combined pressures. The veteran still has plenty in the tank.
9. Khalil Mack, OLB, Raiders
2016 PFF pass-rush grade: 75.5
Where is the 2015 Khalil Mack? The guy we have seen so far in 2016 shouldn't be anywhere near as high as this on the list, but he was so good a year ago that it feels wrong to drop him much further. Mack hasn't been bad this season, but he just hasn't been the game-changer he was a year ago. In 2015, he was arguably better than Von Miller over the regular season; in 2016, he has 26 total pressures—nine fewer than Miller—despite 46 more pass-rushing snaps. Mack definitely misses the interior presence of Mario Edwards Jr. inside of him, but it isn't the cause of him failing to win as many one-on-one matchups on the outside.
10. Jurrell Casey, DT, Titans
2016 PFF pass-rush grade: 80.2
Jurrell Casey's play against the run this season hasn't matched past levels, but his pass-rush continues unabated. He has 23 total QB pressures, and has been close to pressure on multiple other occasions. Talking about a player's motor is often seen as a backhanded compliment—a slight on other more tangible qualities—but Casey is a relentless defender that will keep coming until the play is dead and buried.
11. Fletcher Cox, DT, Eagles
2016 PFF pass-rush grade: 82.6
The switch to more of a one-gap, attacking defense hasn't quite had the boost to Fletcher Cox's production that it was speculated it might, but he has still been a formidable interior pass-rusher. Cox has 22 total pressures on the season, and has graded well in that area in all but one game—ironically, the Minnesota encounter, where he was one of the few players not to get much pressure against a Vikings line that was hemorrhaging it all day.
12. Cliff Avril, DE, Seahawks
2016 PFF pass-rush grade: 76.6
Cliff Avril tends to sway from hot to cold as a pass-rusher, but when he is on, the Seahawk is one of a few NFL players that can absolutely ruin games for an offense. Against the Cardinals this week he notched three sacks, three hits, and four hurries, and that represents his third game this season with at least one of each variety of QB pressure. If Seattle got that version of Avril every week, we'd be looking at a Von Miller rival, but even with the inconsistency, those game-changing performances are valuable enough to rank him this high.
13. Joey Bosa, DE/OLB, Chargers
2016 PFF pass-rush grade: 85.5
Caution is the only thing keeping me from putting rookie Joey Bosa higher, because the tape and PFF grading from Bosa over the last two seasons in college and his first three games in the NFL is staggering. He was by far the best pass-rusher in the nation in college football over the past two seasons at Ohio State, and he has begun his NFL career generating pressure at a greater rate than anybody we have seen over the past decade of grading. Bosa is actually generating pressure at a higher rate right now than Von Miller, and only the assumption that we will see that cool off a little over the season sees him this low on the list. The Chargers have themselves a stud.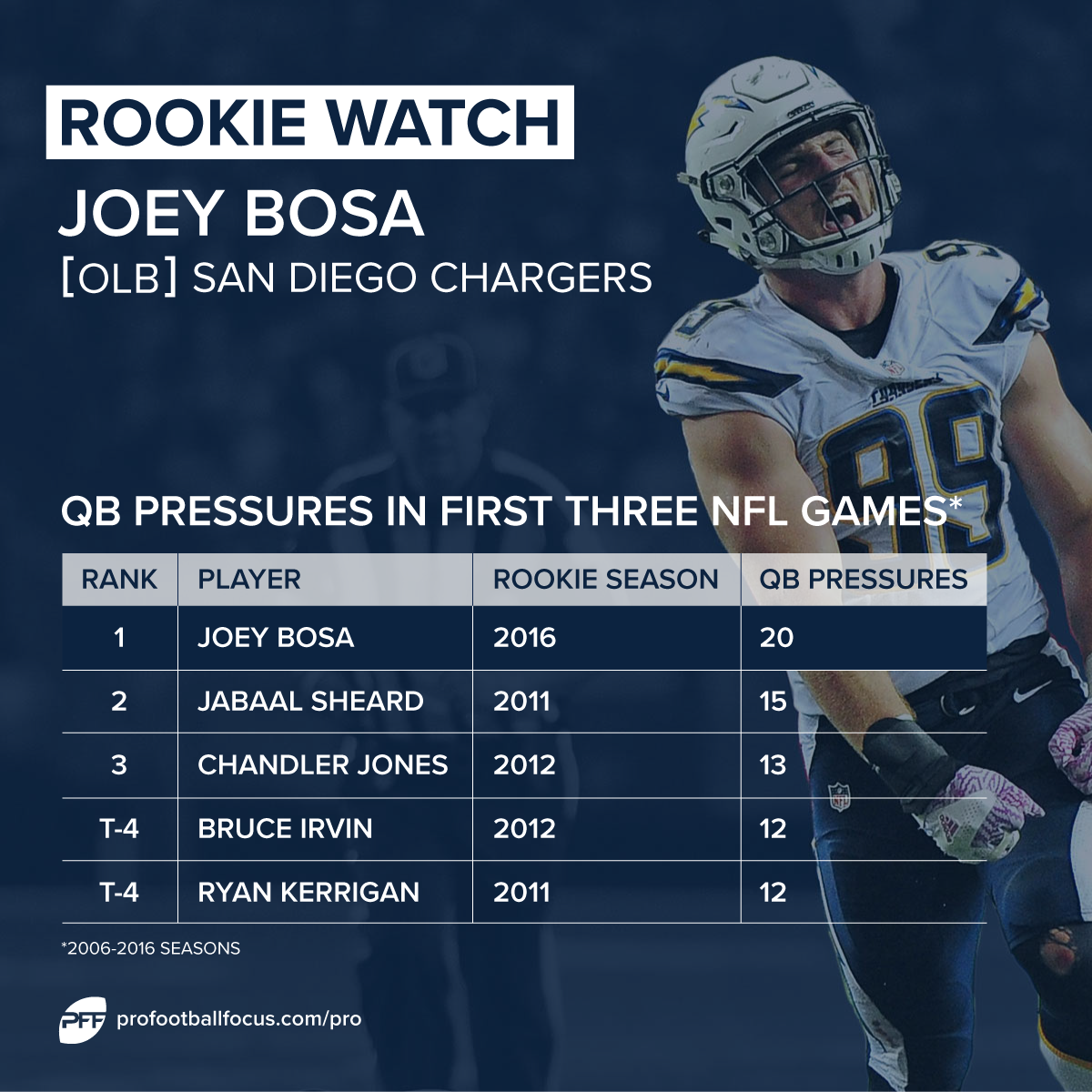 14. Dont'a Hightower, LB, Patriots
2016 PFF pass-rush grade: 77.7
The first player on the list that doesn't play either edge rusher or on the D-line's interior, Dont'a Hightower is the best blitzer in the game. This season, he has three sacks and 12 total pressures from only 54 blitzes, and a year ago he totaled 24 pressures on the blitz. Hightower has an excellent ability to hide his approach before bursting through the line gap with the kind of strength and speed that blockers can't counter, and it's a valuable part of New England's pass-rush.
15. Michael Bennett, DE, Seahawks
2016 PFF pass-rush grade: 72.9
Another player curiously less dominant in 2016, Michael Bennett has been one of the league's most-consistent pass-rushing forces for years. Capable of rushing from the outside and inside in sub-packages, Bennett has a quickness to his first moves that often defeats blocks on contact and leaves linemen scrambling to save themselves on the play. He has 24 total pressures this season, which is on pace for a drop in 20 overall from a year ago.
16. Ndamukong Suh, DT, Dolphins
2016 PFF pass-rush grade: 77.6
Not quite matching 2015, Suh is nonetheless on pace to be as good (if not better) this season in Miami as he ever was in Detroit, though his pressure numbers are down. Suh's run defense continues to be strong, but he has just 24 total QB pressures, a dip on what he has averaged the past couple of seasons. He does, however, remain a consistently disruptive player, capable of powering through blocks and making a nuisance of himself on the line in either facet of the game.
17. Whitney Mercilus, OLB, Texans
2016 PFF pass-rush grade: 84.3
The Houston Texans have actually developed an impressive stable of pass-rushers—it just looks much less impressive without J.J. Watt on the field. Whitney Mercilus has become a fine complement to him, and even with no Watt in the game, has been producing. Mercilus has five sacks and 26 total pressures this year, and had some of his best games since Watt has been shut down for the season. He has become a legitimate force in his own right, and one that would be even better with Watt taking the attention away from him.
18. Carlos Dunlap, DE, Bengals
2016 PFF pass-rush grade: 82.9
Carlos Dunlap is a rare physical specimen, standing 6-foot-6 in height and weighing north of 275 pounds. He has the length and size that can win in ways most tackles aren't used to contending with, and he is on a run currently of five sacks in his last five games. Dunlap has 30 total pressures on the season, and has been doing it without the typical unstoppable dominance of Geno Atkins inside him. Dunlap has also notched six batted passes on pass-rushes this season by reading the QB and getting his hands in the throwing lanes.
19. Nick Perry, OLB, Packers
2016 PFF pass-rush grade: 82.7
This list seems to be populated by many players that have been better in the past, but Nick Perry is somebody playing the best football of his career, developing into a real weapon for the Packers. Perry has 27 total pressures on the season so far, which is one shy of tying his career high for an entire year. He has finally become a starting player, with his snap percentage on defense jumping from the 30.0s in the previous two years to 75.7 percent this season.
20. Jerry Hughes, OLB, Bills
2016 PFF pass-rush grade: 83.6
It seems strange to think that Jerry Hughes was once run out of Indianapolis as a draft bust, having totaled 33 pressures in his first three seasons with the Colts. He has matched that number in seven games this year for the Bills, and continues to be one of the best edge rushers in the game—exactly the player the Colts thought they were drafting in the first round back in 2010. Hughes is another player that hasn't always had the sack totals to go along with his consistent pressure, but he is regularly affecting the opposing quarterback.
21. Brian Orakpo, OLB, Titans
2016 PFF pass-rush grade: 82.1
The knock on Brian Orakpo has always been injuries. When he was on the field, he was almost always a consistently-disruptive pass-rusher, capable of generating pressure and sacks on the QB. This season in Tennessee, he has sacked the QB seven times and has 32 total pressures to his name. That sack total matches his total from a season ago in just seven games, and he is well on his way to his best pass-rushing performance since 2011.
22. Lorenzo Alexander, OLB, Bills
2016 PFF pass-rush grade: 81.1
You don't find many impressive pass-rushing performances from former offensive linemen, tight ends, and special teamers, let alone one from a player that is all three at the same time. Lorenzo Alexander may have the strangest career of anybody on this list, but right now, he has sacked the QB 10 times in the 2016 season, once more than Von Miller and the most in the National Football League. That figure flatters his overall pass-rush numbers a little—he has 24 total pressures—but it already represents a career high by seven sacks. His QB pressure total is also a career high, and he is playing a higher percentage of defensive snaps than he ever has before. This is a remarkable season from Alexander so late in his NFL career.
23. Malik Jackson, DT, Jaguars
2016 PFF pass-rush grade: 79.8
Could Malik Jackson be the same impact player he was for the Broncos, away from the weaponry that team was able to deploy around him to keep the offense's attention away? The answer is probably no, but he is a lot closer to that level than people were expecting. Jackson has 23 total QB pressures this season for the Jaguars, despite getting home for a sack just once, and has notched them on 173 pass-rushing snaps as Jacksonville has actually decreased his role from the one he had in Denver last year.
24. Anthony Barr, LB, Vikings
2016 PFF pass-rush grade: 72.6
A college edge rusher, Anthony Barr has transitioned into a legitimate stand-up linebacker, but he retains some of that experience when it comes to generating pressure on the blitz. Barr has nine total pressures this season on the blitz from 58 pass-rushing snaps, to go along with the 27 he tallied a year ago from only 102 blitz snaps. Barr interestingly isn't ever deployed as a true edge rusher, but he hasn't forgotten how to rush the quarterback.
25. Julius Peppers, DE, Packers
2016 PFF pass-rush grade: 82.4
Julius Peppers is a player that has thrived by becoming more of a situational threat for the Packers. This season, he is playing just 43.7 percent of Green Bay's defensive snaps, which is the lowest mark of his career by more than 20 percent. He has responded by racking up three sacks and 16 total QB pressures in 116 pass-rushing snaps, and still has much of the same freak-athleticism that made him such an effective every-down force throughout his career.