As our research and development team showcased earlier this month, coverage is king in the modern NFL. It both explains and predicts defensive success better than the pass-rush – albeit at the cost of stability year-to-year – which means that continuing to search for above-average pieces to plug into your secondary is paramount to building a strong defensive unit. These teams did just that this offseason, via both free agency and the draft, to improve their teams heading into next season.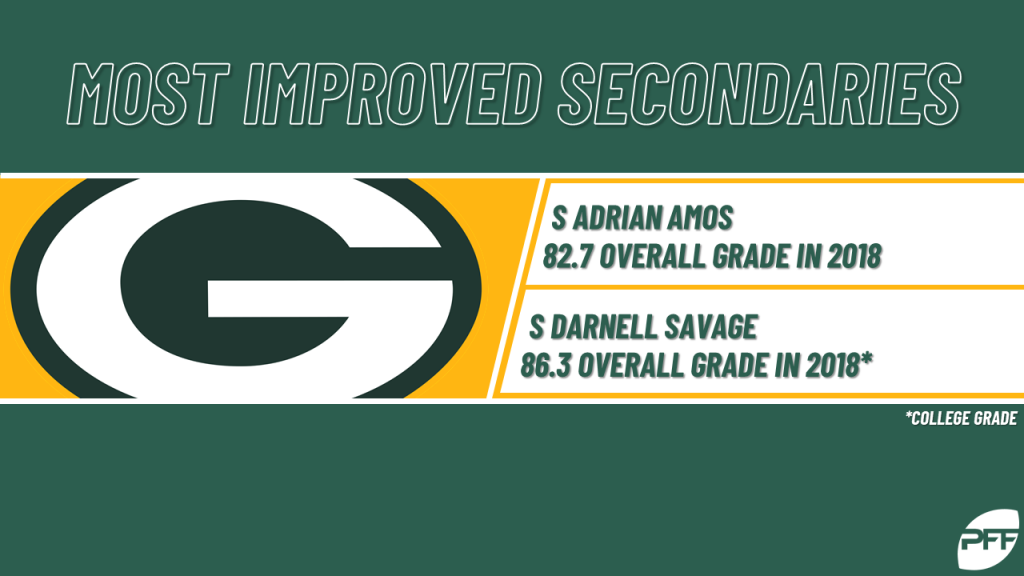 When you look at the group that occupied the safety position for the most part in Green Bay last season, it becomes clear why the position was addressed prominently this offseason. Among the four players who took most of the snaps at the position in 2018, one player will suit up with the NFC North rival Chicago Bears in 2019 (Ha Ha Clinton-Dix), one signed with the Tampa Bay Buccaneers on a one-year deal in March (Kentrell Brice), one appears to be moving back to a full-time cornerback role (Tramon Williams) and finally, Josh Jones graded at just 61.7 in his 502 defensive snaps.
Enter the reinforcements. A year after drafting Jaire Alexander and Josh Jackson early in the 2018 draft, the Packers got back to using assets to acquire promising secondary talent over the last few months. Adrian Amos is one of those pieces, and in our opinion, one of the best values of free agency. He's coming off two consecutive seasons grading among the top 10 safeties in the league and was downgraded in PFF's grading system at the third-lowest rate among all safeties last year. Joining him is Maryland product Darnell Savage, who the Packers took with the 21st overall pick in this year's draft. Savage is a versatile weapon on the back end that is coming off two consecutive seasons that graded at 86.0 or higher at the college level. His explosion to the ball drew comparisons to former Defensive Player of the Year Bob Sanders by PFF Senior Analyst Sam Monson.
With those two in the fold in Green Bay, the back end of the Packers defense looks significantly stronger as they look to return to the postseason in 2019.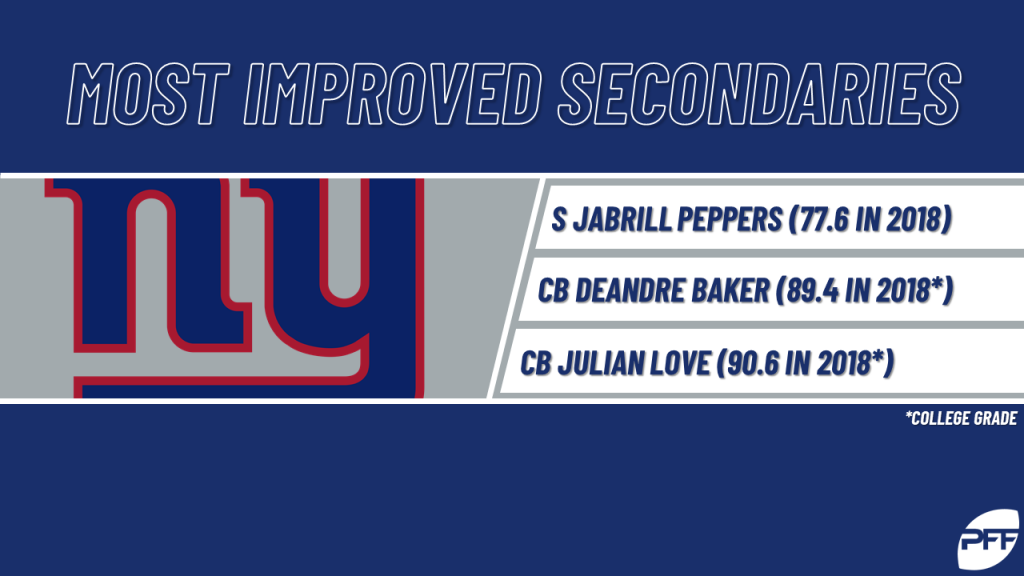 The headlines in New York will center around the selection of Daniel Jones at sixth overall and the trading of one of the top wide receivers in the NFL (Odell Beckham Jr.) and rightfully so, but quietly they have overhauled their secondary into a unit that could emerge as a strength next season. It starts with a player that they received back in the OBJ trade – Jabrill Peppers. Peppers thrived in a hybrid safety role for the Cleveland Browns last season, improving his overall grade from 60.5 in a rookie season where he lined up primarily as a deep safety to 77.6 in 2018. The role Peppers played last season — with over 100 snaps played at linebacker, edge and slot cornerback — meshes well with Landon Collins' in-the-box role that he frequented during his time with Giants. His improvement across the board in his second season should be a reason for optimism in New York.
Joining Peppers as additions in the Big Apple are two draft picks — Deandre Baker and Julian Love — who should both be able to make immediate impacts on the back end. Baker's three-year coverage grade of 93.5 ranked behind only Byron Murphy among draft-eligible cornerbacks. He was simply dominant in coverage, allowing a passer rating of just 40.2 last season. Love, meanwhile, finished just behind Baker in three-year coverage grade at 93.2. He was particularly good at making plays on the ball, finishing last season with 18 pass breakups which ranked second among draft-eligible FBS cornerbacks. Both should push for immediate playing time, and their production at the college level indicates that there is a good chance that both will establish significant roles on the defense sooner rather than later.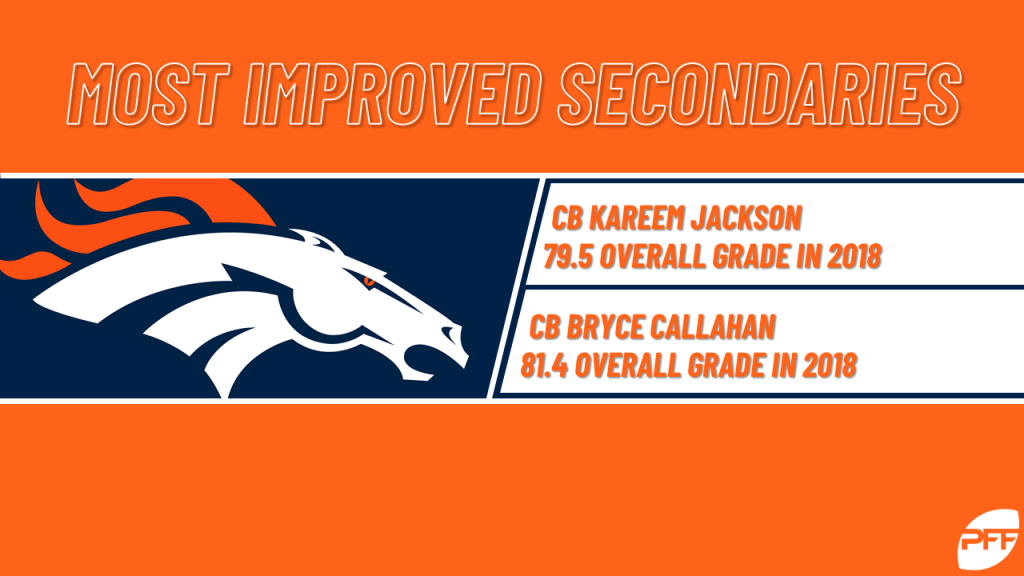 The No Fly Zone was undergoing maintenance last season following the departure of Aqib Talib and the drop off in play from Bradley Roby. Two additions via free agency have the No Fly Zone appearing to be heading in the right direction, though. The Broncos lost the inconsistent Roby via free agency, but they added two players coming off very strong 2018 seasons – Kareem Jackson and Bryce Callahan.
It remains to be seen exactly how Jackson will fit into the Broncos defense, as he received some work at safety during early minicamps, but what is certain is that he brings a proven veteran presence to the back end of their defense. Among 112 qualifying cornerbacks, Jackson's 79.5 overall grade last season came in at 14th at the position. He brings versatility to the secondary as well, playing over 100 snaps at each of outside corner, slot corner, box safety, and free safety roles in 2018.
Callahan, on the other hand, comes in with a very defined role in which he has excelled over the last two seasons – slot cornerback. On 676 defensive snaps last season (610 of which came in the slot), Callahan picked up an overall grade of 81.4 which was good for seventh-best among all cornerbacks. Now, he brings that lockdown ability in the slot to Denver with his former defensive coordinator and current head coach, Vic Fangio. With uncertainty hanging around the contract of star corner, Chris Harris Jr., Callahan provides high-level insurance in the slot with the potential to create an elite secondary should Harris and the Broncos come to terms for a new contract that satisfies all parties.
Honorable Mentions: Oakland Raiders, Tampa Bay Buccaneers