The NFL's free agency period came in a flash and left several teams with new holes in their roster while others massively improved specific roster groups, on paper at least. The Cleveland Browns took an aggressive approach at attacking their secondary during the league's first month of the 2018 league year and should field a completely new-look defensive backfield this fall.
In
CB E.J. Gaines, 86.6 overall grade, 13th
CB T.J. Carrie, 84.3 overall grade, 21st
CB Terrance Mitchell, 52.3 overall grade, 94th
S Damarious Randall, 70.9 overall grade (at CB), 81st
Out
CB Jason McCourty, 83.9 overall grade, 27th
General Manager John Dorsey has been overhauling a roster that went 0-16 in 2017, and a big emphasis, and rightfully so, has been on upgrading the secondary. The cornerback group allowed 10 touchdowns and intercepted just three passes in 2017, all by McCourty, who was traded to New England. The best returning player is slot cornerback Briean Boddy-Calhoun (84.1 overall grade, 24th), who allowed a paltry 0.46 yards per cover snap; that figure ranking second-best in the NFL.
The player that appears will get bumped down on the depth chart is Jamar Taylor (74.0 overall grade, 71st), right after he signed a three-year contract last offseason. Taylor had a fine season, throwing away his performances against Antonio Brown in Week 1 and T.Y. Hilton in Week 3, where he allowed a combined 13 catches on 15 targets for 220 yards and one touchdown for a 141.0 NFL passer rating when targeted. Remove those weeks from his season and Taylor looked much more like the player from 2016 (82.0 overall grade), and his 1.12 yards per cover snap is much more palatable.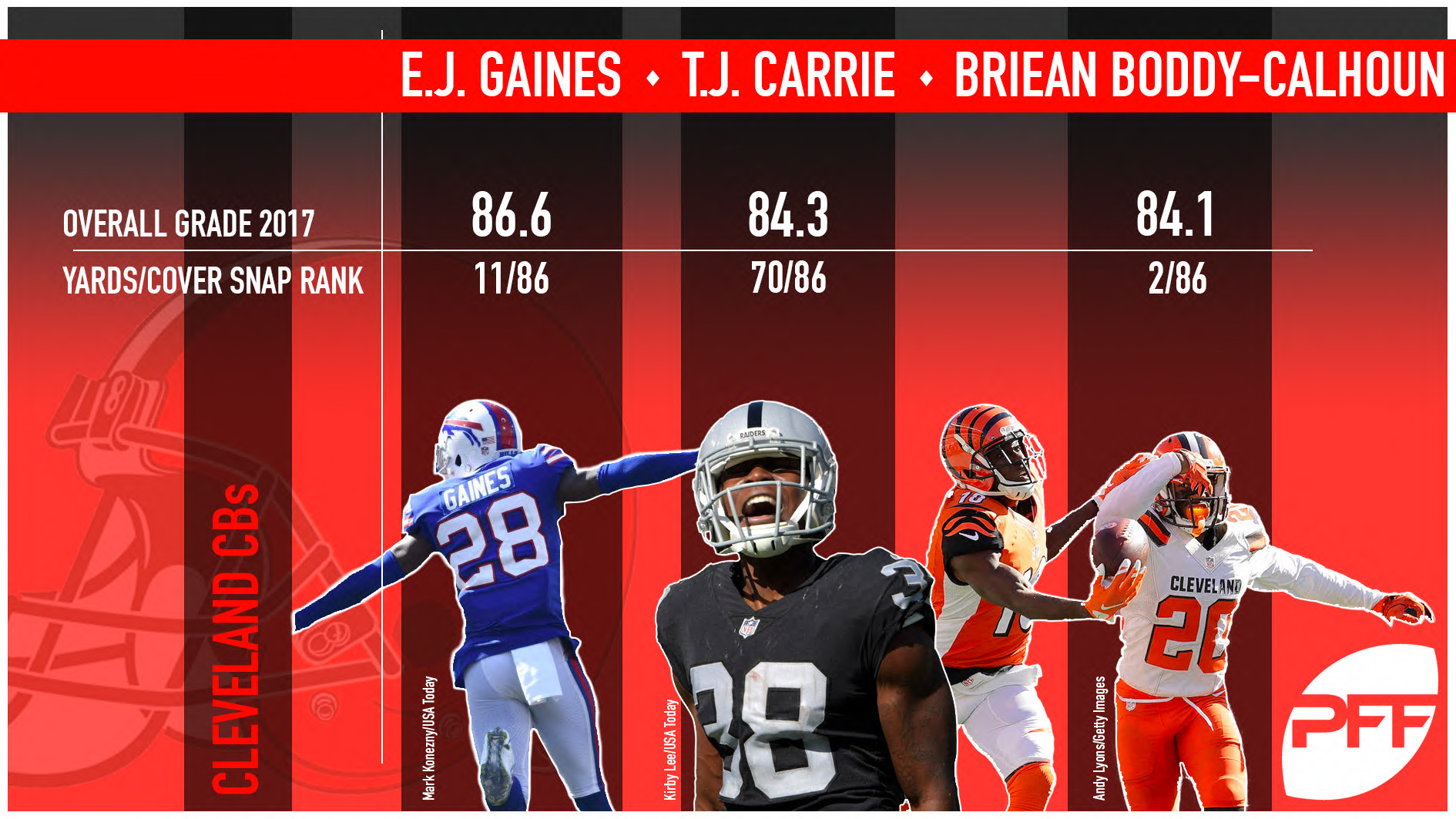 Enter into the equation Gaines, Carrie and Mitchell, and the Browns cornerback room is improved overall, though losing the veteran McCourty and replacing him with Mitchell (1.84 yards per cover snap, worst in the NFL) dampens that impact. Gaines and Carrie are both coming off career seasons but both were near the bottom in the league in forcing incompletions, 14.8 percent and 12.9 percent, respectively. Gaines sported an excellent 0.82 yards per cover snap allowed but is just one season removed from struggling with the Los Angeles Rams in Gregg Williams' defense, where he graded as one of the worst cornerbacks in the NFL with a 37.0 grade. Carrie has two seasons as a full-time starter with drastically differing grades, 42.3 in 2015 and 84.3 in 2017. With the instability of defensive coverage numbers in general and the inconsistent play of Gaines and Carrie throughout their careers, these signings are solid if only for bolstering the cornerback room with experience, and there is the hope that their career arcs are on upward swings.
Randall was acquired via trade with the Green Bay Packers, with the Browns sending off QB DeShone Kizer and the teams also flipped fourth- and fifth-round picks. Randall played exclusively at cornerback in his three seasons with the Packers but is moving back to his college position of free safety. While in his final college season, he had an 84.7 overall grade that ranked 17th in the nation and allowed three touchdowns, hauled in three interceptions and broke up seven passes. Randall's addition to the secondary gives the Browns the option to move Jabrill Peppers (45.8 overall grade) around the field instead of using him in the angel position, 20-plus yards off of the line of scrimmage.
Expect Peppers to benefit most from the offseason acquisitions, as he struggled to transition to a role he never played in college, though did show improvement late in the season as he graded as the 25th-best safety in coverage during the final seven weeks of the season after grading as the worst through Week 10.
Despite all these additions and the on-paper perceived upgrade of the unit overall, the Browns could still look to draft players for the secondary. Considering how valuable cornerbacks are in today's NFL, having a deep secondary is a must. With the new signings having potential opt-outs after one season, nothing is guaranteed and drafting players is the best method to improve the team long term. While most mock drafts have the Browns selecting defensive linemen at No. 4, including our own Mock Draft 4, Florida State's Derwin James could also be heavily considered as well as Alabama's Minkah Fitzpatrick and Iowa's Josh Jackson.

Using the New Orleans Saints as an example last year, drafting CB Marcus Lattimore and S Marcus Williams transformed a defense that had fielded a bottom-six graded unit every year but one since 2009. The importance of the secondary should not go overlooked, as each of the past five Super Bowl champions has had a top-four graded secondary. Expect the Browns to be improved from a year ago but if they want to take it a step further, more additions are needed.