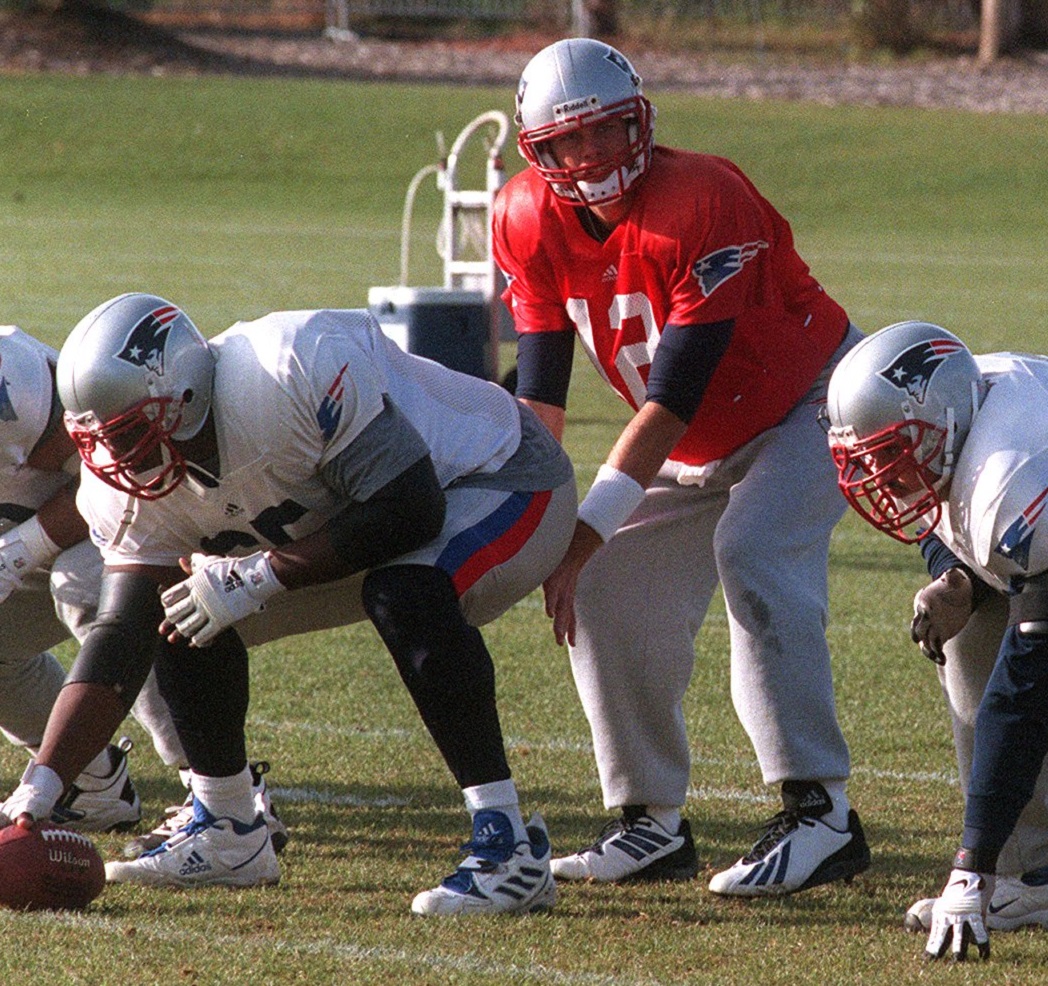 FOXBOROUGH, MA - NOVEMBER 28: Tom Brady takes snaps during practice while Drew Bledsoe and John Friesz look on. (Photo by Bill Greene/The Boston Globe via Getty Images)
The NFL (which, as Jerry Glanville once famously quipped, stands for "Not For Long") is in a constant state of turnover. Rosters are constantly being shaken up via free agency, the draft and trades, often leaving just a handful of players who survive regime changes in a city.
With this in mind, we took a look at each team to find the longest-tenured position player on each roster (much to the chagrin of our own Gordon McGuinness, kickers, punters, and long snappers were excluded). Not surprisingly, many of the players have been able to survive multiple regime changes by being some of the best players not just on their perspective rosters, but in the entire league.
Conversely, several of the younger teams in the league have turned over their entire rosters in recent years, leaving no one remaining from as early as five years ago. Today, we'll take a look at the longest-serving player on each AFC team, along with some key PFF info for each player, with the NFC to follow Tuesday. (Special thanks to PFF's Aaron Resnick and Brett Whitefield for help with the graphics.)
New England Patriots: QB Tom Brady (2000)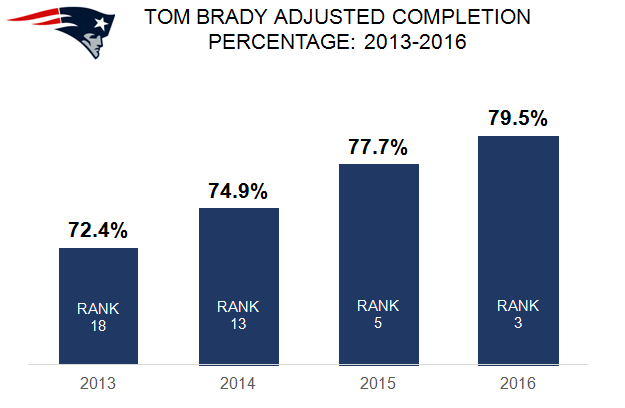 One of the game's all-time greats also has one of the all-time great draft stories, as Brady was passed over by every team several times until the Patriots of course selected him with pick No. 199 of the 2000 draft. Brady may be the oldest non-kicker in the league, but Father Time has done little to slow his dominance. Among the many notable stats that demonstrate his continued outstanding play is his adjusted accuracy percentage, which has increased each of the last four years up to a career-best mark of 79.5 in 2016 (which ranked third-best in the league).
Los Angeles/San Diego Chargers: TE Antonio Gates (2003)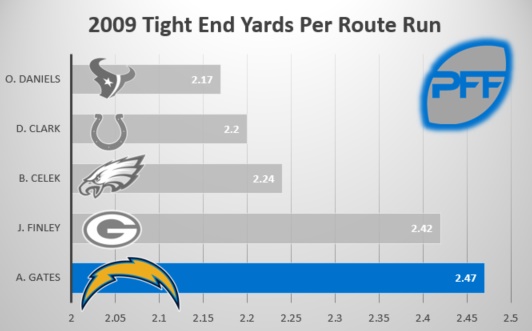 Gates arrived in San Diego a year before QB Philip Rivers, and the two evolved into one of the most potent QB-to-TE connections of all time. The signature year of Gates' Hall of Fame career was 2009, when he caught 87 balls for 1250 yards and eight scores while forcing a career-high 13 missed tackles after the catch. He caught all seven downfield throws to him that year, leading all tight ends in deep ball catch rate, and also led all tight ends in yards per route run.
Pittsburgh Steelers: QB Ben Roethlisberger (2004)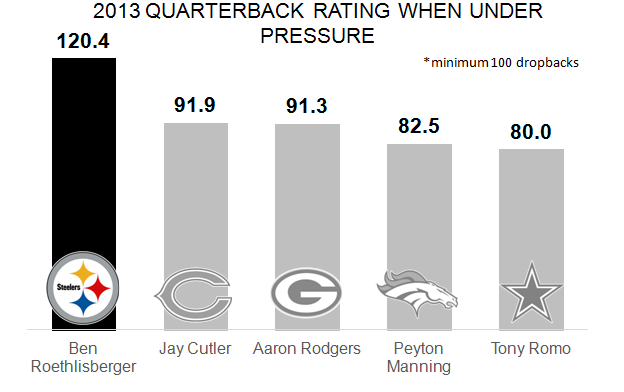 Roethlisberger was the third QB selected in the 2004 draft, but considering his production and consistency, it can certainly be argued he has been the best of the three. With two Super Bowl titles during his tenure in Pittsburgh, he's no stranger to pressure situations. The 2013 season perfectly exemplified his ability to perform under tough situations, as he outdistanced the rest of the league by a massive margin in both completion percentage and QB rating when affected by the opposing pass rush.
Kansas City Chiefs: LB Derrick Johnson (2005)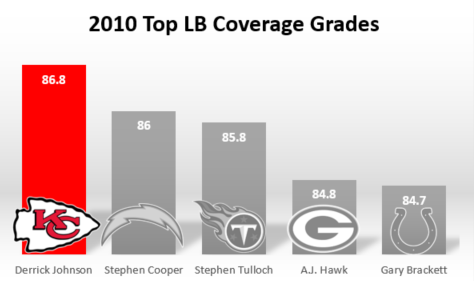 Johnson has enjoyed an outstanding career with the Chiefs, in large part due to his consistent play in coverage. His best coverage season came in 2010, when he posted a career-low completion percentage against of 68.7 with no touchdowns allowed into his coverage and a career-high 12 total passes defended. His 86.8 coverage grade led all off-the-ball linebackers that season.
Buffalo Bills: DI Kyle Williams (2006)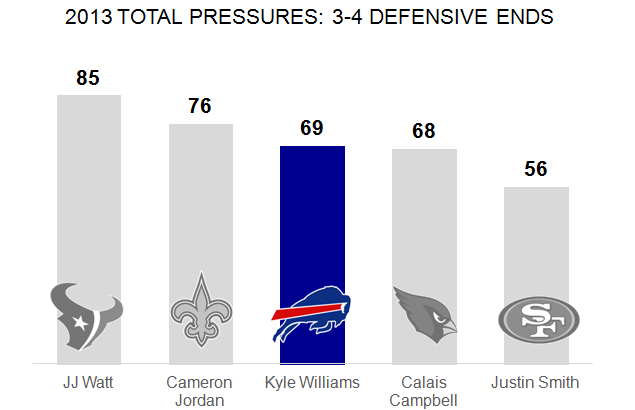 Williams has been a force on Buffalo's defensive line since being drafted by the club in 2006. He has racked up at least 24 defensive stops in every non-injury-shortened year of his 11-year career, and has amassed 48 sacks and 89 QB hits over the course of his time in Buffalo. His best all-around season came in 2013, when he exploded for 13 sacks, 17 hits and 39 hurries to go with 37 total defensive stops.
Jacksonville Jaguars: TE Marcedes Lewis (2006)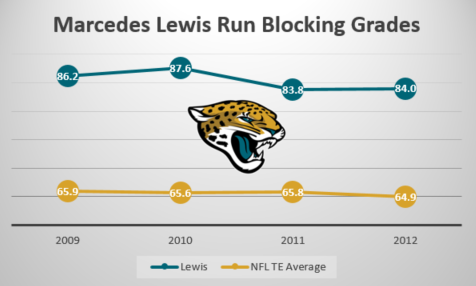 Lewis' receiving production has never quite met the level expected of a former first-round pick, although a fair amount of the blame should be placed on the inconsistent QB play throughout his career in Jacksonville. He has, however, been an excellent blocker for the majority of his 11 seasons with the Jaguars, as he has yielded just four career sacks in 890 total pass block reps and had a streak of four-straight season finishing among the top ten tight ends in run block grading between 2009 and 2012.
Baltimore Ravens: OG Marshal Yanda (2007)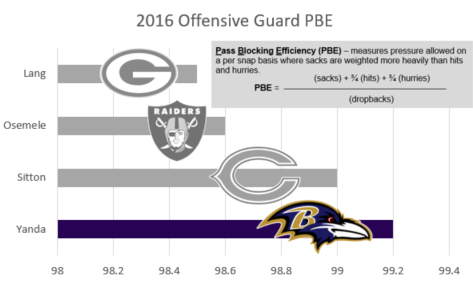 Yanda has consistently been one of PFF's highest-graded offensive linemen (he has started at right tackle and both guard positions) throughout his tour of duty in Baltimore, and season No. 10 was his best in terms of pass production. In 13 starts he gave up no sacks or hits and just six total pressures, helping him rank first among all guards in pass-blocking efficiency, and putting him in the top four for the fourth time in six seasons.
New York Jets: LB David Harris (2007)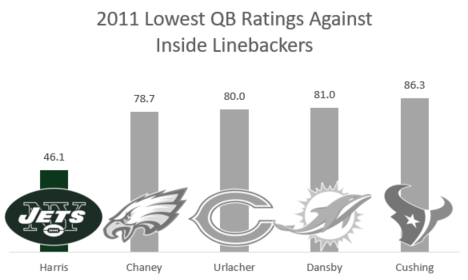 Harris has been a steady inside-performer for the Jets over the past decade, as he has averaged almost 1,000 snaps per season since debuting in 2007 with New York. While often thought of as more of a run-stuffer because of his lack of elite athletic traits, he has consistently graded out better in coverage. Never was this more apparent than in 2011, when he posted a run defense grade of just 38.3, but finished the season ranked sixth among inside linebackers with a coverage grade of 87.9.
Cleveland Browns: OT Joe Thomas (2007)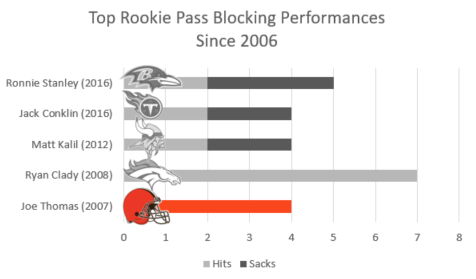 A sure-fire first ballot Hall of Famer, Thomas has been the best player on Cleveland's roster each of the past 10 seasons. Perhaps the most remarkable stat of his career is the fact he did not give up a sack in 606 pass-blocking snaps as a rookie in 2007, also yielding just four QB hits. Since 2006, Ryan Clady's 2008 campaign with Denver is the only other time a rookie offensive tackle logged at least 400 pass-blocking reps without yielding a sack.
Houston Texans: OT Duane Brown (2008)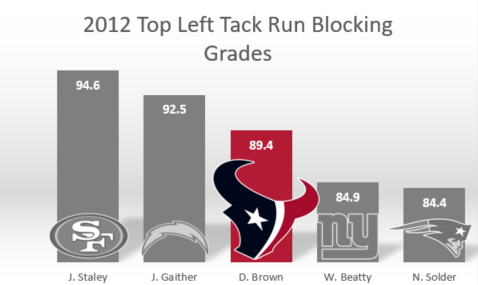 Brown was the eighth offensive tackle selected in 2008 (26th overall), but is the only one of the massive group to still be playing with his original team. Although his health has given him issues in recent seasons, he has otherwise been a consistent performer throughout his career with the Texans. His best all-around season came in 2012, when he yielded a career-low 22 total pressures and finished with the third-highest run-blocking grade (89.4) among left tackles.
Miami Dolphins: Edge Cameron Wake (2009)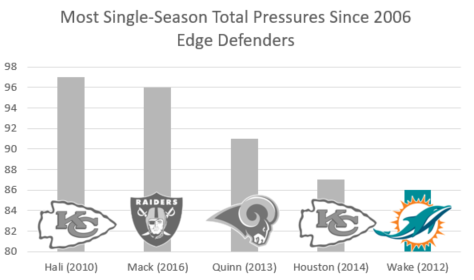 Wake has been one of the most productive pass-rushers in the league since making the jump from the CFL to the NFL in 2009. In his eight seasons he has played at least 200 pass rush snap six times, and in only one of those six seasons did he fail to eclipse double-digit sacks and hits. His 86 total pressures in 2012 led the NFL that season, and is tied for the fifth-most among edge players in a single year during the PFF era (since 2006).
Tennessee Titans: Edge Derrick Morgan (2010)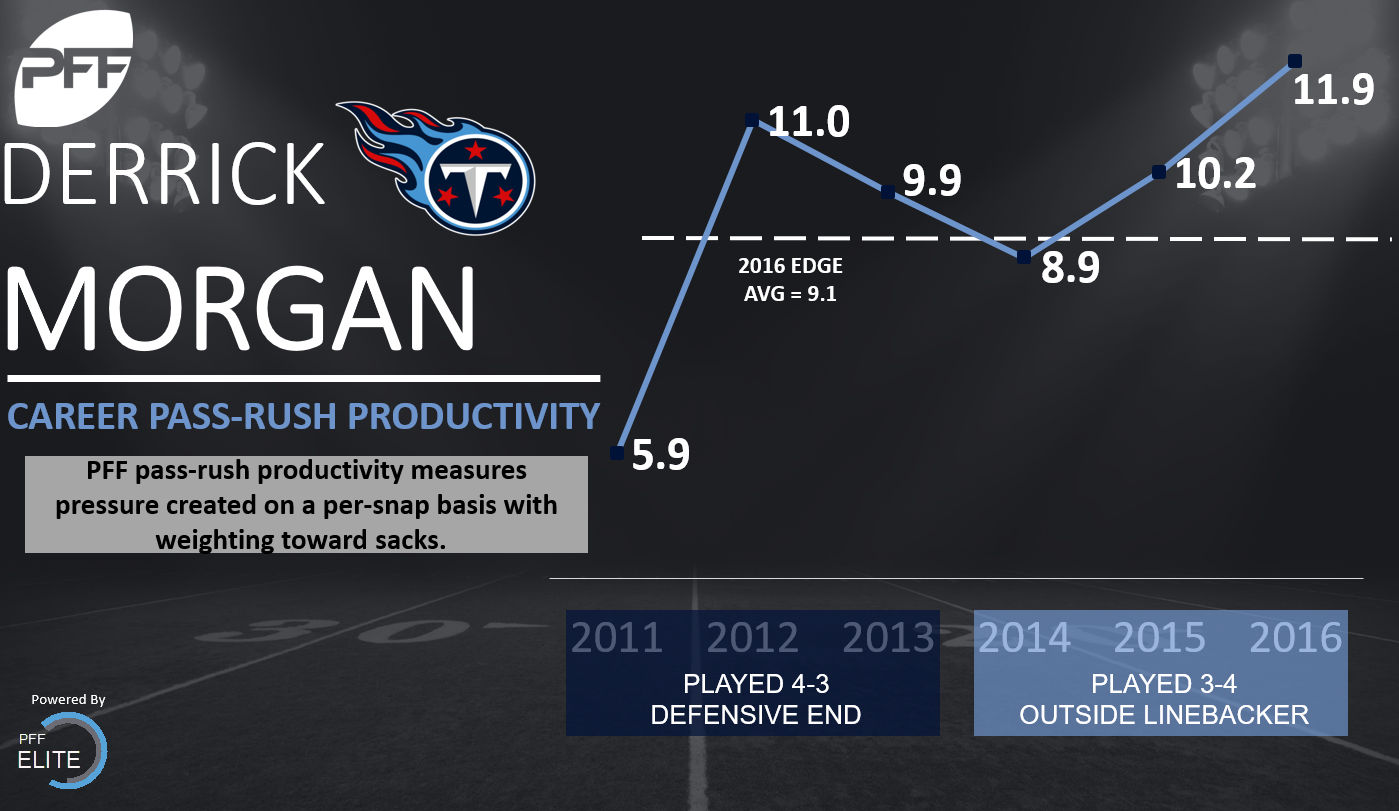 Morgan has been a solid pass-rusher throughout his career in Tennessee, despite rarely putting up huge numbers in the box scores. 2016 was possibly his best season, as his 11 sacks represented the first time in his seven-year career he broke double-digits, and his pass-rushing productivity score of 11.9 (ranking him sixth in the NFL among 3-4 OLBs with at least 200 reps) also represented a career high.
Denver Broncos: WR Demaryius Thomas (2010)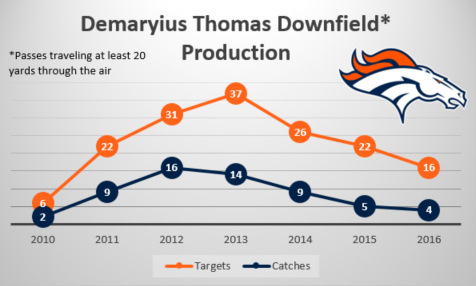 While his production certainly dipped in 2016, certainly due at least in part to inconsistency at QB, Thomas remains one of the most dangerous perimeter weapons in the game. One of the most noticeable areas where his numbers waned last season was on deep passes, as his four catches and 16-total deep (balls that travel at least 20 yards through the air) targets where both his lowest totals since his rookie season in 2010.
Cincinnati Bengals: Edge Carlos Dunlap (2010)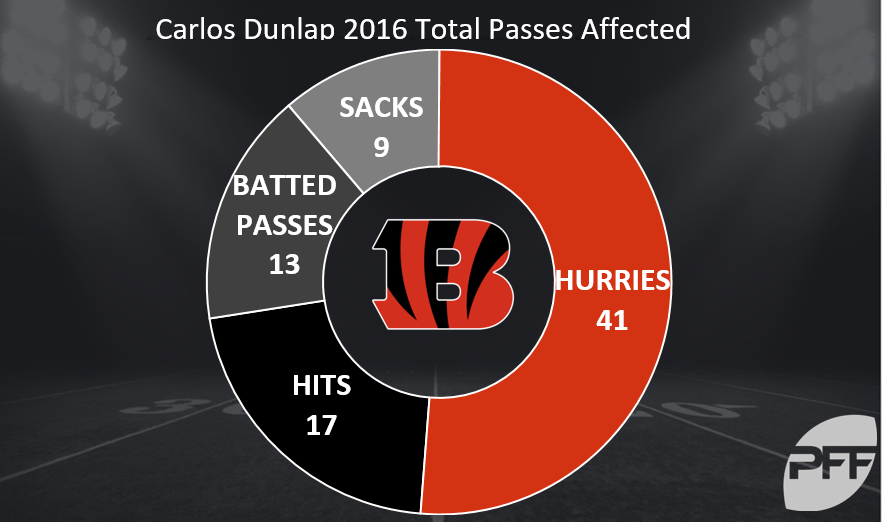 Dunlap has been the most consistent edge rusher for the Bengals since being drafted in 2010, as he has posted no less than 66 total pressures in each of the past four seasons. While his sacks dropped from 15 in 2015 to nine last season, he made up for it by batting down 13 passes in the line of scrimmage, the second-most in a single season since 2006 (J.J. Watt swatted away 15 in 2012).
Indianapolis Colts: OT Anthony Castonzo (2011)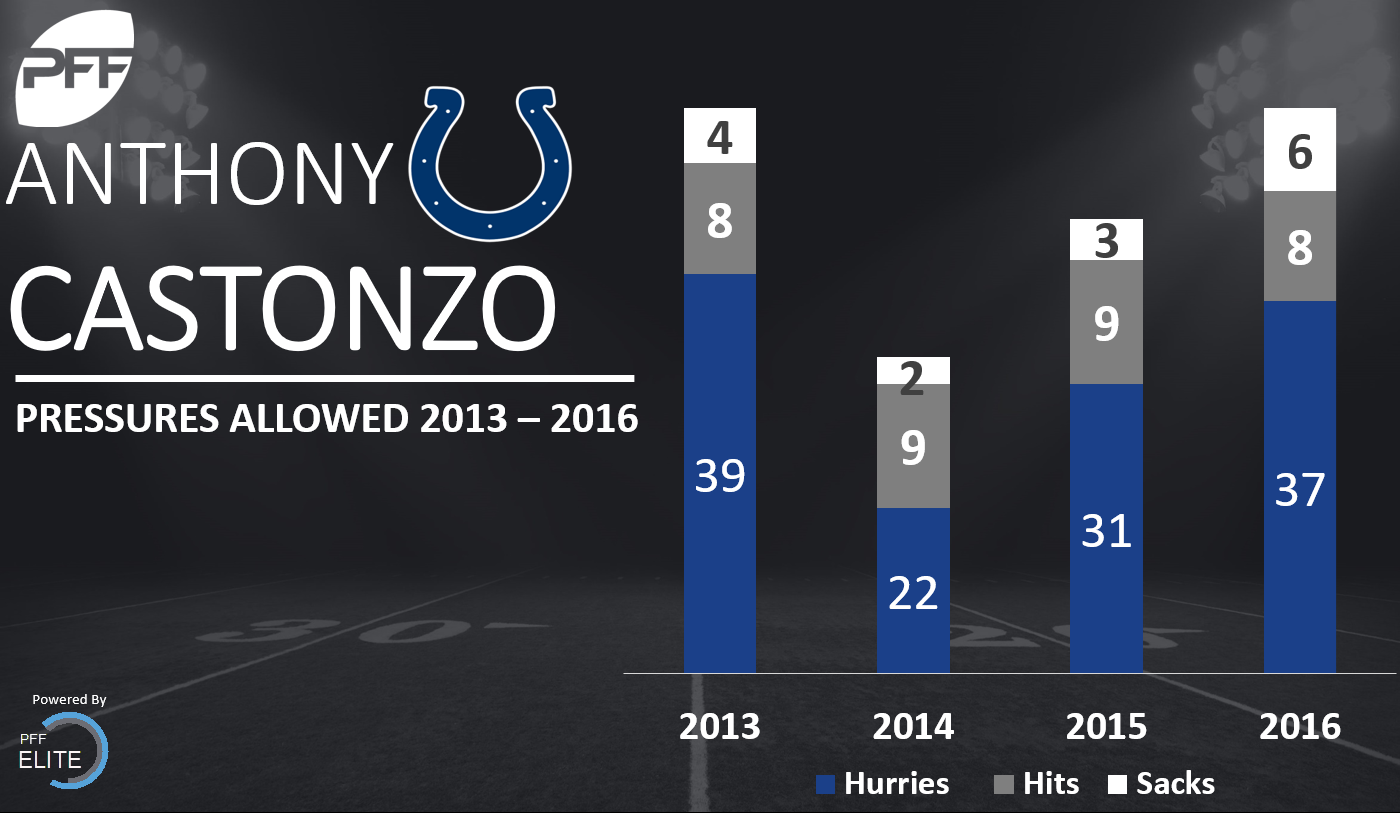 While not generally considered to be in the top echelon of tackles in the league, Castonzo has been a strong run-blocker throughout his six-year NFL career, and has quietly improved his pass-blocking over the past four years as well. Since 2013 he has averaged yielding 3.75 sacks per season, a strong figure considering at least 59 percent of the league's offensive tackles have surrendered at least four sacks in each of those four years.
Oakland Raiders: OT Austin Howard (2014)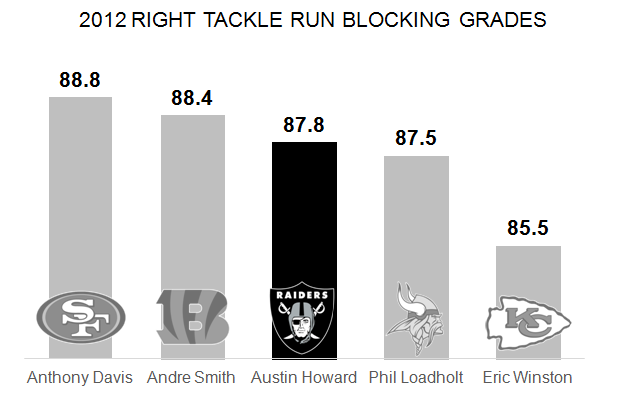 By virtue of the Raiders deciding to let all remaining players from their 2013 draft class depart via free agency this offseason (and my lack of inclusion of kickers for this piece), right tackle Howard holds the title here. He beats out left tackle Donald Penn by six days, as Howard signed with the team on March 12 of 2014 while Penn wasn't inked until almost a week later. While he has struggled in pass protection since joining Oakland (he has yielded 92 total pressures on 1711 pass block reps), he has been a strong run blocker at points throughout his career. 2012 with the Jets was his career-best effort, as his 87.8 run-blocking grade ranked third among all NFL right tackles.