The NFL is filled with the best athletes in the world, players with near-superhuman physical abilities. However, all of that physical talent is meaningless if you cannot run a good route. Route running is an indispensable aspect of every successful receiver's game. Having a multi-faceted route tree gives you an edge on the defender as he will never know where you are going, giving you the step you need to beat the defense. Here's a look at the best receivers at each route in 2016.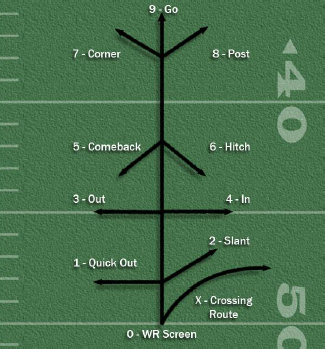 Slant route
The slant route is a quick route run up the field where the receiver cuts across the field inside on a diagonal. The route is designed to pick up short to medium gains while giving a receiver the opportunity to turn the ball up field and explode past the defense. The average depth of target of the slant route in the NFL was 6.36 yards, while QBs typically take a three- to five-step drop.
Best slant route runner (min. 10 targeted routes): Mike Wallace, Baltimore Ravens
Mike Wallace left defenders in the dust when running the slant route. He was targeted 18 times and caught 16 of them for 294 yards and 2 touchdowns. Wallace dropped his only two incompletions and led all wide receivers in both yards after the catch (181), WR rating (155.8), and total yards. Wallace twice went over 50 yards on slants, including one for 95, 87 of which were after the catch. On top of that, more than half (10/18) of the slants thrown to Wallace resulted in a touchdown or a first down.
Honorable mention: Davante Adams, Green Bay Packers
While Wallace was dominating the league running the slant route for big yardage, Adams succeeded running a slant to get to the end zone. Adams scored 6 touchdowns on his slant 23 targets, two more than the next-closest receiver, Dez Bryant. Adams' total numbers on slants were 19 catches on 23 targets, 195 yards, 6 TDs, 141.6 QB rating. Adams used the slant successfully, but in a different way from Wallace. Adams' longest play on a slant route was 23 yards, but he was very efficient with this route: 9 of his 23 slants led to first downs or touchdowns.
The screen
A screen is a short pass designed to get a playmaker in space with lead blockers. Typically, this route is thrown at or behind the line of scrimmage — the aDOT of these routes is -1.96 yards. Screens can consist of moving toward the QB (tunnel), away from the QB (bubble), or staying stationary.
Best screen receiver (min. 8 targeted routes): Taylor Gabriel, Atlanta Falcons
Taylor Gabriel is small in stature at 5-foot-8 and 165 pounds, but he is an explosive player. Aware of Gabriel's playmaking ability, the Falcons asked him to pick up big chunks on screens, as all 12 of his targets came where the distance to a first down was over 9 yards. Gabriel had a near-perfect receiver rating of 156.3 — highest in the league — when he was targeted on screens. He caught all 12 of his targets for 144 yards (fourth-most) and was the only receiver in the NFL to score more than one touchdown on a screen. Gabriel averaged 15.83 yards after catch on screens, and his two touchdowns came gaining over 25 yards after the catch (29, 40 yards).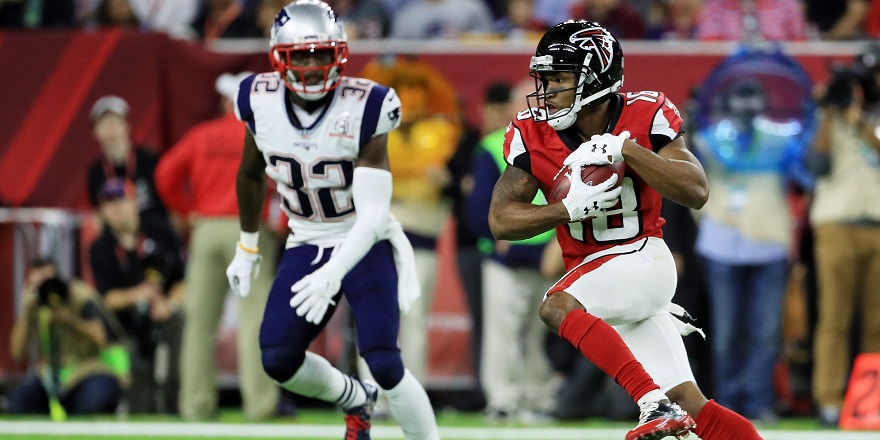 Honorable mention: Golden Tate, Detroit Lions
Tate led the league in both targets and receptions on screen passes. More than a third of Tate's 91 total receptions were on screen passes, as he caught all 33 of his targets and averaged 8.18 yards after catch on screens. Tate found most of his success on screens in the first half of the season, as 7 of his 8 catches for 10 or more yards came in the first eight weeks.
The double move
The double move is a deception route where you are trying to draw the defender up and then beat him over the top. These routes consist of the Quick Out and Up, the Out and Up, the Slant and Go, and the Hitch and Go. In order to run the route well, you need to have both sufficient patience to draw the defender in, and enough explosiveness to blow by him. These are slower-developing routes that require the offensive line to give the QB time to throw the ball down the field. QBs typically throw these routes on a five- or seven-step dropback with an aDOT of 23.48 yards.
Best double move (min. 4 targeted routes): Cameron Meredith, Chicago Bears
Cameron Meredith scored four touchdowns in 2016, two on double moves. Meredith caught all 5 of his targets for 131 yards and 2 touchdowns. He had a perfect receiver rating of 158.3 and averaged 26.2 yards per catch. He caught 37 of the 49 passes thrown to him when running just the first aspect of the route i.e. just the slant, not the slant and go, which lured defenders into sitting on the first move, allowing Meredith to explode by them.
Honorable mention: Adam Thielen, Minnesota Vikings
Thielen's double moves were lethal. He caught 3 of 4 targets for 139 yards and 2 touchdowns, averaging 46.33 yards per catch, 16.33 yards after the catch, with a WR rating of 156.3. Thielen caught 32 of 41 targets, which like Meredith, forced defenders to play his routes, giving Thielen the opportunity to take advantage of the defenders.
Go route
In backyard football terms, go deep. The go route is designed to get behind the defense for the big play. The ability to take the top off the defense is a key component to any successful offensive attack. The go route is designed both for big yards before the catch and to give the receiver the ability to take it the distance after the catch. In order for this to work, the line has to allow time for receivers to work their way down field. QBs will typical have a five- to seven-step dropback and the aDOT of these routes is 28.53 yards.
Best go route (min. 10 targeted routes): Chris Hogan, New England Patriots
Hogan was able to dominate when being targeted on the go route. He caught 7 of his 13 targets, giving him a 53.84 percent catch rate, tied for the highest rate in the league. He led the league in both yards (299) and touchdowns (4), as well as tying for the highest WR rating at 138.6. On four of his incompletions, three were overthrown and one was dropped, showing that Hogan was able consistently to beat the defense deep.
Honorable mention: Amari Cooper, Oakland Raiders
Cooper led all receivers in catches when targeted on the go route with 9, despite being only the 11th-most-targeted receiver (18). Cooper was second in yards with 284 and tied for third in touchdowns with 2. Cooper earned a 132.87 WR rating despite finishing 35th out of 42 WRs in aDOT (25.61), with his long target on the year of 38 yards.
In routes/out routes
In routes and out routes are essentially the same thing, but in opposite directions. One will be a route going up the field with the receiver making a hard horizontal cut in or out — hence the name . Receivers who are able to cut on a dime will typically be most successful on these routes, while also retaining the threat of running a go route. The aDOT of these routes is 9.73 yards.
Best in routes/out routes (min. 15 targeted routes): Julio Jones, Atlanta Falcons
Julio Jones dominated defensive backs when running these routes. He was targeted 35 times, catching 31 passes for 534 yards. Jones finished with more yards than any other receiver — 61 more than runner-up Julian Edelman, who had 21 more total targets. Jones also had the highest WR rating with a 128.27. His 149 yards after the catch were most in the league, ahead of Edelman, who had 24 fewer yards after catch despite 12 more catches. Jones was able to successfully run these routes at all different levels of the field. His aDOT was 12.86, with a long depth of route of 27 yards, and the shortest depth of 3 yards. Julio was able to run in/out routes successfully at any level of the field, and was far and away the dominant receiver running these routes.
Honorable mention: Jordy Nelson, Green Bay Packers
Nelson was targeted 43 times on in routes and out routes, catching 31 passes. Nelson led all WRs in touchdowns in this category with 4, earning PFF's second-highest production grade behind Jones. Nelson had an aDOT of 10.58 yards, and gained most of his yardage on the catch. He only had two catches with 10 or more yards after catch. Seven of his 43 targets came in the red zone, while six more were inside the opponent's 30. While Nelson didn't have big yardage plays running this route, 21 of his 43 targets resulted in a first down or touchdown.
Post and corner routes
The post and corner routes are essentially the same thing, just run in different directions. The corner route is when a receiver runs deep and then cuts diagonally to the sideline. The post route is the same thing except the receiver cuts toward the middle of the field. These routes are designed to get deep down the field; in 2016 they had an aDOT of 22.38 yards.
Best post and corner routes (min. 10 targeted routes): A.J. Green, Cincinnati Bengals
Green was highly successful on these routes, with an 80 percent catch rate on 10 targets — all eight catches resulted in a first down or touchdown. In all, he had 185 yards and a touchdown for a 152.08 WR, tied for highest in the league. Green's aDOT on post routes was 19.8 yards, and his longest catch came on a 51-yard route that he caught for 54-yard touchdown. If Green had stayed healthy this year, his numbers likely would have led the league in more categories.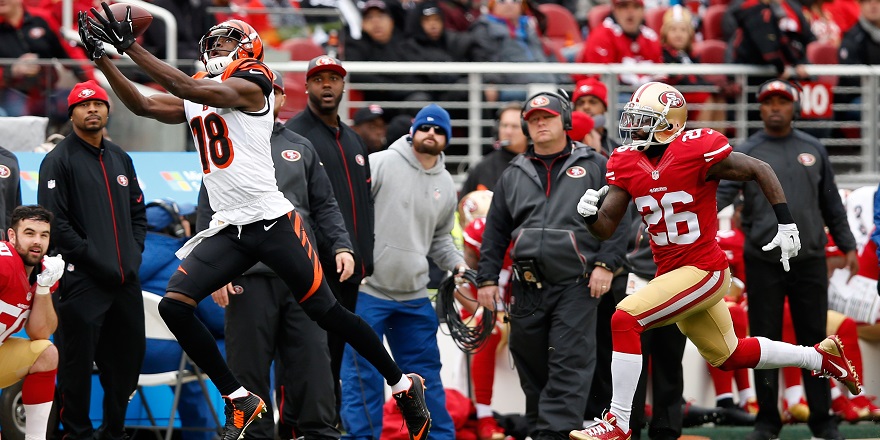 Honorable mention: Julio Jones, Atlanta Falcons
Jones was by far PFF's highest-graded WR on post routes. Jones was targeted 20 times, catching 13 passes for his league leading 392 yards. Jones caught a touchdown and had a 125.0 receiver rating on post and corner routes. Jones ran these routes 12 times when lined up as the left receiver, and they resulted in his biggest plays; he had 3 catches of over 40 yards from the left side, going for 48, 51, and 75 yards. From the any other spot on the field, Jones' longest reception was 25 yards on 8 targets.
Comebacks and hitch routes
These routes are run up the field and then the receiver cuts back towards the quarterback. Comebacks are typically deeper routes with an aDOT of 11.67 yards, while the hitch is a short route with an aDOT of 7.4 yards. Comebacks are not only more likely to be deep down the field but the receiver will work his way back to the QB more, while the hitch is more of a quick turn back to the QB. While each route has its differences, the goal is similar — you want to work the defender up the field and turn back to the ball.
Best comeback and hitch route runner (min. 10 targeted routes) Julian Edelman, New England Patriots
Edelman led the league on comeback and hitch routes with a WR rating of 138.8. He caught 11 of his 17 targets for 178 yards and two touchdowns. He was one of only two qualifying players in the league to score more than one touchdown on these routes (Jordy Nelson had 4). Edelman's aDOT was 8.7 yards, and he averaged 7.8 yards after the catch, the most of any receiver. Eight of Edelman's 17 routes resulted in a first down or touchdown, plus he was able to take one hitch 77 yards for a touchdown.
Honorable mention: Robert Woods, Buffalo Bills
Woods was targeted 71 times on the season, with 28 of them coming on comeback and hitch routes. He finished second in the NFL with 286 yards on comebacks and hitches, accounting for 45 percent of his total yards. He caught 21 of his 28 targets, and 13 of them went for first downs. Woods had an aDOT of 10.22 yards, with 9 of his 21 catches going for 15 yards or more. Woods caught 6-of-9 targets on third down, all of which resulted in a first down. He had by far his most success running these routes and his production stacks up with any receiver in the league on these routes, finishing with a WR rating of 107.0.
Crossing route
The crossing route is separated from the dig route due to its lack of a vertical stem. The depth will vary from short drag routes to deep crossers, and it includes variations such as a receiver throttling down to settle between zones. The aDOT of these routes is 7.99 yards, while the QB dropback depth can vary wildly, in part due to the variance in depth of this route.
Best crossing route runner (min. 10 targeted routes): Kenny Britt, Los Angeles Rams
Kenny Britt was incredibly efficient on crossing routes. He caught 15-17 targets for 224 yards, 2 touchdowns and a 158 WR rating — 12 points higher than Chris Hogan, the second-highest player. Ten of his 15 catches resulted in a first down or touchdown, converting 5 of 9 on third down. Britt was very efficient after the catch, averaging 6.06 yards and in the top half of all qualifying receivers. Britt showed the ability to run the crossing route at every level, having an aDOT of 9.12, with his route depth as low as 3 yards and as high as 18.
Honorable mention: Tyrell Williams, San Diego Chargers
Williams had 31 crossing route catches on 42 targets for 513 yards, accounting for 48 percentof his season production. Williams led the league in yards on such routes, 175 yards ahead of Jarvis Landry in second. Williams did have 5 drops on these routes, which was the second-most, but he was second among receivers in yards after catch, averaging 11.2. Williams ran more drag routes than deep crosses with a below-league-average aDOT of 6.72. He was successful when he ran deep crosses as well, with 9 targets over 15 yards, four of which resulted in catches for more than 20 yards.