It's become very apparent during Ron Rivera's tenure that the Carolina Panthers have a knack for developing their young offensive line talent. Players like Andrew Norwell and Daryl Williams, who weren't valued much in their respective draft classes, both came to the Panthers as projects and evolved into coveted NFL starters. The 2018 season yielded another young gem for the Panthers, as offensive tackle Taylor Moton emerged as the Week 1 starter and exceeded all expectations.
Moton, who was the 64th overall pick of the 2017 draft, played sparingly during his rookie campaign and saw just 70 total snaps at guard and tackle. With a year under his belt and some turnover on the offensive line, Moton began his sophomore year as the Panthers' starting left tackle, however, with the aforementioned Williams suffering a season-ending injury in Week 1, Moton slid over to the right side where he would excel for the rest of the season.
Moton went on to play the entire season at right tackle, finishing with 1,054 total snaps and an overall grade of 76.2. While his overall grade ranked 15th among qualified tackles, he proved to be one of the top offensive linemen from the draft class of 2017, and despite being the seventh lineman taken off the board in 2017, Moton finished second only to Ryan Ramczyk for the highest overall grade of any offensive lineman in his class. Not only did Moton prove the draft pundits wrong, but the Panthers once again showed they can identify and develop under-the-radar offensive line talent.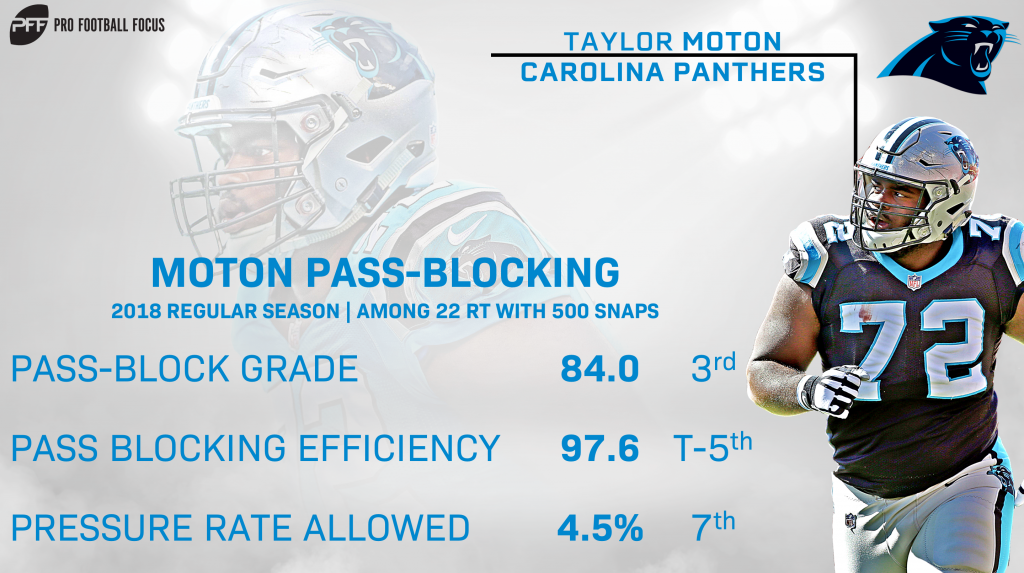 While Moton's run blocking is still a work in progress (he accumulated a 61.1 grade over 386 run snaps this past season), the real focus of his talent sits in pass protection. Last season, across 668 pass-blocking snaps, Moton registered an 82.7 grade – the 12th highest mark in the league among qualified tackles. Moton's job was to keep the pocket clean, and he did just that, notching a season-long 97.6 pass-blocking efficiency rating. In fact, Moton was one of only six tackles in the NFL to register over 500 snaps while allowing just three or fewer combined sacks and hits.
When you zero in on the right tackle position, you can see how much Moton truly shined this past year. Of the 22 right tackles that played 500-plus snaps in 2018, Moton finished third in pass-blocking grade (84.0), tied for fifth in pass-blocking efficiency (97.6), and seventh in pressure-rate allowed (4.5%). His best performance came in a Week 3 bout against the Cincinnati Bengals, where Moton led all Panthers' offensive players with an 83.5 overall game grade. This performance would be a sign of things to come as Moton would go on to finish as the team's second-highest graded offensive player of the season, behind only Christian McCaffrey.
Moton's breakout year is an important one, as the Panthers need to keep Cam Newton healthy in order to get their offense rolling. Now entering the 2019 season with Moton likely switching back to the left and Williams back at the right, the team can feel confident they have the pass protectors at tackle to keep their prized quarterback upright.