It's getting uncomfortable for head coach Bill O'Brien in Houston, with the performance thus far of big-money QB Brock Osweiler five games into the season.
Having begun the year with an excellent debut, Osweiler has been getting poorer as the year goes on and was disastrous Sunday against one of the league's best defenses this week in the Minnesota Vikings.
Against Minnesota, Osweiler ended with a PFF grade of 32.5, having played even worse than his raw stats suggest — and the raw stats were far from pretty. He finished the game with a passer rating of 56.1, but 89 of his 184 yards (48.3 percent) came after the catch. He didn't complete a single pass that traveled 20-plus yards downfield, despite taking five of those deep shots, and was only five of 14 on attempts that traveled 10 or more yards in the air. 14 of his 19 completions were passes that traveled less than 10 yards from the line of scrimmage.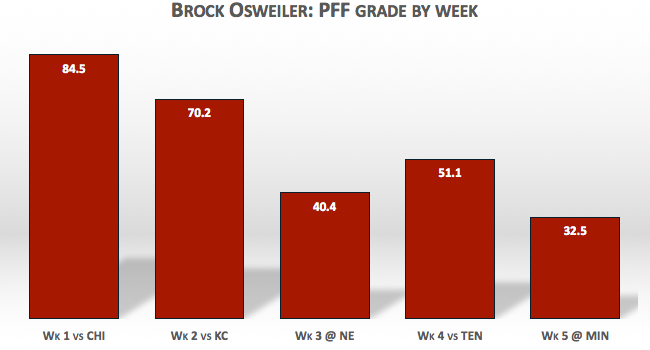 Osweiler was actually OK when he was given a clean pocket by his offensive line, completing 63.6 percent of his passes with a passer rating of 93.7, but the issue was he was actually pressured on more dropbacks against Minnesota than he was kept clean. The Vikings were able to pressure him on 52.2 percent of his dropbacks, the most of any QB in the league this week, and when he was pressured his production fell off a cliff.
Under pressure, Osweiler's passer rating was just 18.8, and he completed 25 percent of his passes.
In the NFL today there are plenty of QBs who can get the job done if they are kept clean at all times in the pocket. What separates those that can lead an NFL offense from those that can't is the ability to succeed under pressure. In 2015 for Denver, Osweiler's passer rating dropped from 95.9 when kept clean to 66.9 when the heat was applied. That doesn't look good, but that kind of drop is about in line with the league average.
This season the effect of pressure has been far greater. When kept clean through five games his passer rating is 92.9 and he has completed 66.4 percent of his passes. That's almost a perfect match with a year ago when the numbers were 95.9 and 66.5 percent, respectively. The rest of his production stats are right in line as well, but when the heat has come on it is a different story.
While under pressure as the Broncos quarterback, his passer rating dropped to 66.9. This season, it has plummeted to 23.1. He completed 52.2 percent of his passes under pressure a year ago, but this year it is only 40 percent, while his yards per attempt is more than three full yards lower at 3.7, compared to 6.9 last season.

This isn't a product of a poor Houston offensive line, but rather a notable difference in Osweiler's play. He has actually been pressured on a smaller percentage of his dropbacks than he was last season for Denver — even including this week's destruction at the hands of the Vikings defense — but his play just hasn't been able to handle the pressure that has come. He has already thrown as many interceptions (four) under pressure as he did in the seven games he started last season for the Broncos, and the problem looks to be getting worse rather than better.
Osweiler was signed to a huge-money deal based on a projection of what he could become. It was a gamble, and the issue is that the sample size of his tape was always dangerously small. There was as much bad tape as there was good, and the projection could just as easily go in a negative direction as it could a positive direction.
This is a quarterback who was benched for Peyton Manning at a time when Manning was playing outright bad football, because the Broncos thought that gave them the best chance to win games despite an all-time great defense that meant their QB didn't have to carry the team the way many others in the league do.
Osweiler effectively had to fulfill the role that Trevor Siemian is this season for the Broncos, and the team didn't think Osweiler was their best option to do that — at least not at the price tag it would take to retain him. This year, for the Texans, Osweiler's job is tougher. He can't just sit at the helm and steer the ship, but he has to be the engine as well, and a foundational piece of the entire machine.
We are still dealing in very small sample sizes with Osweiler, so it's a little early to be writing him off, but he now has 12 career starts to his name and hasn't had a run of more than two consecutive games where you could say he has been anything better than average. His baseline right now is heading in the wrong direction, and he looks far more like a big-money flop than a player destined to justify that lofty contract.
Houston has outs built into the contract, but the fact that it already looks likely to need them says all you need to know about the gamble it was to sign him. That has to be very concerning for a staff that has much of their reputation tied up in the success or failure of that offseason gamble.