When the Cleveland Browns opened their 2018 preseason against the New York Giants a week ago, the buzz was palpable. It marked the start of a brand new NFL season. The Browns' winless campaign of 2017 could finally be dismissed to the history books and long-suffering fans all over the country watched from the edge of their seats, just hoping to see a turning point from their team.
In four quarters of action, the fans got their first glimpse of that potential turning point. Finally, after 19 seasons and 28 starting signal-callers, the quarterback position seemed to be the least of the team's worries, and with former  second-round quarterback DeShone Kizer out of the door, both Tyrod Taylor and first-overall pick Baker Mayfield shined bright in their first game in a Browns uniform.
No matter which way you slice it, the Browns' quarterback play over the last several seasons has been less than ideal, and Kizer was no exception to that. Last year, he ended the season with PFF overall grade of just 52.8, which put him 37th of 39 quarterbacks in the league, just above Brock Osweiler and Blaine Gabbert. Now, regardless who replaces Kizer under center in 2018 – it's going to be an upgrade for the team.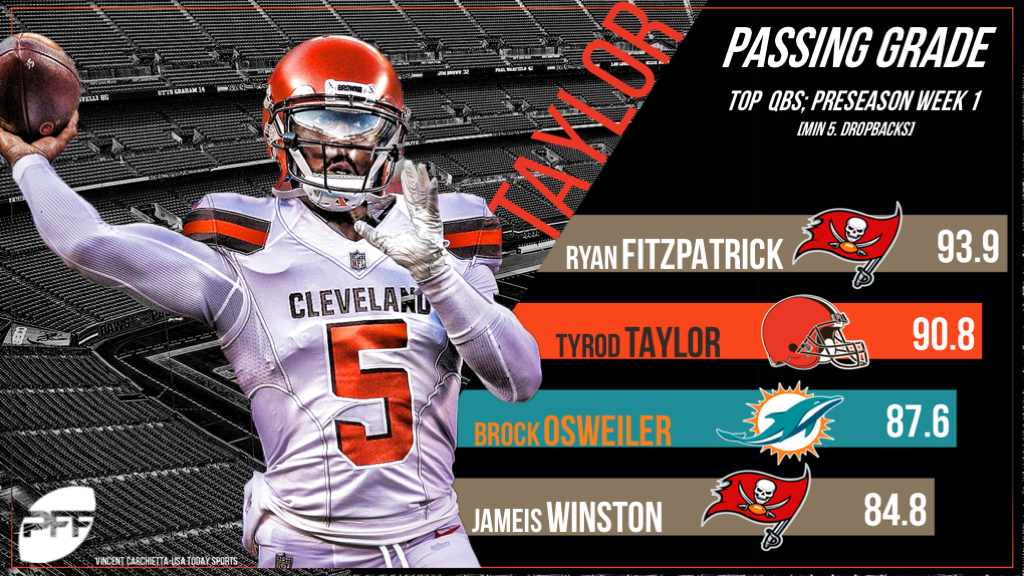 If it turns out to be Taylor like the team plans, we know what we get with him. He's a dependable quarterback who protects the football and rarely turns it over. He's graded in the top 15 in each of the past three years and has never posted a grade lower than 75.0 over a season. During the preseason opener, Taylor put his sheer dependability on display and he ended an extremely promising performance 5-of-5 for 99 yards, one touchdown and an elite passing grade of 90.8, the second-highest grade of the week.
If Mayfield builds on his spectacular debut performance and somehow takes reins for Week 1 of the regular season, it's also safe to assume that he'd also be an upgrade over Kizer. Over the last four college seasons, we've graded every game, every player and every play and Mayfield's overall grades are not just good. Mayfield's last two season grades are the best two single-season PFF grades we have ever seen in college football, and they worlds ahead of Kizer's final two college season grades, which were 74.8 and 71.4, respectively.

On Thursday, it only took 44 snaps of game action for Mayfield to show exactly why the Browns made him the first overall pick in this year's NFL draft, as he completed 11-of-20 passes for a whopping 212 yards and two touchdowns. Throughout the contest, Mayfield excelled from a clean pocket, posting a passer rating of 139.6 when he was kept clean from pressure and yes, while it may only be a preseason game, it's still the fourth-highest game grade we've seen from a Browns quarterback (with at least 10 attempts) in 12 years of grading.
No matter who starts under center for Week 1 of the 2018 NFL season, we can assume, by looking at past and present performances, that Taylor and Mayfield will be a significant upgrade for the Browns at the quarterback position, but if we dig a little deeper into the data, we can also assume that both quarterbacks will help the team in the two key areas that they struggled in last year: third down and in the red zone.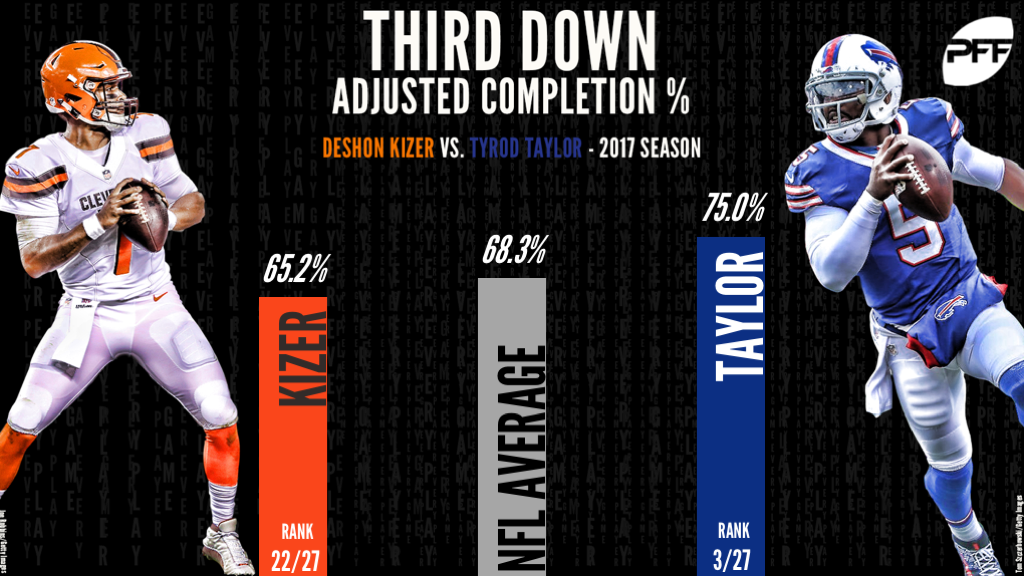 When it came to third downs last season, KIzer was one of the most statistically underwhelming quarterbacks in the league and when we look at all the 27 quarterbacks who threw at least 100 third-down passes last season, Kizer's third-down passer rating of 52.7 ranked dead last.
When we look at a quarterback's accuracy, we use adjusted completion percentage as an indicator. Our adjusted completion percentage accounts for dropped passes, throw aways, spiked balls, batted passes and passes where the quarterback was hit while he threw the ball, and that gives us a clear measure of his accuracy.
And among those 27 quarterbacks, Kizer's adjusted completion percentage of 65.2 percent ranked 22nd. For comparison, Taylor put up an adjusted completion percentage of 75.0 percent on this third-down attempts last year, and not only is that nearly 10.0 percentage points higher than Kizer, it was the third-best mark in the league.
In Mayfield's first game as a pro, he also displayed incredible poise on his third-down attempts and completed four of his six third-down passes, which included a perfectly thrown pass to rookie receiver Antonio Callaway on a slant route, which Callaway was able to take 47 yards for Mayfield's second touchdown of the game. All told, Mayfield racked up a staggering 111 passing yards from third downs during his debut and ended the week with a third down passer rating of 149.3, the second-best mark of the week.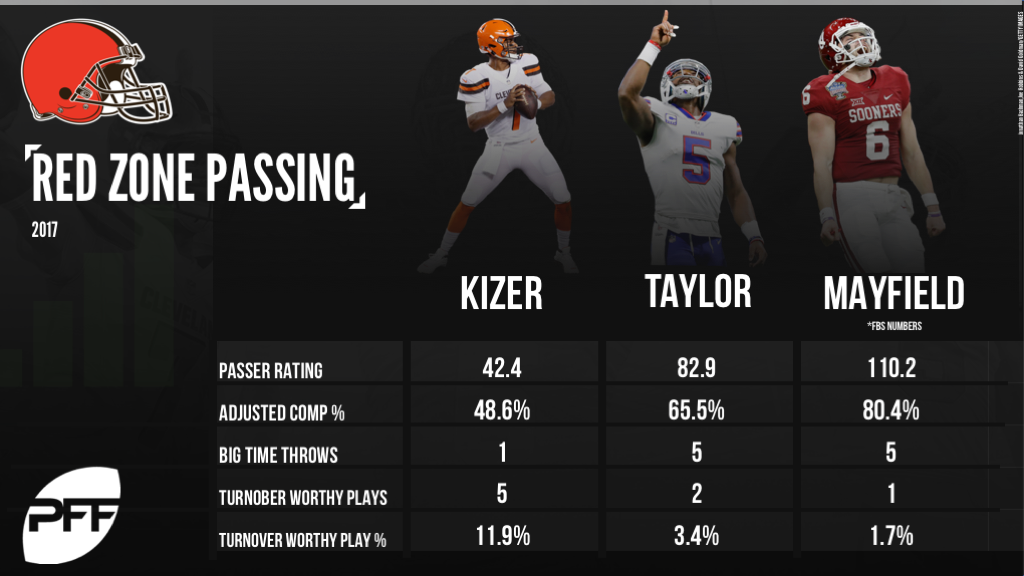 More exciting for Browns fans though, is the potential for improvement in the red zone.
Throughout the 2017 season, Kizer managed a red-zone passer rating of just 42.4 – which didn't just rank last among quarterbacks last year, it's the worst mark ever recorded by a quarterback in the last 12 seasons.
Kizer managed a red-zone adjusted completion percentage of just 48.6 percent and that wasn't just the worst mark in the league, it was the third-lowest mark ever recorded by PFF. Thankfully for Browns fans, this is an area in which Taylor performed quite well, as he ended the season with a red-zone adjusted completion percentage of 65.5 percent, good for 12th among the league's quarterbacks.
The highest-graded throw of Mayfield's debut. Mayfield went through multiple reads before he found David Njoku in the back of the end zone with a #BigTimeThrow. pic.twitter.com/i3W4q5RGCI

— Mark Chichester (@PFF_Chichester) August 13, 2018
At this point, we can insert Mayfield into the discussion, because Mayfield was the second-highest graded player in the nation when it came to red-zone throws last year. In his final college season, Mayfield's red-zone adjusted completion percentage of 80.4 percent ranked first among draft-eligible signal-callers and it's almost 10.0 points higher than the next closest player. His accuracy and decision-making were put on full display in his debut, as he delivered a perfectly thrown pass to tight end David Njoku on a 2nd & Goal passing play.
Turn the page
It's a great time to be a Browns fan. The franchise has been loaded with talent from both free agency and the draft, and if the team's quarterbacks are able to lead from the front, the team has the potential to do some big things this year.