The NFL today is a game of nickel defense rather than base, and of 11 personnel (one back, one tight end, three wide outs) rather than 12 or 21, and the slot has never been more important, both on offense and defense.
As we look ahead to the big Super Bowl LII showdown between the Philadelphia Eagles and the New England Patriots, the slot figures to play a significant role in deciding which team hoists the Lombardi Trophy.
For the Eagles in particular, the slot has been a defining tale of their improvement on both sides of the ball, because their primary slot weapon on both sides of the ball have been new for 2017.
Patrick Robinson, CB, Philadelphia Eagles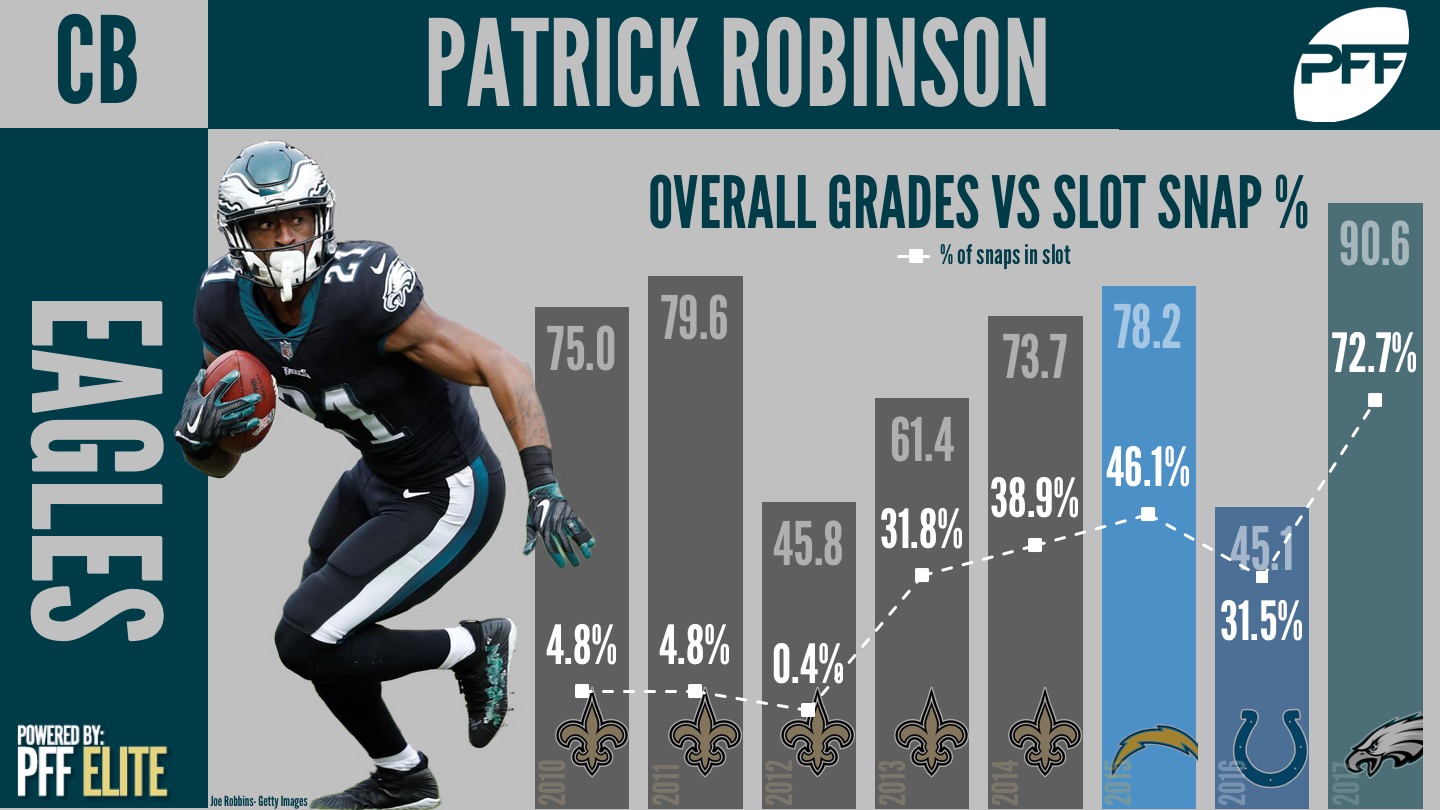 On defense, cornerback Patrick Robinson has been a revelation this season, enjoying a career year while manning the slot. He currently has an overall PFF grade of 90.6, having never topped 80.0 in any other season.
That coincides with Robinson becoming primarily a slot corner for the first time in his NFL career. In his first three seasons with the Saints, he played outside almost exclusively, before seeing snaps in the slot over the past three seasons, but never more than half of the time. In 2017, the Eagles lined him up inside on 72.7 percent of his snaps. Only nine corners saw more snaps in coverage from the slot this season than Robinson, and his play has been one of the big reasons the Eagles secondary was able to improve despite not having their top corner (Ronald Darby) for much of the season.
Robinson has made plays all season, breaking up 11 passes and notching four interceptions during the regular season. If anything, he has only improved in the playoffs, allowing a passer rating of just 31.0 when targeted, or less than if the quarterback just threw the ball away instead. It was Robinson's pick-six that turned the NFC Championship in Philadelphia's direction before the Eagles just took off into the distance.
Robinson will need to neutralize one of New England's most important weapons so far this postseason.
Danny Amendola, WR, New England Patriots
Danny Amendola has always been a potent slot receiver and a dangerous player to defend when healthy and on the field. Only seven players lined up in the slot on a greater percentage of their snaps than Amendola this season, and his numbers are top-10 across multiple metrics.
He gained 1.78 yards per route run from the slot and caught 73.9 percent of the passes thrown his way, both good for top-10 among receivers, but as has typically been the case throughout his career, he has stepped things up in the playoffs.
Amendola has 10 more targets from the slot this postseason than any other receiver, and his target rate is five percent higher than any other receiver. That's resulted in 15 receptions (more than double the next-best mark), for 168 yards and two scores. His catch rate has gone up from 74.0 in the regular season to 83.3 percent in the playoffs, and he has been one of the keys to this Patriots offense, in particular late in the game against Jacksonville, where Amendola seemed to be the only option at times on drives, and yet he kept getting the job done. Amendola against Robinson is one of the individual matchups of the Super Bowl.
Nelson Agholor, WR, Philadelphia Eagles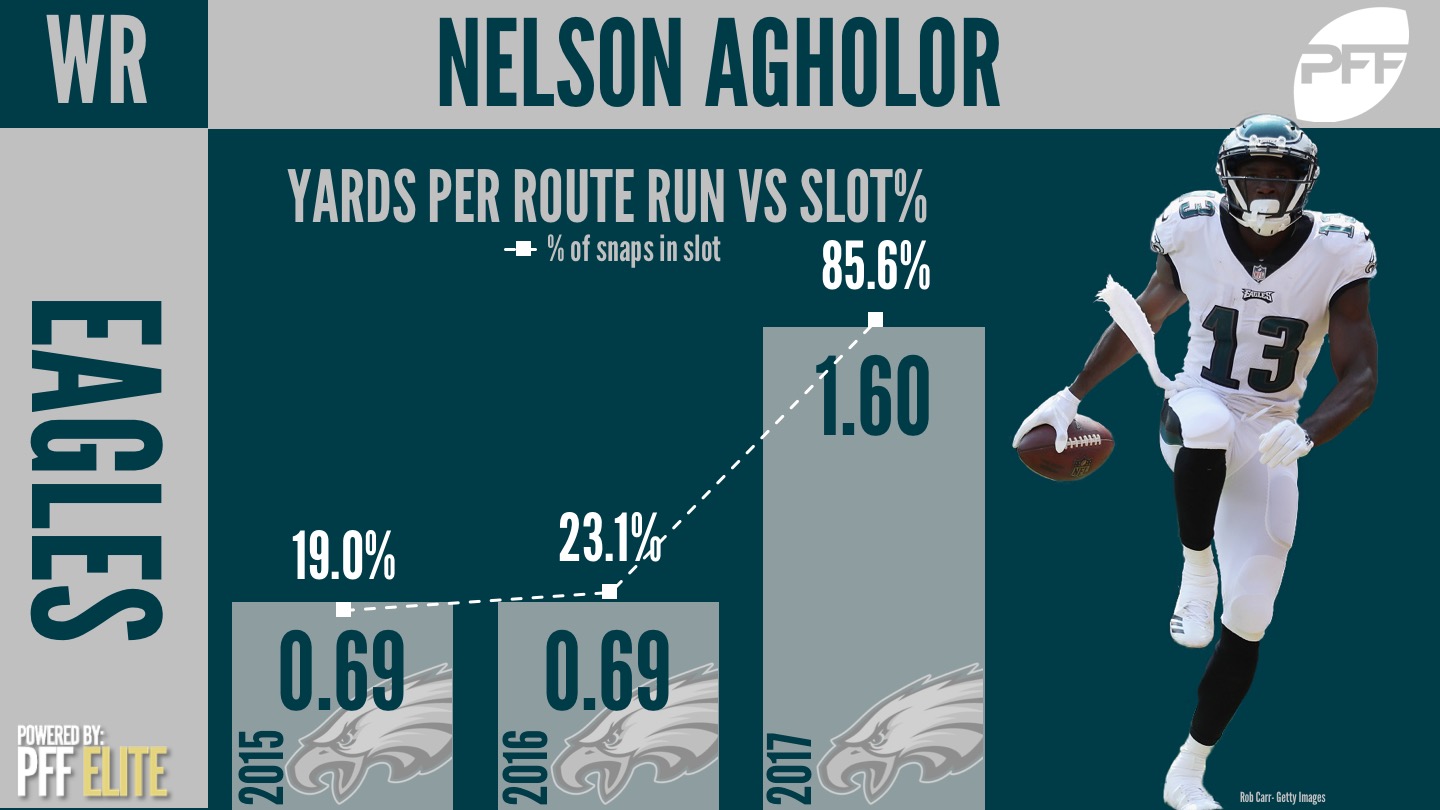 Another player whose production has been transformed by a move in position to the slot, wide receiver Nelson Agholor has become a viable threat in 2017 after looking like a first-round bust the previous two seasons.
Agholor's PFF grade has jumped 40.0 points from a season ago thanks to spending 85.6 percent of his snaps in the slot this year. Over the previous two seasons, Agholor didn't play inside more than 23.1 percent of the time, and he was incredibly unproductive when pegged as an outside receiver.
In 2015 and 2016, Agholor gained just 0.69 yards per route run, one of the lowest marks in the entire league, but with a move inside to the slot this year, that has more than doubled to 1.60, which ranked 31st in the league among all wide receivers.
Agholor scored eight touchdowns from the slot in the regular season, two more than any other receiver, and only two receivers gained more than the 752 yards he racked up from an inside alignment. Both of the players that did exceed that yardage total (Larry Fitzgerald and Golden Tate) saw more targets than Agholor did.
It looked like early in the season Agholor had become a by-product of Carson Wentz and his huge development in Year 2, but in truth, it was being moved inside which allowed him to flourish as a talented game-breaking receiver, and his production has continued even after Wentz was lost to injury.
The slot has never been more important on both sides of the ball than it is in today's NFL, and the Super Bowl features several key players who all play primarily in the slot. How they fare could be the difference.
Super Bowl LII
---
Super Bowl LII Analysis Notebook: How to stop the Eagles' RPO attack
PFF's ultimate Super Bowl LII visual preview
52 observations for Super Bowl LII
Super Bowl LII against the spread picks
Youthful Impact: Potential young stars to watch in Super Bowl LII
Potential free agents to come in Super Bowl LII