New England Patriots 34, Atlanta Falcons 28
Here are the highest-graded players and top takeaways from the Patriots' comeback win over the Falcons in Super Bowl LI.

Quarterback grade: Tom Brady, 78.3
Brady hits the high notes when it matters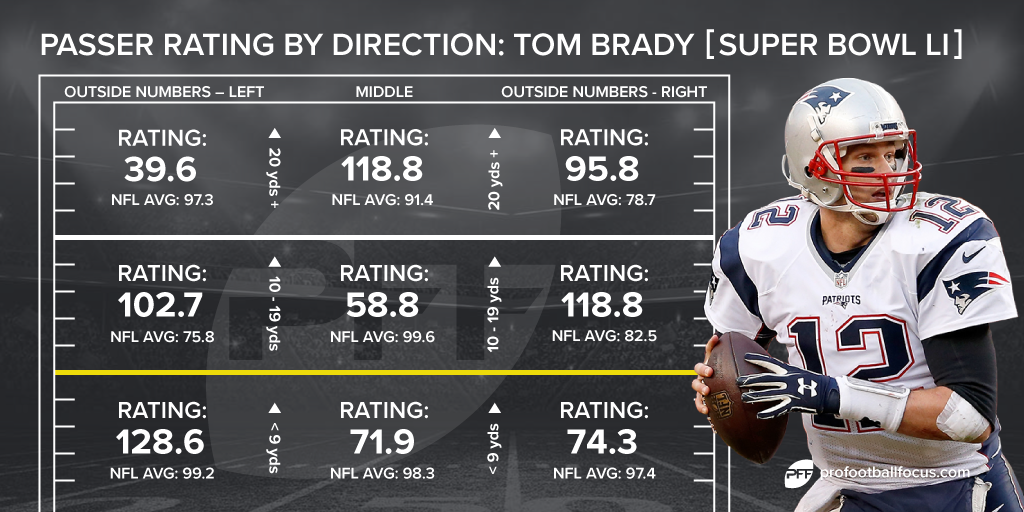 When it mattered most, Tom Brady turned it on and led the Patriots back to stand alone as the only quarterback with five Super Bowl rings. For three quarters, though, the Patriots' seemed to be headed for a third Super Bowl defeat with Brady at the helm, as the Falcons were able to get pressure through and affect the QB, who completed only six passes for 67 yards and a 51.8 passer rating on 20 dropbacks under pressure. However, in the final quarter and overtime, Brady was only pressured four times (three sacks and one hit), and he tore the Falcons' defense up, cutting down Atlanta's 25-point deficit and wining the first overtime in Super Bowl history.

Top offensive grades:
RT Marcus Cannon, 84.9
C David Andrews, 83.1
LG Joe Thuney, 77.4
WR Danny Amendola, 76.3
WR Malcolm Mitchell, 73.4
Offensive line turns the corner, gets to grips with Atlanta's stunts
The Patriots' offensive line struggled with the Falcons' pass rush in the first half; Atlanta ran stunts on 22 of the Patriots' 32 dropbacks and got pressure on 16 plays. At the end of the game, however, they shored up that protection to give Brady the time he needed. Brady's weapons came up big as the game went on, as well, with Julian Edelman providing this year's unfathomable bobbled reception that has seemingly been an annual play since David Tyree's catch for the Giants in Super Bowl XLII. James White earned the second-highest receiving grade of the game, behind only Julio Jones, snagging 14 catches out of the backfield and sealing the victory with a stellar effort to drive to the goal line when the Falcons seemingly had the outside run contained to force a third down.
Top defensive grades:
S Patrick Chung, 83.6
LB Dont'a Hightower, 81.2
DE Trey Flowers, 72.7
DE Jabaal Sheard, 71.9
NT Alan Branch, 67.6
Patriots' defense rebounds, resists Atlanta's roll
The Falcons' needed one more score for the better part of 20 minutes, and the Patriots' denied them that as the New England offense engineered one of the great comebacks in football history. Second-year defensive end Trey Flowers racked up three sacks, including a sack to drive Atlanta to the edge of field-goal range inside the final four minutes. Fellow DE Chris Long registered only two snaps in the first half, but racked up five hurries on 13 second-half pass rushes to help spark a New England defense that struggled to control Atlanta on the ground and through the air in the first two quarters. The true spark for the turnaround, though, came from linebacker Dont'a Hightower, with his sack exploiting RB Devonta Freeman's protection bust to the fullest extent, adding to a hit and a hurry in his highest-graded game since Week 6 of the season—a timely return to some of his best football.

Quarterback grade: Matt Ryan, 81.8
Strong start, but Ryan and Falcons come up a play short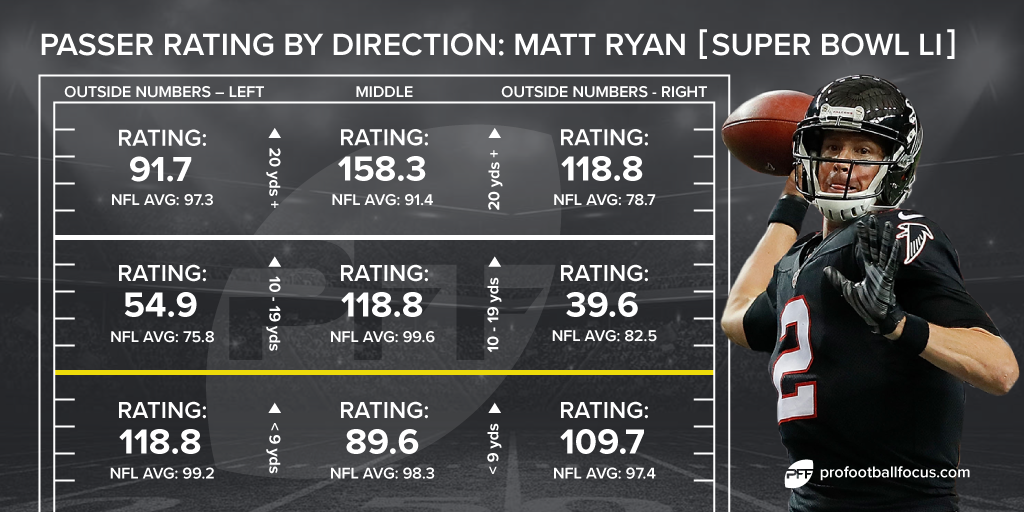 The Atlanta Falcons built what would have been in 50 other Super Bowls an unassailable lead on the strength of Matt Ryan's passing, hitting not only Julio Jones, but Taylor Gabriel and Austin Hooper, as well, for big gains to establish a 25-point lead on the Patriots. Ryan worked the middle of the field extremely well, going a perfect eight-for-eight between the numbers for 138 yards and a touchdown. However, he was only three-for-seven outside the numbers beyond 10 yards, including the final incompletion in a disastrous sequence of plays that pushed the Falcons out of range for a field goal shot that might have clinched victory. This was a strong showing from Ryan, but he and his fellow Falcons ultimately came up one agonizing play short of a victory they deserved in the first 36 minutes of this game.

Top offensive grades:
WR Julio Jones, 90.5
RG Chris Chester, 78.8
WR Taylor Gabriel, 77.1
TE Austin Hooper, 75.8
C Alex Mack, 75.1
Jones and Gabriel put on a show, but key plays turn the tide in New England's favor
Julio Jones came up with one of the great catches in Super Bowl history, though it ultimately led to nothing as the Falcons hit reverse to end that drive. Taylor Gabriel picked up a pair of catches in excess of 20 yards, but key plays in pass protection were the undoing of the Falcons' quest for victory. RB Devonta Freeman picked up big plays on the ground and through the air, but his miss on Dont'a Hightower that led to a strip sack saw momentum rush to the New England sideline, and LT Jake Matthews' hold was part of a sequence of plays that saw Atlanta deny themselves a shot to reestablish a two-score lead late in the game. The Falcons needed just one more play for the entire fourth quarter, but couldn't come up with it.
Top defensive grades:
CB Robert Alford, 86.7
DE Dwight Freeney, 83.1
LB Deion Jones, 82.3
DT Grady Jarrett, 79.1
DT Ra'Shede Hageman, 78.0
Falcons' pass defense runs out of steam
A three-sack performance from second year DT Grady Jarrett, a stunning pick-six from CB Robert Alford, and six pressures from the timeless Dwight Freeney…and it still wasn't enough for the Falcons to put Tom Brady away. "One more" was the Patriots' public motto in the lead up to this game, and it was all the Falcons' defense needed in the final 20 minutes of regulation—and like their offense, they just couldn't quite find it. Performances from the likes of Jarrett offer hope for the future, but will offer little solace as this defense stares in the face the unavoidable fact that they have surrendered, by far, the biggest comeback victory in Super Bowl history.
PFF Game-Ball Winner: Tom Brady, QB, Patriots
PFF's player grading process includes multiple reviews, which may change the grade initially published in order to increase its accuracy. Learn more about how we grade and access grades for every player by subscribing to Player Grades.