Combining for 14.5 sacks (per ESPN) in 10 games, Pittsburgh Steelers edge defenders T.J. Watt and Bud Dupree are both on pace to eclipse previous career-high sack totals in 2018. The two first-rounders are finally starting to live up to their potential.
Wrong.
The Pittsburgh duo's inflated sack totals aren't products of vastly improved pass-rush ability from either of the two young edge defenders, but rather improved defensive scheme and usage. Watt and Dupree, though on pace for career years, still haven't flashed high-end potential as pass-rushers – the numbers are lying.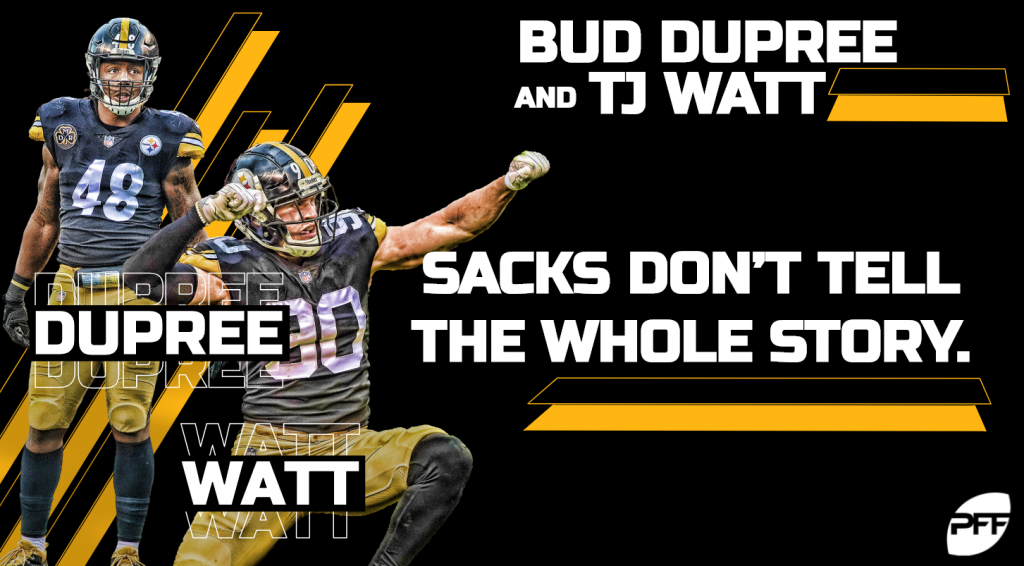 Through Week 11, Watt and Dupree have earned career-high pass-rush grades at 68.4 and 64.1, respectively, but their career-best marks still rank 28th and 42nd compared to the 62 NFL edge defenders with 200-plus pass-rush snaps this season. Following suit, Watt and Dupree rank just 26th and 40th in win rate, respectively.
Defenders with low pass-rush grades and win rates simply don't win blocks as often as their sack or even pressure totals can often indicate. So, how do Watt and Dupree have all these sacks and pressures if they're not winning blocks?
Of the 47 NFL edge defenders with 20-plus pressures this season, Dupree and Watt have the fifth and sixth-highest percentage of pressures charted as either unblocked or clean-up/pursuit pressures – free pressures – at 45.7% and 45.5%, respectively. Now, free pressures don't drag an edge defender's grade down, but they don't boost the figure either, nor do they count as wins.
Removing Watt's 15 free pressures, the second-year Wisconsin product has just six sacks on the season and ranks 31st in total pressures among all edge defenders. Similarly, four of Dupree's five sacks this season have been charted as free pressures.


Watt's double-digit sack total through 10 games has many bowing at his feet at this point in the season, but we've seen this movie before.
Enter Vic Beasley, the Atlanta Falcons' first-round edge defender that had a whopping 16 sacks in his sophomore season despite ranking 38th in pass-rush win rate. Beasley's 27.0 sack percentage (sacks/total pressures) was a clear-cut outlier, as the average sack percentage for defenders since 2014 is just 14.6%. The expected regression has taken full effect for Beasley since his 2016 season, as he now stands as one of the NFL's least effective pass-rushers and has recorded just three sacks in 2018.
Watt is following in Beasley's footsteps, as he too owns a low win rate and an astounding 30.3 sack percentage through Week 11, which stands as the second-highest in football. And if Watt is indeed the sequel to Beasley's fallout, regression is bound to enter the picture.
In a numbers-driven league, it's easy to fall in love with sack totals like those of Watt and Dupree. But, as we've seen with other defenders in years past, sacks can often inaccurately depict player performance. In the case of Watt and Dupree, their 14.5 sacks have done just that.