Philadelphia Eagles safety Malcolm Jenkins is no stranger to manning the back end of his team's defense — he's done it for 10 years now, after all. But in all that time — with at least 500 snaps played each season — he has yet to eclipse an overall PFF grade of 80.0. In 2018, he earned the highest mark of his career with a 79.6 overall grade. And in 2019, he's poised to continue the upward trajectory he's been on ever since joining the Eagles in 2014.
With the New Orleans Saints from 2009 to 2013, Jenkins earned a grade below 65.0 in four of the five years. In 2011 and 2012 combined, he allowed eight touchdowns in coverage to just one interception.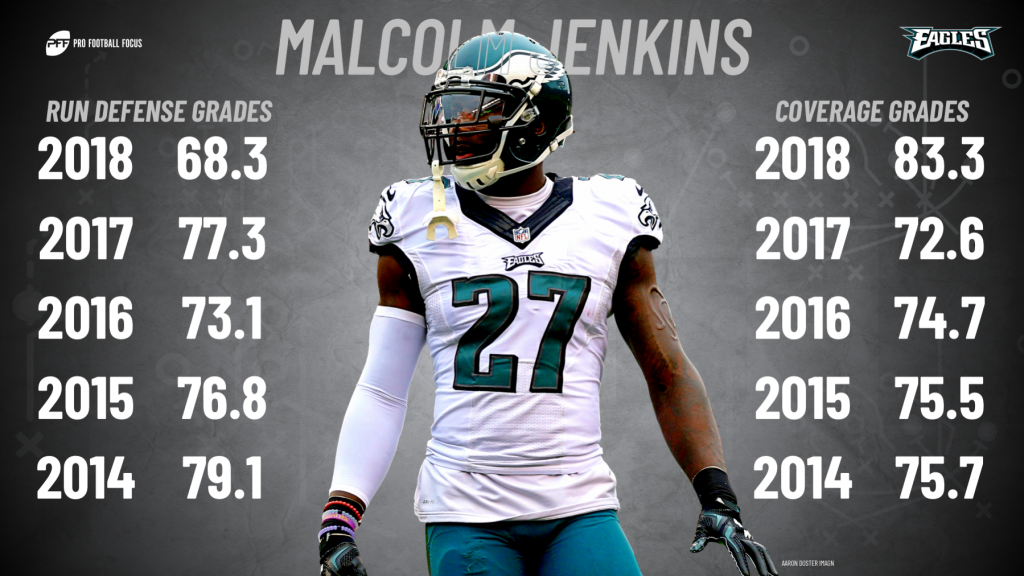 He has still allowed a fair number of touchdowns in coverage with the Eagles, but improvements in pass-breakups, yards per reception allowed and run defense have been evident. With the Saints, Jenkins' ball-hawk ability was lacking — he notched just four picks in five seasons. And though he's had a few rough years in Philadelphia with allowing touchdowns, he has 11 interceptions in five years with the Eagles.
What has caused this change is difficult to pinpoint — but one factor appears to stand out above the rest: Jenkins is being asked to do a lot more in Philadelphia than he was in New Orleans. He's seen an influx of targets with the Eagles and his involvement in the run game is tenfold what was expected of him in the first five years of his career.
For the latter point, Jenkins played 1,594 run-defense snaps for the Saints and had 29 run stops while learning behind one of the best run-stopping safeties at the time in Roman Harper. And now, on 2,008 run snaps with the Eagles, he's racked up 79 run stops in the past five seasons.
While his development is apparent over his change in teams, it's been even more apparent in the past two seasons. A career-high 45 stops, three forced fumbles and 85.5 coverage grade in 2018 headlined that development. Jenkins has also been targeted more in coverage in the last two years than any other two-year period in his career. Even so, he's allowed just three touchdowns in each of the past two seasons.
Only two other safeties were targeted more than Jenkins in 2018, and the 10th-year veteran allowed fewer yards per reception than the other four safeties who ranked top five in targets faced. Volume wasn't a problem for Jenkins last year, and that bodes well for an Eagles' secondary that is exceptionally young.
Just as Harper likely taught Jenkins the value of a strong run-stuffing safety, Jenkins now gets to do that with players like Tre Sullivan and Blake Countess, as well as cornerbacks Cre'Von LeBlanc and Sidney Jones.