San Francisco 49ers 22, Los Angeles Rams 21
Here are the top-graded players and biggest storylines from San Francisco's 22-21 win over Los Angeles in Week 16:
San Francisco 49ers
Quarterback grade: Colin Kaepernick, 76.6
Kaepernick has up-and-down game passing, but does enough when it counts most
Kaepernick had some bad throws at times Saturday, as he often does, but he did show some positive signs throwing the football. When he was kept clean he went 25-of-31 for 245 yards and two touchdowns to one interception, for a passer rating of 107.7. He struggled more under pressure, taking four sacks and completing just three passes on seven attempts for 21 yards. He only threw one deep pass (20-plus yards downfield), and it was intercepted.

Top offensive grades:
T Trenton Brown, 78.4
QB Colin Kaepernick, 76.6
TE Garrett Celek, 76.5
WR Rod Streater, 71.6
HB Shaun Draughn, 64.5
Offensive line gets manhandled by strong Rams front-seven
It was tough for the 49ers to get anything going this game when their offensive line couldn't establish any kind of control up front. T John Theus really struggled, finishing with a team-low grade of 26.0. In fact, Trenton Brown was the only offensive lineman to post a grade above 44.0 overall. They were a little better in pass blocking, thanks in part to quick passes that didn't require too much blocking. They allowed pressure on 14 of 46 dropbacks as a unit (30 percent).
Top defensive grades:
CB Rashard Robinson, 85.3
CB Tramaine Brock, 83.7
ILB Gerald Hodges, 82.9
ILB Michael Wilhoite, 79.2
DE DeForest Buckner, 78.0
Buckner embodies 49ers' form
DeForest Buckner is already a lethal NFL pass rusher. Against the Rams he accumulated a sack, two hits, two hurries and a batted pass from only 28 rushes. Considering JaredGoff's readiness to check the ball down, those numbers become even more impressive. On a couple plays in the third quarter, Buckner blew by left guard Jamon Brown, barely offering the Rams' quarterback an opportunity to survey the field. Interior rushers are invaluable, yet perhaps Chip Kelly and his staff could spell their star more frequently. Rest, or a lack thereof, is not the only reason for some underwhelming snaps against the run. Buckner does not deal with power particularly well, and he occasionally gives up on plays too early. If those inconsistencies can be ironed out, however, Buckner will be an exceptional building block for the future.
Los Angeles Rams
Quarterback grade: Jared Goff, 42.0
Conservative Goff fails to convince
The Rams' ball-control offense worked for the majority of four quarters against San Francisco but, needing points with less than a minute to go, the face of their franchise failed to deliver. Goff attempted only five passes beyond 10 yards downfield, completing just one for 15 yards with two picks. He underthrew a simple out route the play prior, which would have given Los Angeles at least an outside shot at a field goal, and followed that mistake by forcing a throw into a bracket coverage that ended the game. There were a couple of positives – Goff eluded the rush effectively in the pocket and showed the required consistency on shorter routes – but overall this game did nothing to convince his detractors that he is a starting-caliber quarterback.
Top offensive grades:
RG Andrew Donnal, 83.2
RT Rob Havenstein, 80.8
C Tim Barnes, 72.1
LG Jamon Brown, 70.5
HB Todd Gurley, 66.8
Gurley forced to fight for every yard
The Rams pro-style offense might not be benefitting their star runner. The 49ers loaded the box, fully aware of the limited threat posed by Goff's arm. Facing nine defenders in the box so frequently made Gurley's night incredibly difficult. On one play, he barely had time to take the handoff before being knocked down in the backfield for a five-yard loss. Although he averaged only 2.9 yards per carry, he did manage 45 of his 67 yards after contact. Gurley was solid, even if his numbers are not particularly impressive. His lone touchdown of the game highlighted his patience and awareness, with Gurley picking through bodies to find the end zone. The Rams need to discover a method of getting their key playmaker in space.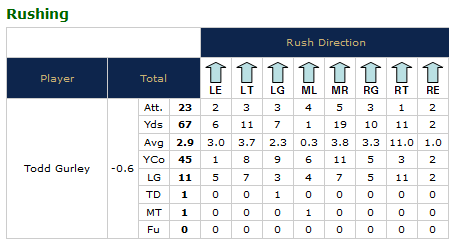 Top defensive grades:
DI Aaron Donald, 91.7
ED William Hayes, 84.2
DI Cam Thomas, 82.0
DI Dominque Easley, 80.9
LB Mark Barron, 80.7
Rams front-seven controls line of scrimmage entire game
As they often are, the Rams front-seven, particularly the defensive line, was one of the only bright spots for the Rams. They were led as always by Aaron Donald, who finished the game with a sack, a hit and four hurries, as well as two solo run stops. Williams Hayes had a big game rushing the passer, ending up with two hits, two hurries and a couple of other times where he beat his man. Overall, nobody on the Rams' defensive line graded below a 77.7 overall for the game.
PFF Game-Ball Winner: Rams DI Aaron Donald, 91.7
PFF's player grading process includes multiple reviews, which may change the grade initially published in order to increase its accuracy. Learn more about how we grade and access grades for every player through each week of the NFL season by subscribing to Player Grades.