After a short, one-year stint in the broadcast booth, Jason Witten will return to the field for the Dallas Cowboys in 2019. That may excite Cowboys fans, but it's important to understand what kind of player Witten is now and to set realistic expectations for the 37-year-old.
Witten will be in the Hall of Fame one day, but his days of actually playing like a Hall of Famer are almost certainly long gone. Before he retired for the first time, Witten earned a receiving grade of 58.2 in 2017, which ranked 41st out of 51 qualifying tight ends at the time. And a year before that, Witten's receiving grade of 67.0 ranked 25th among tight ends in 2016.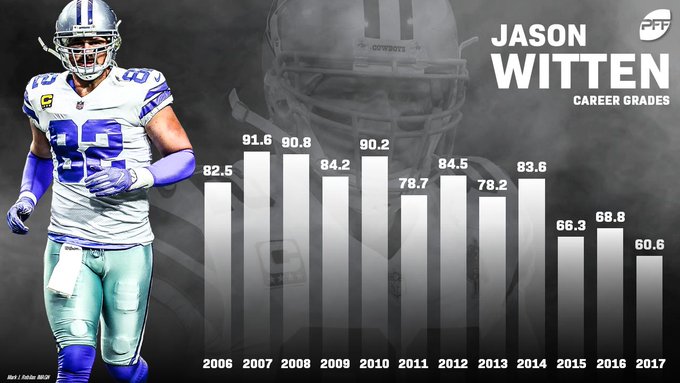 The last time Witten earned a receiving grade in the top-20 among tight ends was in 2014 when he earned the fifth-best receiving grade (78.4) at the position. At 37 years old, Dallas' longtime tight end is far removed from his years as one of the league's elite tight ends. In fact, the last time Witten earned a receiving grade of 90.0 or higher was in 2010. While Witten is still a big body who can likely still make tough catches in the middle of the field, it would be wise for fans to temper expectations for the returning tight end.
Looking at Witten's fantasy projections, we can get a glimpse into what kind of season to expect from him in 2019. In PPR settings, PFF ranks Witten 23rd overall, with a projection of just 55.8 targets, 41.5 receptions and 450.7 yards. Last season, the Cowboys' highest-ranked tight end in terms of fantasy was Blake Jarwin, who ranked 26th among all tight ends. Evidently, the Cowboys' offense isn't one to produce prolific seasons for the tight end position, especially for tight ends who are nearly 37 years old and are much less athletic than guys like Travis Kelce and Zach Ertz.
One thing to also note when setting expectations for Jason Witten is average depth of target, which is actually one of our secret weapons in fantasy. Last season, Dak Prescott's average depth of target was only 7.9 yards, which tied for 27th out of 38 qualifying quarterbacks. Couple that with the fact that Witten's average depth of target was 7.95 yards in 2017 — which ranked 42nd among tight ends — and you get a recipe for fantasy disappointment.
To make things even worse for Witten's fantasy outlook, he gained an average of just 1.52 yards after the catch in 2017, ranking 69th out of 71 qualifying tight ends. Witten's lack of athleticism at his age is a big reason why he doesn't get those yards after the catch anymore. A combination of not being targeted deep downfield with an inability to pick up yards after the catch is surely a lethal combination for fantasy failure.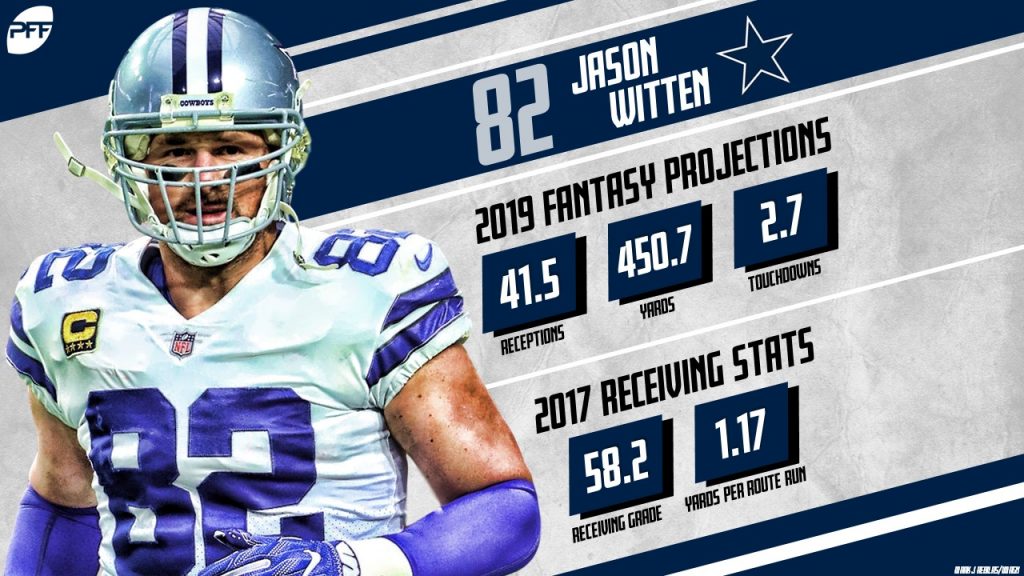 Although Witten isn't the elite pass-catcher that he once was, it doesn't mean that he can't be effective at certain things. In particular, Witten could be an effective weapon in the red zone. One thing that hasn't changed for Witten is that he still 6-foot-6 and 260-plus pounds — he's still a big body that can take up space and make a tough catch or two in the congested red zone. In fact, Jason Witten has caught 83.3% of his contested targets in the red zone during the PFF era (since 2006), which ranks first among all qualifying tight ends and more than 20 percentage points higher than the next best player (Travis Kelce, 60%).
Furthermore, Witten has caught 96.7% of all of his catchable targets in the red zone since 2006, ranking 14th among tight ends who have at least 50 red-zone targets in that span. You often hear people say that Witten has sure hands, and these numbers prove they're not lying.
Going into the 2019 season, Jason Witten's name may conjure up images of him doing big chunks of damage over the middle of the field, but we have to remember that he isn't exactly doing that anymore. He may very well be a solid safety blanket for Dak Prescott, but he won't be striking fear into defenders' minds like he used to years ago. So, for now, temper your expectations for the future Hall-of-Fame tight end.