Every year, an NFL team makes someone's dreams come true by drafting them with the last pick in the NFL draft, even if that person earns the infamous "Mr. Irrelevant" nickname from then on. One year ago, that person was Trey Quinn, who played receiver at SMU and got drafted by the Washington Redskins. He went on to have an uneventful, injury-riddled first year as a pro, as he logged only 107 snaps and was targeted only 10 times. However, recent reports suggest that Quinn may have won the slot role in Washington's offense during this offseason, and if our grades are any indication, he could be an excellent slot receiver in Jay Gruden's offense.
Trey Quinn had a monster final season in college at SMU, as he earned a receiving grade of 89.8, ranking third in the nation back in 2017. In total, he was targeted 154 times that season and had 114 receptions for 1,236 yards and 13 touchdowns. Quinn also showed he can play both outside and inside, as he logged 590 snaps at outside wide receiver and 219 snaps in the slot in 2017.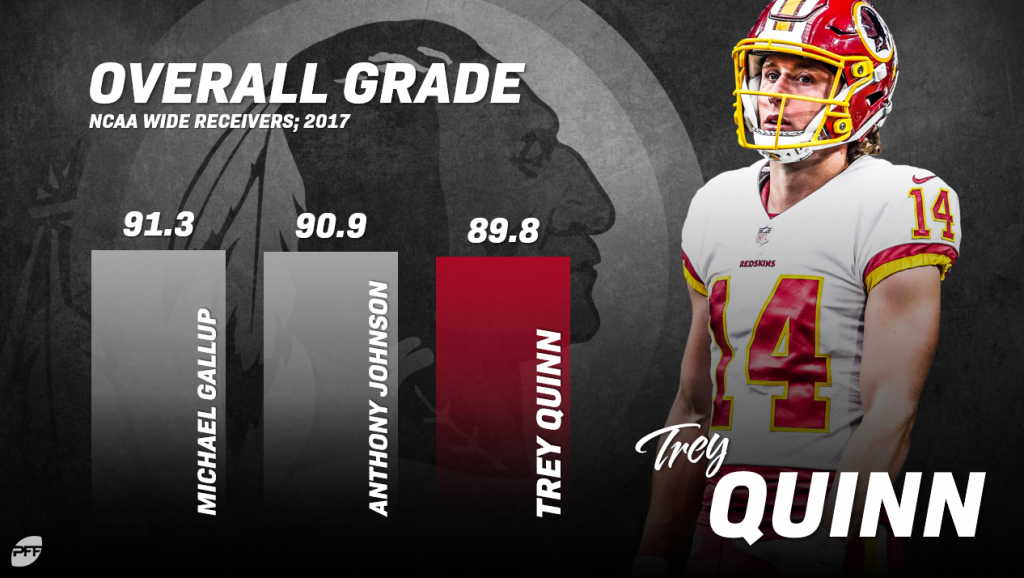 Despite lining up mainly at outside receiver in college, Quinn was actually most deadly as a slot receiver. In fact, he gained an average of 4.36 yards per route run from the slot in 2017, which ranked first out of 217 qualifying receivers that year. He also caught 75% of his slot targets, 25th, and he caught seven touchdowns as a slot receiver which tied for 12th. His work when lined up inside in college is a good sign for his potential in the pros, especially when you consider the fact that he's listed at six feet, 200 pounds — a perfect fit for the slot in today's NFL.
When lining up in the slot, there's virtually no route that is off-limits. A slot receiver must be comfortable running routes that break inside and outside, as well as routes that go deep downfield or back to the quarterback. In Quinn's case, he did all of those things pretty well in college. His most-targeted route in 2017 was the hitch route. On 35 targets on hitch routes, Quinn had 26 receptions for 281 yards, 117 of which came after the catch.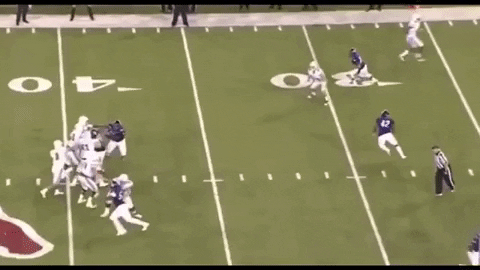 Not including screen passes, Quinn's second-most targeted route in 2017 was the out route, and he caught 15-of-20 such targets for 209 yards and 101 yards after the catch. Finally, showcasing his ability to go downfield in addition to running short routes, Quinn's third-most targeted route in 2017 was the go route, and he caught 9-of-19 such targets for 200 yards and four touchdowns.
Considering that he led all college receivers in slot yards per route run in 2017 and had plenty of yards after the catch, Quinn has proven that he can create separation as well as anybody. In addition to that, he has also proven that he has sure hands, which is especially important for a slot receiver because running over the middle and taking hits from linebackers and safeties isn't easy when you're trying to catch a football at the same time. Quinn, however, made that look easy, as he had the surest hands in the country during his final year at SMU. His drop grade (93.3) ranked first out of 448 qualifying wide receivers, meaning he was better than any other receiver at securing the catch. After all, he did have only two drops on 116 catchable targets in 2017.
Quinn is a versatile receiver who can run all types of routes, and the Redskins will be wise to not only use him as their slot receiver but to actually target him and give him a chance to show why he was our third-highest graded receiver in the 2017 college season. The Washington Redskins are a franchise with a rich history, and in their quest to once again be relevant, a guy once dubbed as Mr. Irrelevant may just help them get there.