With only four picks over three days in the weeks prior to the draft, the Seattle Seahawks were slated to be one of have one of the most uneventful drafts of any franchise. Boy was that wrong.
John Schneider kicked things off early in draft week dealing franchise-tagged defensive end Frank Clark to the Kansas City Chiefs for a first-rounder and second-rounder in 2020 (along with a swap of 2019 thirds). Schneider didn't stop there, though, as he flipped one pick for multiple again and again on his way to 11 picks when the dust had settled – the second-most of any franchise. How did they do? Let's break down some of PFF's favorites.
[Editor's Note: To view all of Pro Football Focus' advanced stats and grades for draft-eligible players, check out our 2019 NFL Draft Guide. All EDGE and ELITE subscribers already have access to the guide, and for those who don't, you can get your copy for as low as $9.99!]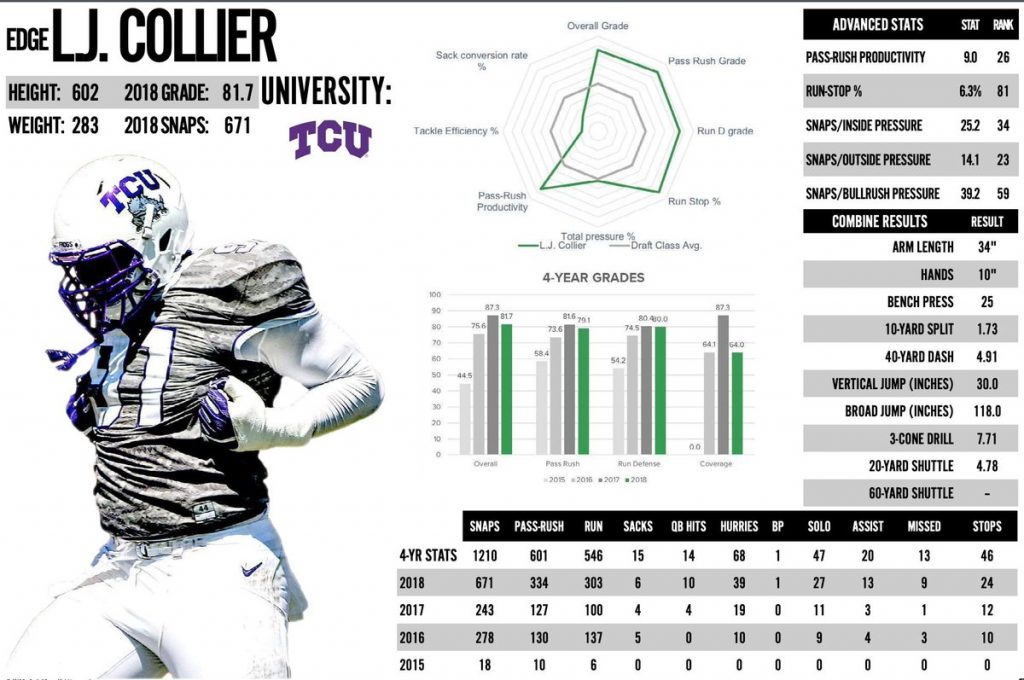 When the Seahawks finally used one of their picks last weekend, they got Clark's immediate replacement in L.J. Collier. The TCU defensive end was one of the more productive defensive linemen in the country but really caught our eye with his work at the Senior Bowl. He was borderline unblockable that week of practices and in the game. The TCU edge won 90 percent of his reps in the one-on-ones, the highest of any edge in attendance including Montez Sweat (75 percent). Collier pairs a deadly bull-rush with exceptional hand usage that should translate against both run and pass.
While Collier doesn't excite too much athletically, the Seahawks saved that for Day 2. Utah's Marquise Blair puts the 'free' in free safety, as he laid his body on the line snap after snap for the Utes. He may only be 195 pounds, but Blair relishes lowering the boom on would-be receivers. Don't expect Earl Thomas, but Blair has the best middle-of-the-field traits among the safeties currently on the roster.
The most exciting pick of all three days for the Seahawks is none other than Ole Miss receiver D.K. Metcalf. The term 'freak' gets thrown around so loosely during draft season that it's almost a disservice to apply it to Metcalf. He's beyond a freak. At 228 pounds, he ran a 4.33 40-yard dash at the combine with a 1.48 10-split. Now he's not a complete wide receiver by any means, but he's special on the vertical tree. Pair that with Russell Wilson's deep ball, and you have the makings of a home-run duo for years to come.
To come away with the talent haul Seattle put together was no small feat and a necessary move for a roster that had bled talent every year since they won the Super Bowl. With Wilson's new contract, being heavy players in free agency simply isn't an option at the moment. They needed to set a long-term foundation for sustained success, and that's exactly what the 2019 draft should do for them.