The New York Giants doubled down on the twilight of QB Eli Manning's career by selecting running back Saquon Barkley with the second overall pick back in May during the 2018 NFL Draft.
Many were quick to expound on how Barkley's addition to the running game would help take pressure off Manning, but the former Penn State star can do more to help the Giants on offense – as a receiving threat out of the backfield.
Barkley averaged 1.90 yards per route run in his final college season, leading all draft-eligible backs who saw at least 40 targeted passes. His ability after the catch can allow Manning to thrive, while taking stress off a rebuilding offensive line.
Catch and go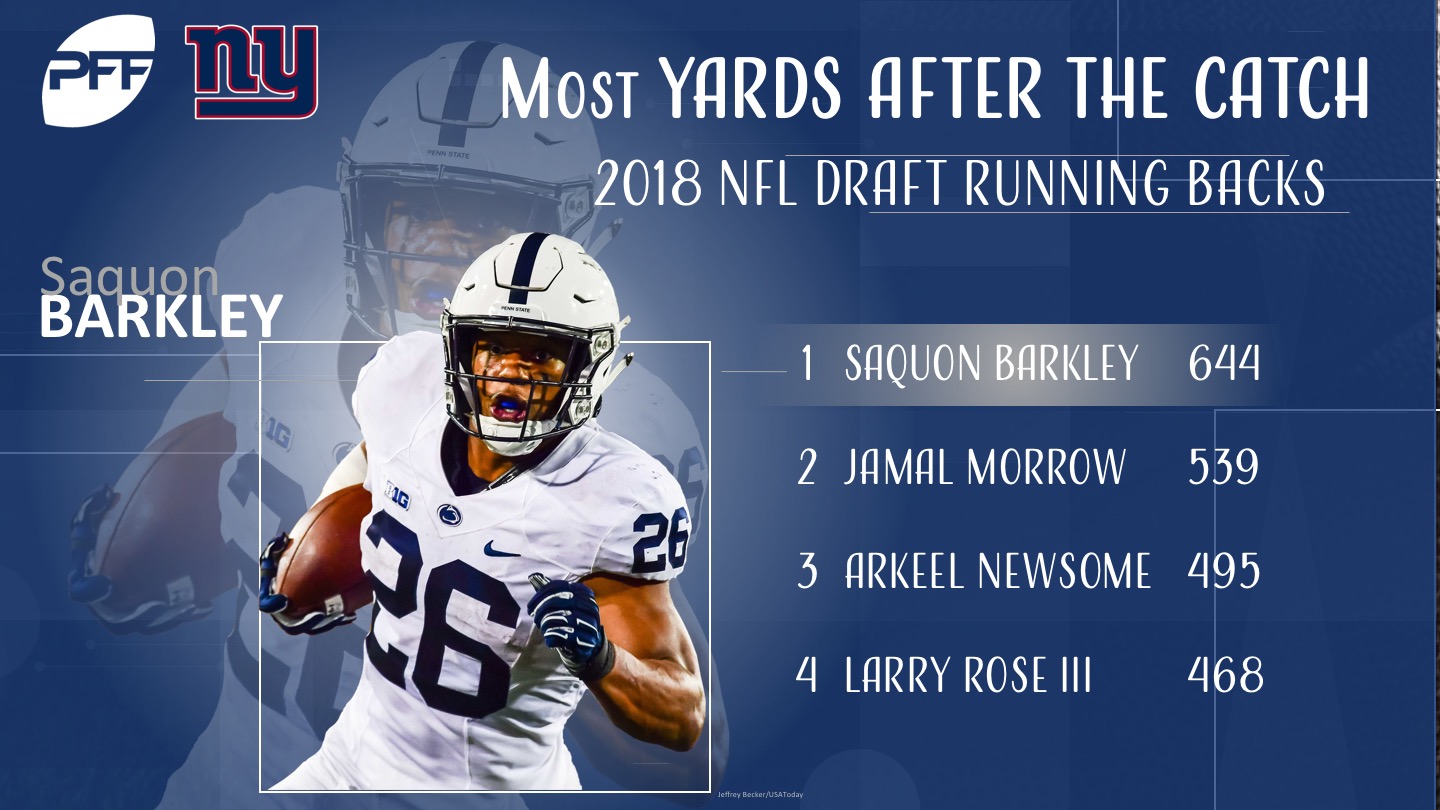 The rookie running back is surely at his best with the ball in space. Barkley totaled 644 yards after the catch, the most among draft-eligible backs last season. Barkley's total at Penn State is one more yard after the catch than Giants running backs combined to haul in (643) all last season, which placed New York in the middle of the pack compared to all NFL backfields.
Given the Giants lack of pass-catching backs – no 'Big Blue' running back ranked among the top 35 in yards per route run – in 2017, Barkley should make an instant impact. A big part of his ability to pick up yards after the catch is Barkley's skills at making defenders miss. In 2017, Barkley forced 14 missed tackles on his receptions, tied for second most among draft-eligible backs.
Those extra yards after the catch put Barkley in a league of his own. Barkley was the only college running back to receive more than 50 targets and average more than 10 yards per reception last season (11.7 yards per reception on 65 targets).
Big step forward
As a group, Giants running backs produced an 85.7 passer rating when targeted last season, significantly below the 100.1 NFL average. The entire Giants backfield only forced 13 missed tackles on their receptions last season, tied for ninth fewest in the league.
The inability of the group to create additional yardage led to below-average efficiency marks. Orleans Darkwa (53rd), Shane Vereen (55th) and Wayne Gallman (56th) all ranked near the bottom of the league's 60 qualified running backs in yards per reception last season.
For the Giants and Manning, that ability to make someone miss and pick up a few extra yards could help revitalize the late-down offense. Manning has seen his passer rating on third and fourth downs decrease each of the last three seasons. The Giants conversion rate on those downs has coincidingly decreased each of the last three seasons as well. Last year, Giants running backs combined for only five first-down conversions on third- or fourth-down receptions.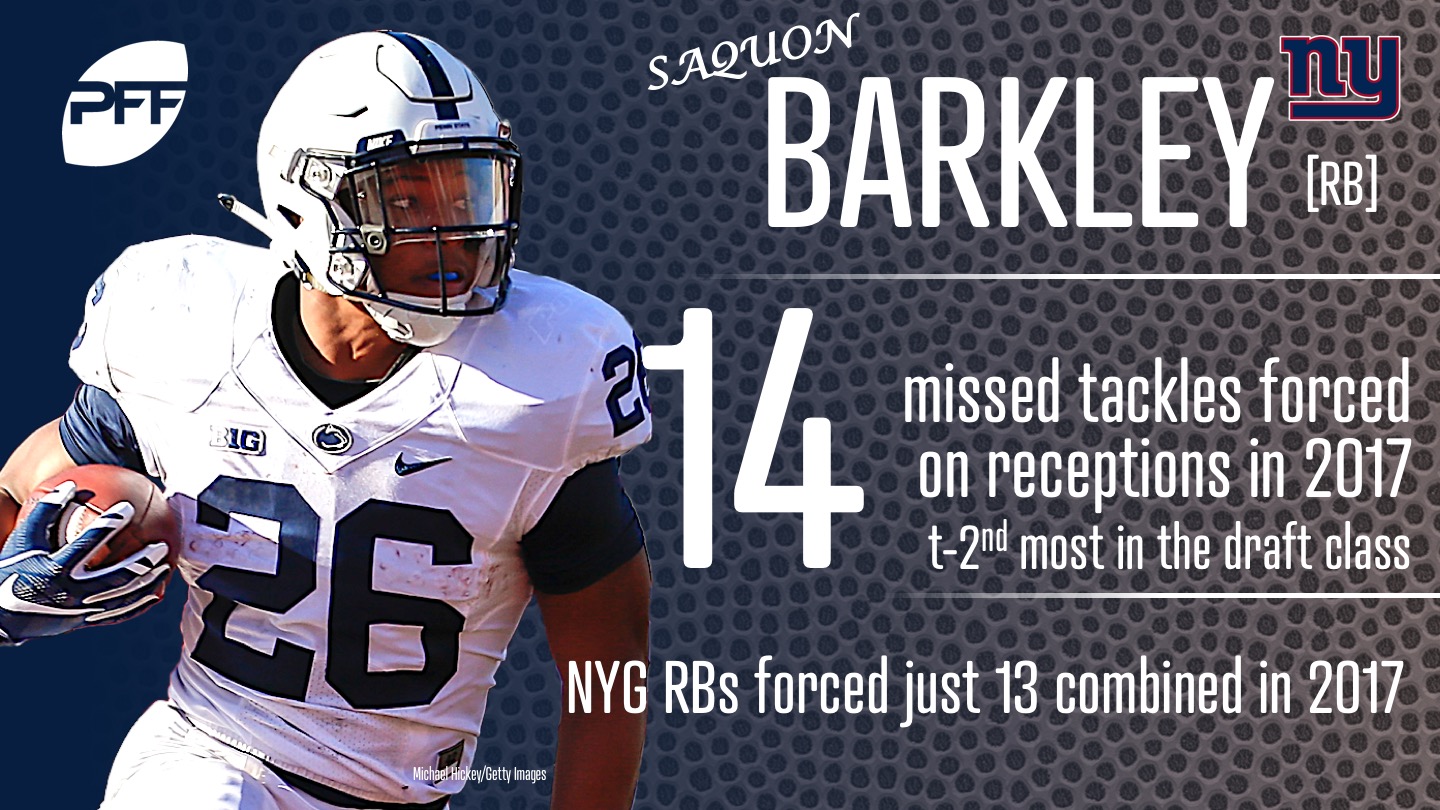 A new set of sure hands
Manning and the Giants were plagued by an injured receiving corps in 2017. Manning's targets led the league with 43 dropped passes and the backfield played a part in the problem. Giants running backs totaled 11 drops last season, second most by any team's backfield.
Barkley brings a more secure set of pass-catching skills to the New York backfield. In his final two seasons at Penn State, Barkley had just five total drops on 102 targets.
Since 2006, the only NFL backs to record at least 100 targets with five or fewer drops in a season are Le'Veon Bell, David Johnson and Christian McCaffrey.
Spread it out
There is another way that Barkley can help the Giants, as he has shown the ability to line up out wide. Barkley's 24 snaps lined up at wide receiver in his final season at Penn State were more than Giants running backs combined for last season (15). And defenses never had to worry when New York did send a back out wide. The Giants only targeted a running back once from a wide alignment – a four-yard catch for Gallman.
Expounding further, the Giants targeted their running backs 129 times in 2017, averaging just 5.8 yards per reception and a mere quarterback rating of 85.7, which was 14.4 points lower than the NFL average for targeting a running back. Their average depth of target was literally at the line of scrimmage, 0.0 yards and the group of running backs still averaged more yards after the catch than total yards per reception (6.1 to 5.8).
Barkley, on the other hand, saw 82 targets for an average depth of target of 1.1 yards downfield, buoyed by his prowess on wheel routes in which he saw an average depth of 19.2 yards. The only Giants running back to average a depth of target out of the backfield over 5.0 yards was Gallman – who saw just one wheel route 27 yards downfield, that he dropped. Barkley's passer rating when targeted of 121.2 was well above the NCAA average of 99.2 when targeting a running back, as he was a true threat on the receiving end of Nittany Lion passes.