Sammy Watkins is with his third team in five seasons after being taken fourth overall by the Buffalo Bills in the 2014 NFL Draft. The Clemson standout managed to play over 1,700 snaps while producing more than 2,000 yards and 15 touchdowns in his first two seasons, but since that time, Watkins has struggled with injuries and bounced around the league as a result. The Kansas City Chiefs took a chance on Watkins last season, offering him a three-year deal worth $48 million. The early indicators show that the Mahomes-Watkins pairing has been remarkably efficient, and with an expanded role on the horizon, Watkins could be in place for a career year in 2019.
As a rookie, Sammy Watkins demonstrated he had the physical tools to become one of the league's most lethal receiving threats. With a struggling E.J. Manuel at the helm, Watkins was still able to snag 65 receptions on 124 targets (only 70 of which were deemed catchable) for 982 yards and six touchdowns, while averaging 15.1 yards per reception and 1.59 yards per route run. More impressively, he played over 1,000 snaps in his first NFL season, a feat he has not been able to match since.
In his sophomore season, Tyrod Taylor took over at quarterback and Watkins was able to truly shine, producing an 89.8 overall grade and 89.6 receiving grade, both of which ranked eighth among qualifying receivers. The Clemson alumnus was also a premier deep threat, racking up eight deep touchdowns and 606 deep receiving yards — the second-most among receivers in 2015.
Watkins made the most of his opportunities, averaging a robust 17.5 yards per reception and 11.5 yards per target. He was one of the most efficient receivers in the league as well, generating 2.69 yards per route run and a 128.8 passer rating when targeted, which ranked fifth and fourth among qualifying receivers, respectively.
Unfortunately, Watkins was not able to follow up his stellar 2015 campaign. In 2016, he was only able to play 381 total snaps, which then led to the Bills re-evaluating the direction of the franchise before trading Watkins to the Los Angeles Rams. 
The former fourth overall pick was able to bounce back in his only season with the Rams, playing 837 snaps and reeling in eight touchdowns along with 616 yards. Watkins caught just 40 balls, but generated a 122.0 passer rating when targeted and 15.2 yards per reception, marks which respectively ranked fifth and tied 20th among qualifying receivers. While he was able to stay on the field and produce in the Rams' high-octane offense, Watkins only managed a 69.2 overall grade, which was the lowest-graded season of his career.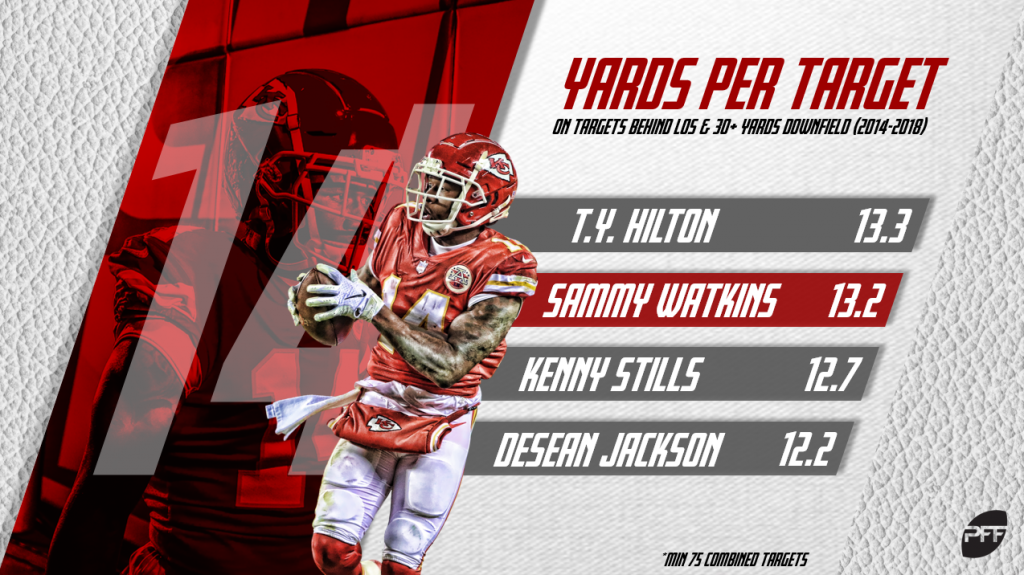 The Kansas City Chiefs saw Watkins as a fit and snatched him up in free agency prior to the 2018 season, adding another weapon to aid their burgeoning young quarterback in Patrick Mahomes. Watkins played second fiddle to the explosive Tyreek Hill, but he managed to produce efficiency numbers that resembled his career year in Buffalo. The fifth-year veteran only played 581 snaps, but he generated a 124.6 passer rating when targeted (10th) and caught 75.5% of his passes (11th), all while averaging 10.1 yards per target. The Mahomes-Watkins pairing has only had one season together, but they were so efficient that they already rank as a top-10 active quarterback-receiver tandem in the NFL. 
Kansas City has done a good job of finding ways to help bring out Watkins' strengths and make him the most efficient receiver possible. One interesting aspect is the routes on which Watkins sees the most targets. In his career-best year in 2015, Watkins saw 52% of his targets come on go routes or hitches, while in his single season with the Rams Watkins saw 50% of his targets come from a combination of post, go and crossing routes.
In his lone season with Andy Reid and the Chiefs, 49% of Watkins' targets came on slants and hitches. Watkins has been very efficient on hitch routes and was recently ranked by PFF as the fifth-best receiver on hitch routes, producing a passer rating of 96.3 when targeted on such route patterns. The Chiefs made an effort the get Watkins the ball in the underneath part of the field and let him work after the catch, as evidenced by the increased use of the slant pattern — Watkins averaged 5.9 yards after the catch per reception on such routes in 2018 which ranked tied 13th among receivers.
Sammy Watkins came into the league with the potential to become one of the league's elite receivers. While injuries have slowed him down throughout his career, increased opportunity and playing with the reigning league MVP gives reason to believe that this will be the year that Watkins is able to recapture the magic of his 2015 season and remind the NFL just how dangerous he can be.