Through much of the 2018 regular season, Sam Darnold exhibited "rookie" tendencies more than any of the other four quarterbacks drafted in the first round. Errant passes often found their way into defenders' arms rather than his own receivers', deep attempts frequently dropped to the ground yards from the intended target and any whiff of pass-rush pressure doomed all hopes of a positive gain. But since returning from injury in Week 14, Darnold has found the same rhythm that many of his rookie signal-caller counterparts are also enjoying.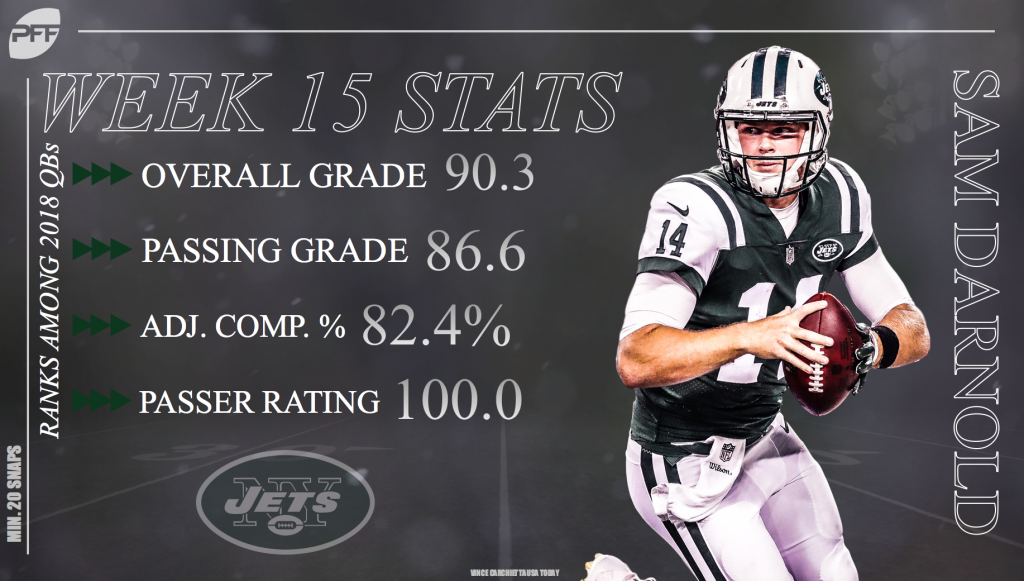 Through the first nine weeks, it was apparent that Darnold's inability to throw under pressure was his biggest pitfall — a 33.9 passer rating when under duress was better than only Josh Allen. But in the past two weeks, even a below-average 55.3 passer rating under pressure is a marked improvement from where he was in weeks prior. While performing with defenders in his face is a primary concern, Darnold's improvement in other areas should have the New York Jets excited about the passer he can develop into.
In particular, Darnold had a career day in a losing effort against the Houston Texans on Saturday, including a 90.3 overall grade, a 55 percent completion rate on passes 15 or more yards downfield and even a strong rushing performance. Kirk Cousins was the only other quarterback to post six or more completions of passes 15 or more yards downfield in Week 15. In Weeks 1-9, Darnold's completion percentage on those throws was just 38.5 percent, fifth-worst. He attempted 11 deep throws (15+ yards) on Saturday, which was also the most in his career. Previously, his career-high was four. It could be Darnold feels more willing to let it fly with the Jets firmly out of the playoff race, but whatever the reason, he's showing the arm talent that got him drafted third overall.
Three of those deep completions were to wide receiver Robby Anderson, who had just seven in the 14 weeks prior. If Darnold and Anderson can jell and establish the connection that so many elite quarterbacks have with their WR1s, the Jets could pose a formidable threat to any defense — there's plenty of time, after all, with Darnold at 21 years old and Anderson at 25.
In tandem with throwing under pressure, Darnold has struggled with turning over the ball. But against the Texans, he didn't throw a pick and had just one turnover-worthy throw. Despite missing three weeks with an injury, Darnold's 18 turnover-worthy throws were second-most — so just one on Saturday in combination with the numerous deep completions signals that the rookie has seemingly figured out what he can get away with at the NFL level.
In a clean pocket, Darnold posted the third-best 122.7 passer rating despite being third-worst in the category over the first nine weeks of the season. In a perfect world, the Jets beef up their offensive line and give him a couple established receivers in the offseason. The past two weeks have shown that the rookie quarterback can succeed with few weapons at his disposal, and an 80.4 percent adjusted completion percentage (5th) proves that accuracy really isn't an issue. The issue is building around Darnold — and if there's anything to take away from Saturday's performance, it's that Darnold is worth building around.