A budding star down in the Bayou, New Orleans Saints wide receiver Michael Thomas has strung together two productive seasons to start his NFL career, his second of which topping his stellar rookie campaign.
Through Week 15 of the 2017 NFL season, Thomas has averaged 2.31 yards per route run (YPRR), which ranks fifth among wide receivers with at least 400 snaps in route this season, an improvement from his 2.04 YPRR in 2016. Additionally, he ranks fifth in passer rating when targeted (102.6) and second in drop rate (2.08) among receivers with 100-plus targets.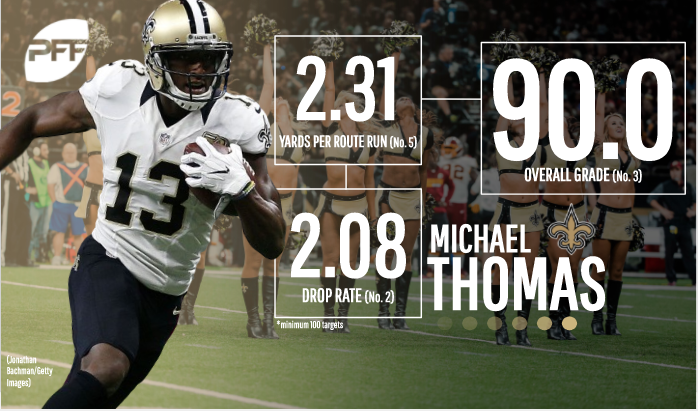 Thomas' heightened production has had a positive effect on his second-year grades. He's earned the third overall grade (90.0) among receivers in 2017, a slight jump from his 89.0 overall grade – fifth-ranked among qualifying receivers – a year ago.
However, going beyond his high-level production and grades, Thomas' ability to maintain/further improve in Year 2 has been a byproduct of his development at the position.
In 2016, Thomas' route tree was without an array of viable branches, as he earned 82.8 percent of his 1,137 receiving yards on a combination of just four routes: slants, crossers, hitches and 'go' routes. As expected, north of 80 percent of his targets (97) and receptions (75) were also recorded on the aforementioned route concepts.
What Thomas lacked in variety he made up for in efficiency, however.
Running hitches, crossing routes and 'go' routes, Thomas earned a minimum passer rating when targeted of 112.8. Looking specifically at his 'go' routes, he earned a 131.4 passer rating, which was 50.4 points above the league average for wide receivers on such routes last season.
Of course, Thomas couldn't continue to trend up towards his WR1 potential without adding to his arsenal, so he and the Saints' play-calling have seemingly worked in a new route concept into his repertoire in 2017. And, to no surprise, the additional weaponry has benefited both parties significantly.
Serving as just a fraction of his first-year production, Thomas saw just four targets when running out routes, catching them all for 37 yards and one touchdown. Conversely, Saints quarterback Drew Brees has targeted Thomas on 20 out routes through 14 games this season, connecting on 18 of the 20 passes for 176 yards and two touchdowns. As such, 15.7 percent of Thomas' targets and 16.2 percent of his receiving yards have come on out routes in 2017, which is roughly a 12 percent increase from last season on both accounts.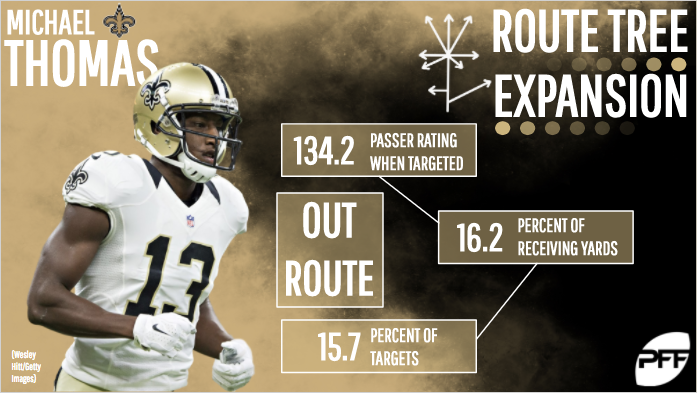 Brees' passer rating when targeting Thomas on out routes this season is also up to a whopping 134.2, which is 49.0 points above the league average. That mark also gives Thomas the top passer rating when targeted on out routes among all of New Orleans' receivers, and it's his best route in terms of the metric.
With his production on out routes increasing, both Thomas' yards and targets have been more evenly distributed across his other top-targeted routes.
Maintaining high-end efficiency with a subtle spike in variety, Thomas' development is second to none among sophomore wide receivers, making it that much safer to assume he could continue to reign among the league's top wide outs for quite some time.