Coming off his third straight top-five graded season, New Orleans Saints' own Cameron Jordan has shown he is one of the league's top pass-rushers. Jordan, a 2011 first-round pick of the Saints, came in at 16 on the PFF50 ahead of some of the league's biggest stars, such as J.J. Watt, Aaron Rodgers, Odell Beckham Jr. However, Jordan is not getting covered anywhere near as much as his counterparts.
Last season, Jordan was the fifth-highest graded edge defender with a 90.0 overall grade. Among the players at the position who played at least 200 regular-season snaps, Jordan ranked 12th in pass-rush grade at 80.3, eighth in pass-rush win rate at 18.1% and ninth in total pressures, with 66. Though, this top-tier season from Jordan should not be a surprise.
As previously indicated, Jordan's play over these last three seasons has been filled with pure dominance. Among edge defenders with at least 500 snaps since 2016, Jordan ranks tied for third in overall grade (92.1), fourth in pass-rush grade (90.8), second in total pressures (239) and tenth in win pass-rush win rate (17.7%).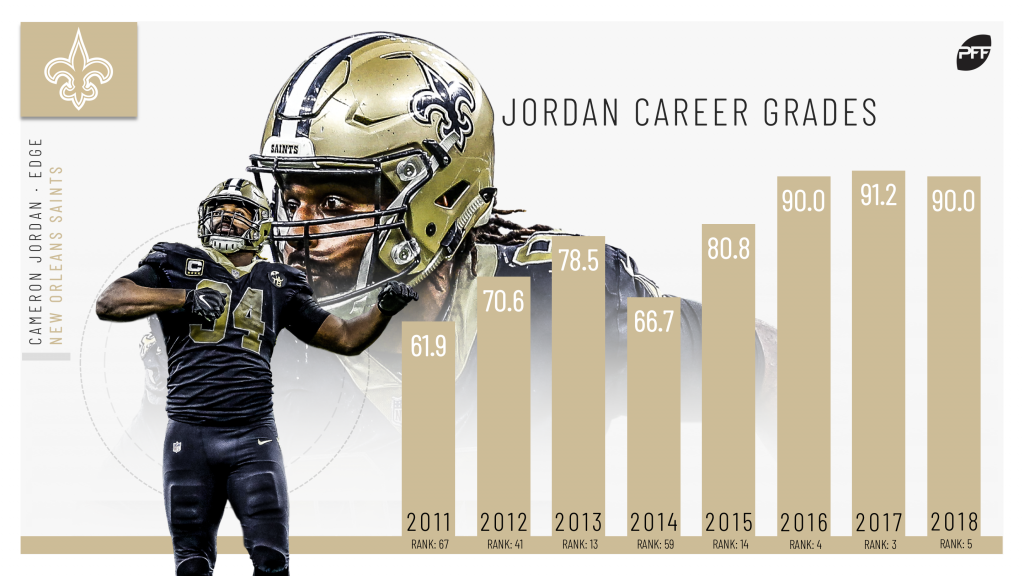 Prior to the incredible 2016 season that put him near the top players in terms of overall grade, Jordan was lingering around the middle of the pack. And after looking back at the data we've collected over that time, you can make the case that a position switch made in 2015 could be a large reason why Jordan was such a late blossom. From 2011 to 2014, Jordan played 76.6% of his defensive snaps at the 4/5-technique positions, with only 11.1% of those coming at the 6/7-technique positions. From 2015 to 2018, Jordan played just 11.8% of his snaps at 4/5-technique, while increasing his time at 6/7-technique to 75.3%.
When examining his play at those positions, it's quite clear Jordan is a different player when playing 6/7 technique. In his career at 4/5-technique, Jordan has posted a 78.8 overall grade (19th), 70.2 pass-rush grade (35th), 10.7% win rate (39th) and a 9.9% pressure rate (59th). At 6/7 technique, however, Jordan posted a 91.3 overall grade (5th), 90.1 pass-rush grade (6th), 16.7% win rate (10th), 13.3% pressure rate (21st) and 283 total pressures (most).
Ever since Jordan changed in positions, he has thrived in the New Orleans scheme. Since 2016, Jordan had the second-most pass-rush snaps when a stunt/blitz combo was executed, and Jordan made the most of every snap. On such plays, he's he recorded an 89.5 pass-rush grade (second), a 23.3% pass-rush win rate (first), a 17.1% pressure rate (7th) and 39 total pressures (most). On blitzes alone since 2015, Jordan again has the most pass-rush snaps among edge defenders, recording an 86.1 pass-rush grade (second), 16.6% pass-rush win rate (fifth) and 97 total pressures (second to only Von Miller).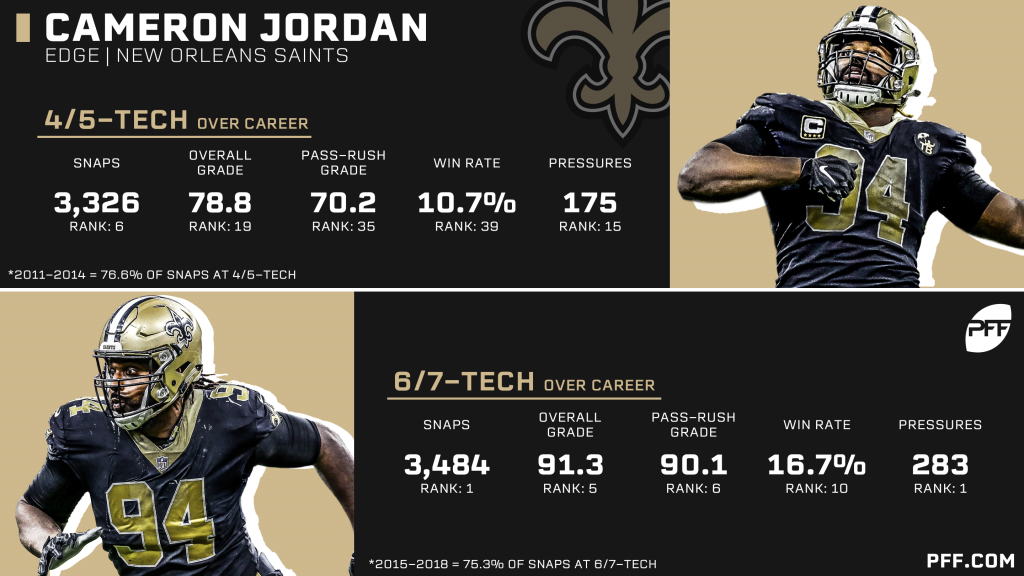 No matter what the game scenario may be, Jordan has been near the top of the pack over the last few years. Jordan has faced quick throws (2.5 seconds or less from snap to pass) more than any other pass-rusher in the league since 2015 (over 150 more snaps than any other edge defender in the timespan). Despite the quick trigger faced, Jordan has still been able to record the seventh highest pass-rush grade (80.9) and the fifth-most pressures (89) among edge defenders with at least 300 snaps against quick throws in that period.
Since coming into the league in 2011, Jordan has recorded an astonishing 515 total pressures — the fourth most among pass-rushers in that eight-year span. In the PFF era (since 2006), Jordan is currently the highest-graded Saints defender; he also has the most pressures and the highest pass-rush win rate, both of which rank first among Saints defensive players. Further, Jordan owns three of the highest-graded seasons by a Saints defender in the PFF era (first in 2017 and 2016/2018 are tied for third).
On top of his superb play, Jordan has shown his durability as he has never missed a regular season game for the Saints, playing 200 more snaps than any other defensive lineman since 2011. Jordan came into the league in a loaded edge class with Von Miller, J.J. Watt and Justin Houston and has performed just as good as any of them. Yet, he is rarely spoken in the same breath as the modern-day greats at the position. As a top-20 player in the PFF50, Jordan is an undervalued talent and valuable piece to the New Orleans defense — something that's reflected in his well-deserved contract extension.