Underestimated and unheralded, Tampa Bay Buccaneers' Ryan Fitzpatrick, a Harvard economics graduate turned 14-year NFL veteran signal-caller, outsmarted the New Orleans Saints' defense en route to a 48-40 upset win and career-high marks across the board. (Fitz)Magic is the rumored source of the wily veteran's success in the Bayou, but the numbers tell a story free of any spells or tricks.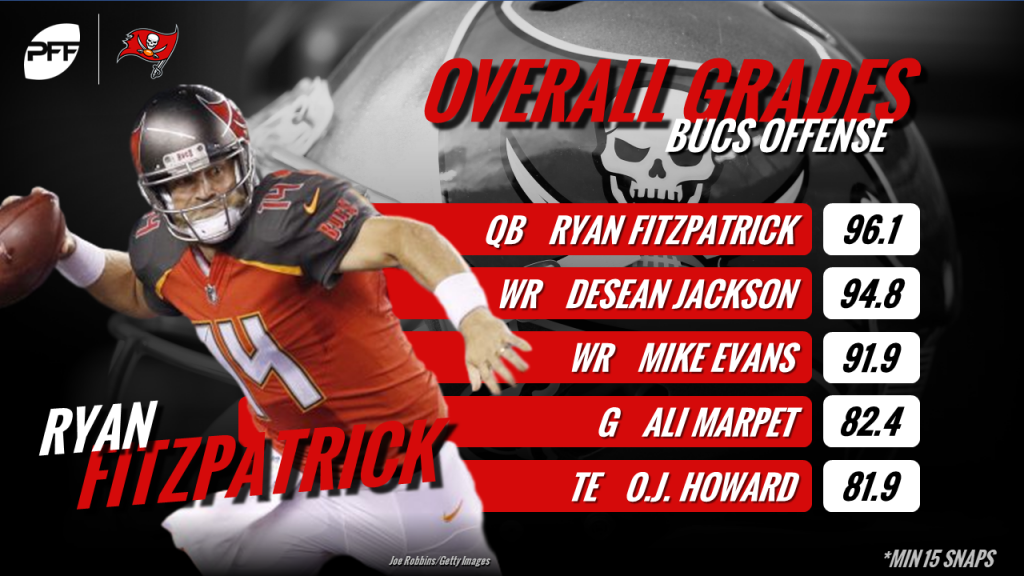 Starting in place of the suspended Jameis Winston, Fitzpatrick completed 21-of-28 passes for 417 yards, four touchdowns and zero interceptions in New Orleans on Sunday, including a career-high six big-time throws and zero turnover-worthy plays. To add perspective, Fitzpatrick managed just seven big-time throws all of last season on 163 pass attempts. Sunday's exceptional performance earned a career-high 96.6 passing grade, the best mark among all quarterbacks in Week 1 and a spot on our Team of the Week.
The majority of Fitzpatrick's success can be attributed to his efficient dismantlement of the Saints' secondary from a clean pocket, as he completed 18-of-25 passes for 328 yards and three touchdowns across 28 clean dropbacks. He ranked first in passer rating (153.8) and seventh in adjusted completion percentage (83.3) among quarterbacks with at least 10 clean dropbacks in Week 1.
Also, making matters worse for New Orleans' defense, Fitzpatrick completed all three of his pass attempts when pressured for 89 yards and one touchdown. He also didn't take a sack on the six pressured dropbacks, a proverbial exclamation point to the idea that he truly could do no wrong on Sunday.
Of course, Fitzpatrick wasn't without help from his pass-catchers, as Buccaneers wide receivers DeSean Jackson and Mike Evans torched the Saints' cornerbacks in their one-on-one matchups along the boundary – Fitzpatrick simply made the right play when they were open.  A product of strong route-running from the two receivers, Fitzpatrick was a perfect 13-of-13 for 293 yards and three touchdowns when targeting Jackson and Evans.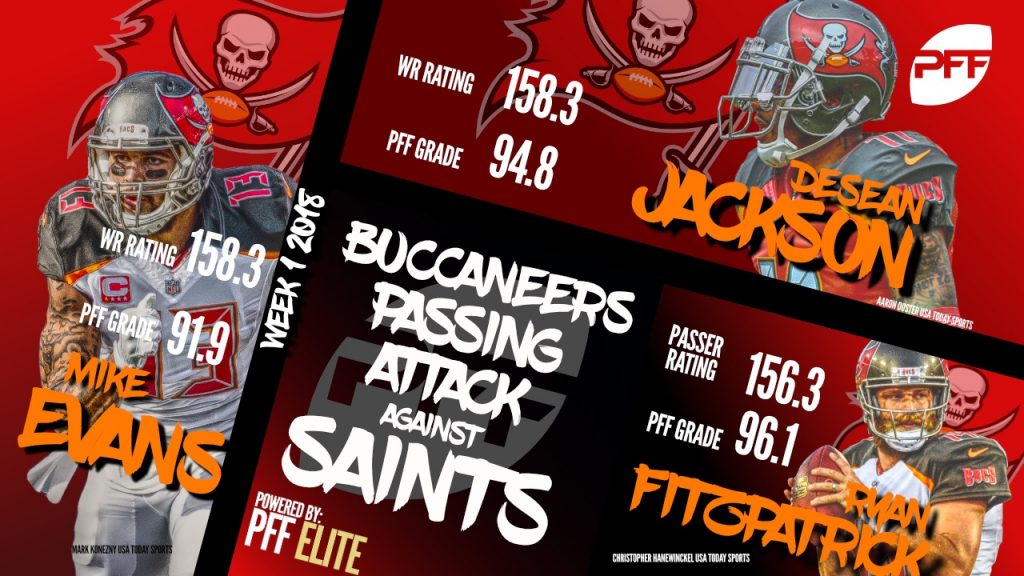 Fitzpatrick likely surprised Saints defensive coordinator Dennis Allen with his ability to still throw the deep ball, as he completed four of his five passes of 20-plus air yards for 179 yards and three touchdowns. The 35-year-old gunslinger can't compare to Kansas City Chiefs' Patrick Mahomes in terms of arm strength, but he proved Sunday he can still drop bombs into the bread basket when given time in the pocket.
The Buccaneers' offensive line, which ranked eighth in pass-blocking efficiency in Week 1 (89.7), will face a much tougher test at home against the Philadelphia Eagles' Fletcher Cox-led defensive line this Sunday. And Evans' and Jackson's road ahead doesn't get easier with the Eagles' talented boundary cornerbacks (Jalen Mills, Ronald Darby) on the loom. As such, a repeat performance from Fitzpatrick will be on him to deliver as much as it is on his teammates to do their respective jobs against a much, much better defense. Even a man of magic can't have success on his own against the defending Super Bowl champions.