There were few, if any, linebackers from the incoming 2018 draft class that were able to match Rashaan Evans' athletic and measurable profile. At 6'3" – 230, Evans earned All-SEC first-team honors, despite missing two games, and lived in the backfield with 13 tackles for loss and six sacks with the Crimson Tide last season.
After being selected 22nd overall by the Tennessee Titans, the first-round pick's progress was slowed due to a hamstring injury to start his rookie campaign. As a result, Evans wasn't able to see regular season action until he received limited work in Week 3, before making his first start in Week 4 against the Philadelphia Eagles. Injuries early in the season are often the cause of sluggish starts in the NFL for rookies, but with Evans, there might be more to it than that.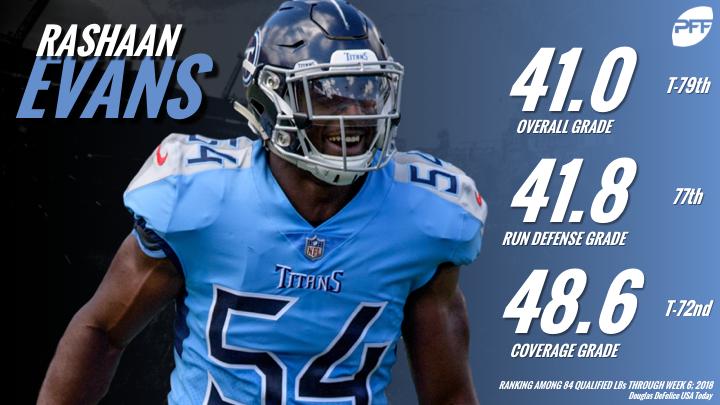 The Alabama standout was among the best at stopping the run last season and was a pass-rushing nightmare for college opponents from his linebacker position. Evans finished his year with 26 total pressures, second-most pressures among draft-eligible linebackers, and 24 defensive stops with only three missed tackles against the run. However, his game was not without flaws, as he needed to develop his coverage ability in order to maximize his value as a three-down linebacker at the NFL level.
In his debut start at middle linebacker in Week 4, Evans looked overwhelmed and produced an overall grade of 30.1, second-worst for the week. He recorded only one solo tackle and zero defensive stops in 60 total snaps on defense. He also looked lost at times in coverage, allowing tight end Zach Ertz to do damage over the middle of the field. In total, Evans allowed four catches on five targets for 56 yards with 34 coming after the catch.
Since then, Evans is slowly showing signs of improvement by earning a higher overall grade in each of the last two weeks (41.7, 59.8). In Week 6 against the Baltimore Ravens, he had his most productive performance to date and showed flashes of potential throughout an otherwise lackluster Titans performance. Evans was at his best against the run, where he tallied six solo tackles and five defensive stops, but his day wasn't without fault, as he also missed a tackle for the third-straight game.
Evans' early season injury undeniably slowed his progression, but the change in defensive strategy could also be playing a part. During his final season at Alabama, Evans rushed the passer on 33.6% of passing plays, a top-ten rate among draft-eligible linebackers. Through his first three starts with the Titans, the rookie has only rushed nine times in 80 passing plays (11.3%), which has resulted in Evans being more vulnerable in coverage.
This difference in defensive philosophy has clearly been an adjustment for Evans thus far, but what's more concerning is that he also hasn't made a dramatic impact against the run in his three starts. His grade versus the run is just 41.8 this season, and the Titans are allowing 4.53 yards per rush between the tackles, 18th among NFL defenses in Weeks 4-6.
The Titans were hoping for a productive plug-and-play middle linebacker with the selection of Evans in the first round, but the rookie's limitations have certainly been on display during his first few weeks of action. With that said, it's still far too early to put a cap on his NFL ceiling despite his slow start. Evans still possesses the elite-level instincts and athleticism needed to make an impact on defense, and will undoubtedly do so in the near future – as long as his development progresses.